Lashes of Change Review – The Customisable Mascara Making It Possible for Women to Find the Perfect Mascara for Them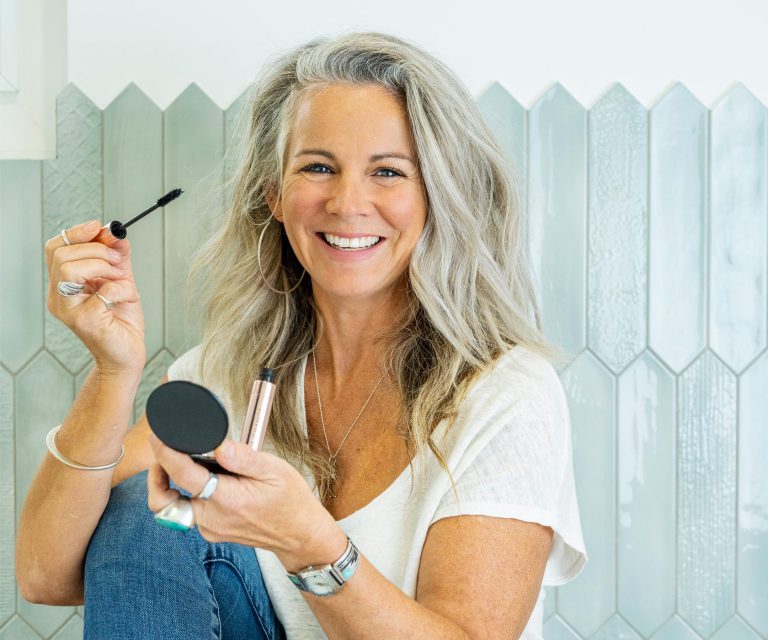 Vegan, clean and cruelty Free, Lashes of Change is Australia's first bespoke, eco-friendly, refillable mascara with up to 5 interchangeable brushes to choose from.
If you've ever struggled to find a mascara formula that you love, that also comes with an applicator brush that suits your lashes and preference, this is the product you didn't even know you needed until right now! And after trialling this mascara for myself for the past month, I can confirm that you do need Lashes of Change. There are so many reasons to love this product, you might want to go and grab a coffee before you read on, because I'm going to take you through all of them!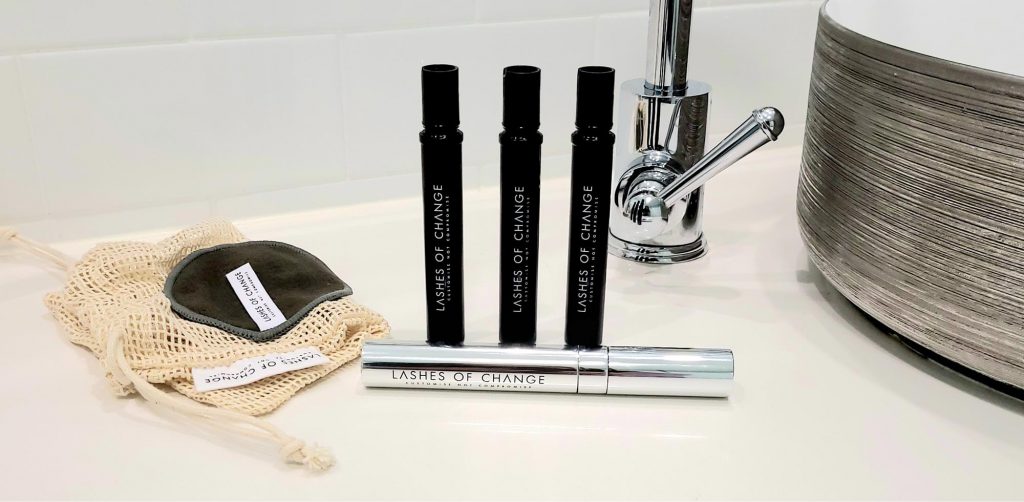 The Inspiration for Lashes of Change
If you've been coming to my little space on the net on the reg, you'll probably already know that I'm a sucker for a good 'how-this-product-came-about' story, and this mascara is no exception. After finding that after 22 years her favourite mascara had been discontinued without warning, Lashes of Change founder Tania, set about looking for a suitable replacement. "I wasted so much time and money looking for my new perfect mascara and was constantly disappointed. I was frustrated and to be honest, I was mildly angry too," Tania explains. "I mean who has hours of free time to go hunting for new mascara every time the one we love disappears off the shelves? Not to mention the cost, inconvenience, frustration and landfill waste."
"So, it got me thinking," continues Tania. "Why isn't mascara customisable? Why can't we choose the brush we want with the colour we want and get it sent directly to our door?  Isn't this the way of the world these days? But after a bit of research, I quickly came to the conclusion that this simply didn't exist; well not for mascara. Never being one to sit back and wait for someone else to solve my problems I decided to give it a go myself!"
"Once I started, I discovered there were 3 really important elements that create a perfect mascara – however the most important one in my humble opinion is getting the right brush for your eyes and lashes!"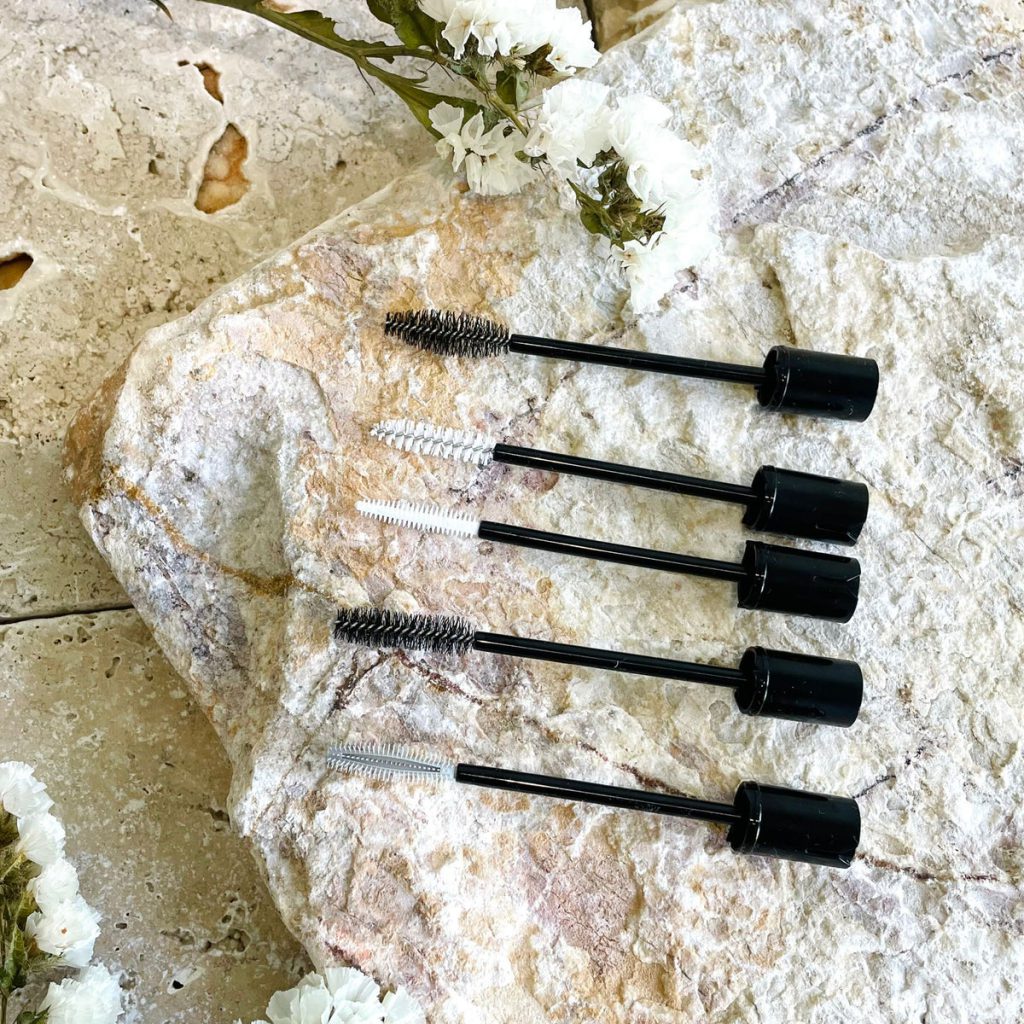 There are 5 Brushes to Choose From
The result of Tania's efforts is remarkable. Lashes of Change is a global first, offering an interchangeable mascara brush experience that allows you to choose the brush that you love or try different brushes without having to purchase and waste multiple mascaras in the process. You can click here for information on individual brushes, which are playfully named after iconic females such as Twiggy and Audrey Hepburn, to add to the feeling that this is a luxurious and sophisticated brand.
Tania has also combined this with a refillable cartridge system, so you can reduce your impact on the environment too. Genius, right?
Your Lashes Will Love the Creamy, Smooth, Vegan Formula
There are two beautiful bespoke formula to choose from, the Colour Explosion Formula (available in midnight black and rick chocolate brown), and the Water-Resistant Formula (currently only available in midnight black.) All formulas are vegan, gluten free and enriched with powerhouse ingredient – argan oil – for healthier thicker, beautiful lashes.
It's Been Designed with Sustainability Top of Mind
As Tania explains, there is a serious problem with mass overproduction of beauty products, with it all ending up in landfill, and damaging our planet – which is why it was important to her to redesign a mascara that wouldn't become part of the problem.
"Conscious manufacturing means that we do small production runs with sustainable materials that can be re-used and recycled. We know this means higher cost of production, but it's a small price to pay to make sure that we are utilising our planets precious resources in the best way possible with minimal waste. Our commitment to this goal has led us to deconstruct what mascara looks like, redesign it from the ground up to provide maximum functionality with the least possible resources. This includes offering refill cartridges to reduce landfill waste. We use recyclable materials like aluminium, PCR plastics and cardboard and our packaging is biodegradable."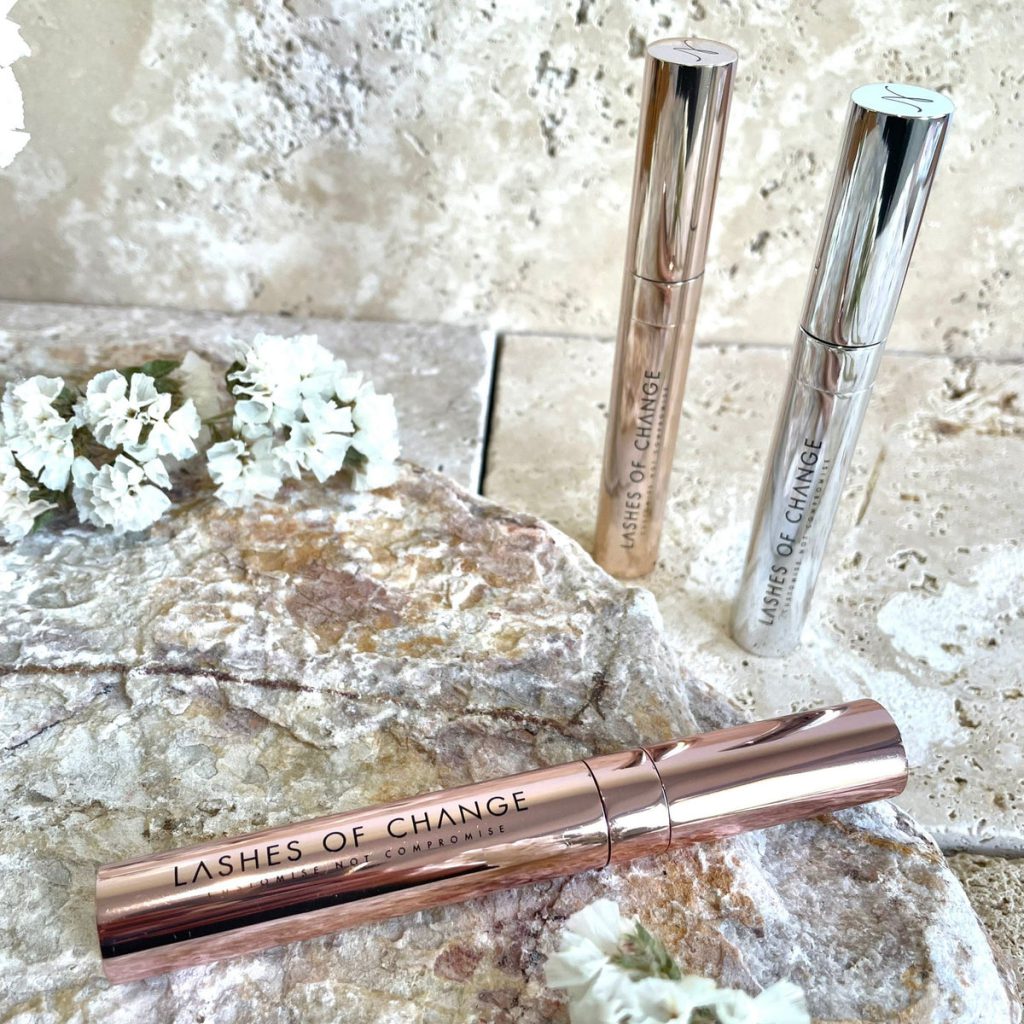 You Can Choose a Refillable Case
Not only do you get to choose the perfect brush, and your favourite formula, you also get to choose from three polished outer cases, in silver, rose gold or blush pink. The idea is that you use the outer case over and over, only having to purchase refills, thus reducing landfill.
The Lashes of Love Foundation
Lashes of Love pledge 25% of profits to the Centre for Cancer Biology in South Australia through the Lashes of Love Foundation. The world class research facility is leading the way on many important projects involved not only in cancer but many other areas of scientific research. So, you can make an impact and leave a lasting legacy with every purchase you make.
The Verdict
Considering my opening paragraph, it'll be no surprise to anyone that I love this mascara. As a regular gym goer and yoga-lover, weekdays I'm quite often make-up free except for mascara. Sorry, but mascara is life! That said, I'll be purchasing the water-resistant refill when my current formula runs out. Although, I have worn the colour explosion formula to the gym numerous times, and have yet to return home with smudged up panda eyes.
For me, this mascara formula ticks so many boxes:
No clumping,
No eye irritation.
Easy to apply and I get to play around with different style brushes. I am yet to land on a die-had favourite…as yet, it's pretty neck and neck.
Easy to remove without damage to lashes.
Great for everyday wear.
Dries quickly.
Lightweight, durable formula.
Argan Oil to help nourish lashes and leave them stronger and longer.
The fact that it has been designed with sustainability in mind, and is entirely vegan and cruelty free makes this a beauty game-changer for me. What is there not to love?
I have zero qualms about recommending this mascara, as I am certain the customisable nature and high quality means it's easy to get the exact finish you are aiming for when you apply your mascara. Furthermore, they also offer a 30 day trial, so you can try it for yourself without risking wasting your money if you don't love it.
Head to Lashes of Change, and start customising your perfect mascara today!
Disclosure: I was gifted this mascara for the purpose of providing an honest review. All thoughts and opinions expressed here are my own.