Nail Trends for 2015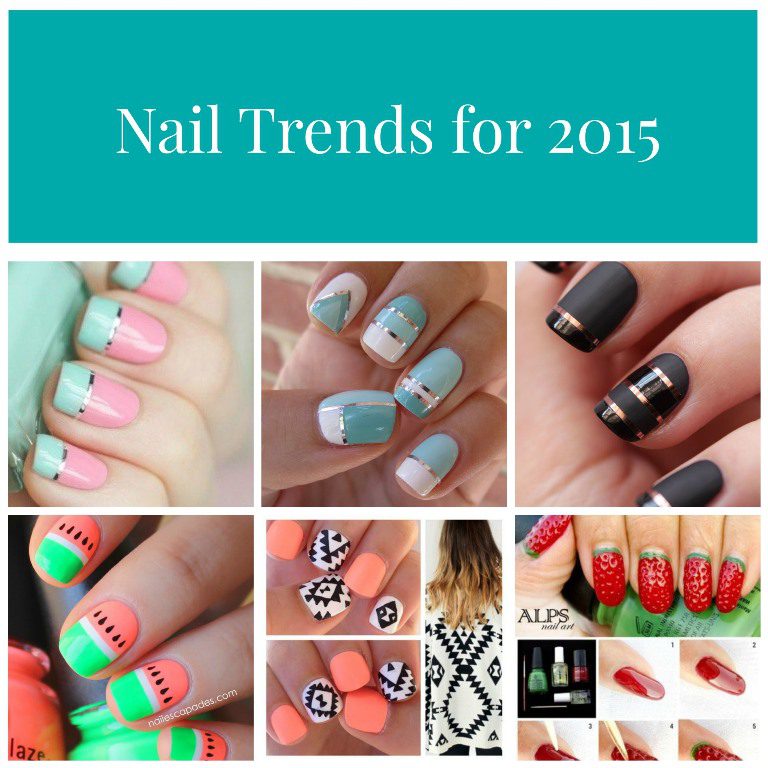 Nail art has come a long way from just pretty hearts and flower designs. What was an art form left for a manicurist to perform, can now be done at home providing you have the right know how.
These nail art trends to try for 2015 are very easy. The hardest part will be choosing which design to try first.
First up is Metallics. To make a stripe or geometric pattern paint your nail with your favourite base colour. Use scotch tape to create a design and paint over nail with a metallic accent colour. Metallic colours that you can use are gold, silver or copper. Copper looks fabulous against black and silver pops beautifully against white and pastel colours. Gold works well with white and bright colours like royal blue and red.
All that glitters on tees and pants is now being incorporated into nails but using an ombre technique. This trend is simple to apply by painting your nail with a base colour and sprinkling or dipping the tips of your nails into a sparkle colour of choice. Choose glitter that will stand out against your base colour. The glitter can be sprinkled at the base of the nail as well or painted on using a make-up brush. Why not mix two glitters together to get a different effect?
If you're looking for something fun, why not keep that summer vibe going by using fruit as your inspiration? This watermelon design is sure to get attention. Pops of neon are still a trend this summer so why not add it to your nails?
Still with the fruit theme, these strawberry nails are sure to grab some attention and are so easy to create. Paint a green line at the cuticle and then red on the whole nail bed and then use a toothpick to indent the nail polish while it is still drying.
The last trend to try is a little bit trickier requiring strips of scotch tape to create a geometric look. Mix the print with a block colour on the other nails. Also try mixing textures by choosing two polishes in the same colour but have one in matt and one in gloss. This creates an almost 3D effect on your nails.
Which of these nail art trends are you going to try first? Which one is your favourite design?