Skin Care Trends 2020: What You Need to Know About Chemical Peels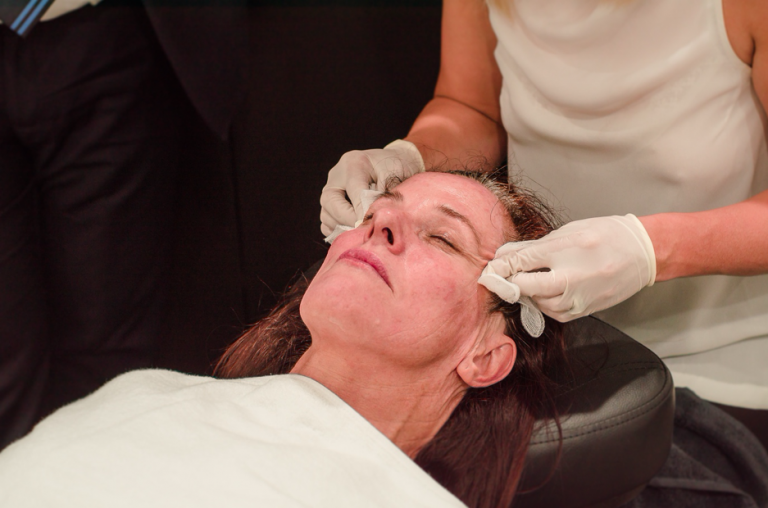 Skin Care Trends 2020: What You Need to Know About Chemical Peels
Let's start by saying, don't let the name 'chemical peel' freak you out! As the name suggests, the treatment willcause your outer skin layers to peel off, but this is part of the process and will reveal younger, brighter looking skin. When the top layer of your skin is lifted away it signals your body to increase cell production. This means that your skin's collagen will start to renew and build up.  Your skin will appear visually plumper with a noticeable reduction of skin pigmentation as the new cells rise to the surface.
The great news is that chemical peels are suitable for many skin types, but be warned, they are not a one-size fits all treatment. They come in variety of different strengths, which determines how many layers of skin will peel – which means this treatment is certainly not suitable for a DIY session at home on a Friday night. A registered skin care professional will be able to assess your skin and determine the correct type of chemical peel to achieve the best outcome for you.
We caught up with skin care expert Jodie Maxted from 'Laser, Skin and Vein' in Adelaide, to ask all the questions you've been wanting to know the answers to, but didn't know who to ask.
Hi Jodie. Thanks for joining us again for our 'skin trends' series. Could you start by telling us what a chemical peel is?
A Chemical peel is a treatment used to improve the texture and clarity of your skin.  By choosing the right level of solution (there are different types for different skin complaints) for your skin the outer most layers of the skin are removed. They reduce pore size, fine lines/wrinkles and uneven skin tone.
So, who would be the best candidates for a chemical peel treatment? And are there skin types that are not suitable for this treatment?
Due to the fact we have differing levels of chemical peels most skin types will benefit from the addition of a chemical peel, however there are some skin types that are not suitable.  Skin that is highly sensitive, broken or reactive and those who suffer from rosacea.  We also do not treat those who are pregnant or those who are currently on roaccutane (a strong antibiotic for acne).
Are chemical peels suitable for people with acne?
Yes, if you are suffering from acne and not currently on any medications to treat the condition like roaccutane, a chemical peel will have a wonderful effect on removing the outer most layers of skin. Helping to remove the top layers of skin and reduce bacteria on the skin will in turn decrease the inflammation and breakouts experienced.
What can clients expect during, and in the hours and days after a chemical peel?
During a chemical peel the skin will feel warm and 'tingly' and post the chemical peel the skin will remain red for a few hours.  Over the next few days the skin will feel tight and then dry.  Depending on the strength of peel will directly effect the depth of peeling skin post the treatment.  Skin in areas of sun damage will get darker, this is all normal. A lighter chemical peel will heal quickly, a deeper chemical peel can take 6-10 days to complete its cycle.
How many treatments are generally needed and how long should you wait between treatments?
It is generally advised to get a peel every 4 to 6 weeks, but that will also depend on the severity of the peel.  With treatments for acne it may be more often depending on our desired outcome being met.  If we are looking to do a more aggressive peel the time frame between peels can also be a little longer, to give the skin opportunity to heal.
Which chemical peel treatments do you offer in your clinic, and which are the most popular?
We offer a range of chemical peels, lactic, glycolic, salicylic and trichloroacetic acid (TCA). Through thorough consultation we address the issues of your skin and then treat accordingly which can sometimes be a combination depending on your skins condition. Most popular in clinic peel would be the TCA peel as the outcomes are consistent and results speak for themselves.
If you are based in South Australia and are looking for a free consultation for your skin queries, you can visit Laser Skin & Vein at either their North Adelaide or Malvern clinic.