Bride Disinvites Guest Who Had A Stillborn Child From Her Wedding Because 'She's Taking Too Long to Get Over It.'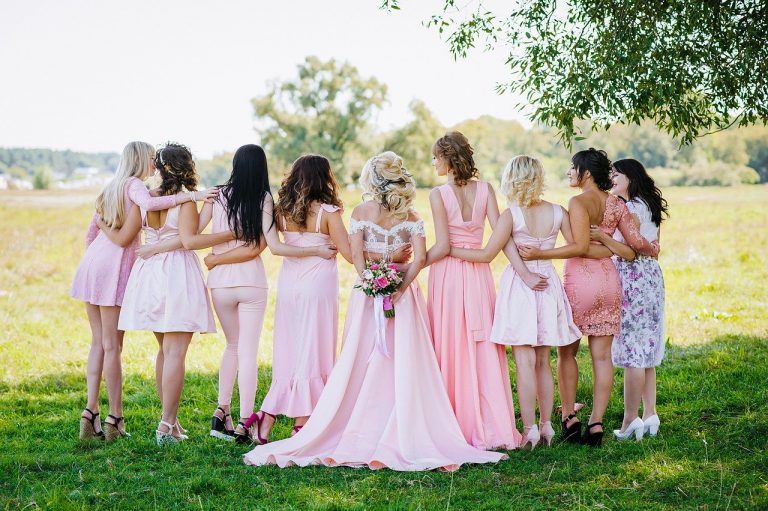 Bride Disinvites Guest Who Had A Stillborn Child From Her Wedding Because 'She's Taking Too Long to Get Over It.'
We've all heard the term Bridezilla before which refers to a bride's inability of exercising any logical thought right before her wedding day. Usually it involves crazy demands like making all her bridesmaids have matching tattoos or asking her guests to call her 'your majesty.'
Occasionally though, you'll come across a Bridezilla whose behaviour is SO REPULSIVE it will make you wonder how on earth she managed to find herself a husband in the first place. Before we continue with this story let me just warn you that this post deals with issues of still born babies so if this is something that may trigger you please stop reading now.
The story goes something like this. A woman is invited to her friend's wedding and then disinvited after she suffers the still born birth of her child. The bride sends the grieving woman a text message to ask her if she could please announce the still birth on Facebook before the wedding. Her reason is so disgusting that we'll just let you read it for yourself.
The anonymous poster, who is still grieving her loss, was so upset she took to discussion forum Igmur to vent.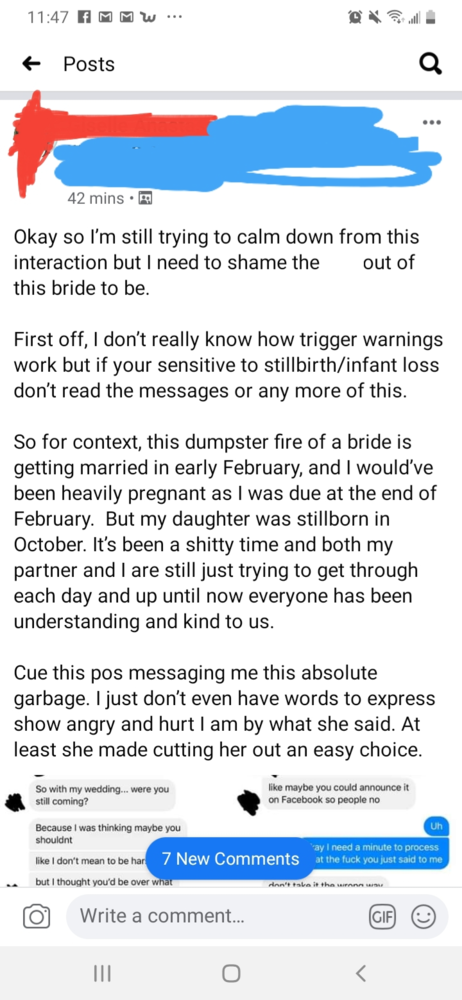 So this poor woman miscarried in October and her friend's upcoming wedding this month is a harsh reminder of what should have been. "I would have been heavily pregnant as I was due at the end of February," she wrote. "Both my partner and I are still just trying to get through each day and up until now everyone has ben understanding and kind to us."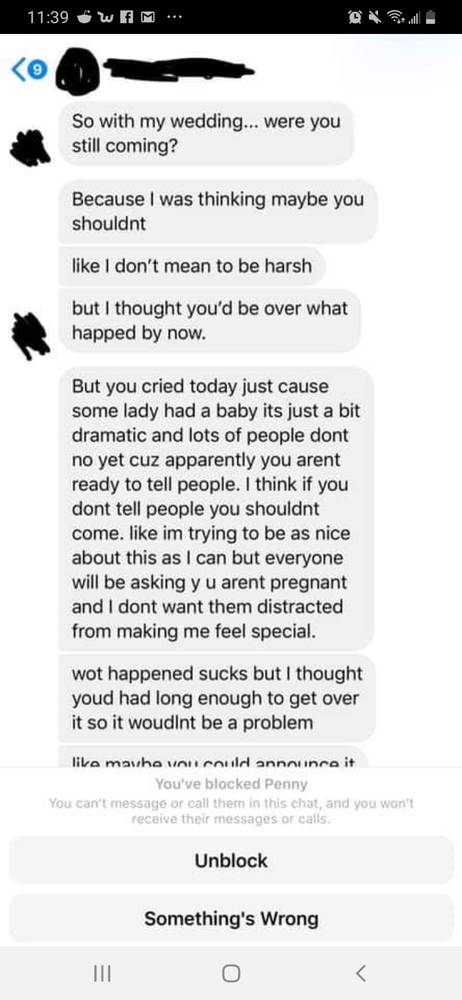 The unbelievable text exchange started when the anonymous poster received a surprising text message from the bride.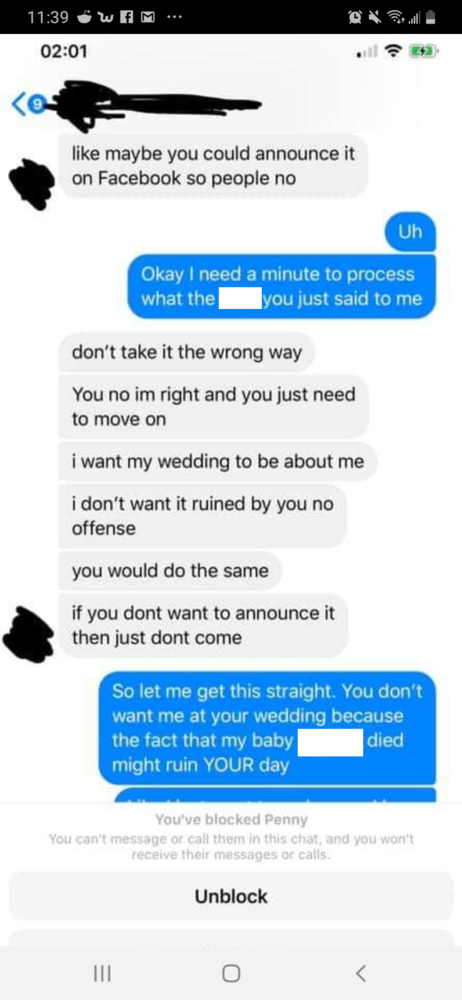 Instead of offering some support to her friend, the bride asked if she was still coming to the wedding, "Because I was thinking maybe you shouldn't," she wrote.
"I don't mean to be harsh," she continued, "but I thought you'd be over what happened by now."
She then continued by reprimanding her for being 'too dramatic' after seeing a friend's baby. Seriously?!! The woman has just lost her own baby, so yeah, I think it's fair to expect a few tears!
"And lots of people don't know yet cuz apparently you aren't ready to tell people," she added. That is why she told her friend that if she doesn't tell people about her stillbirth, she's not welcome at the wedding.
"I'm trying to be as nice about this as I can, but everyone will be asking [why you] aren't pregnant and I don't want them distracted from making me feel special," she wrote.
She added that she thought her friend would be "over it" by now so it "wouldn't be a problem."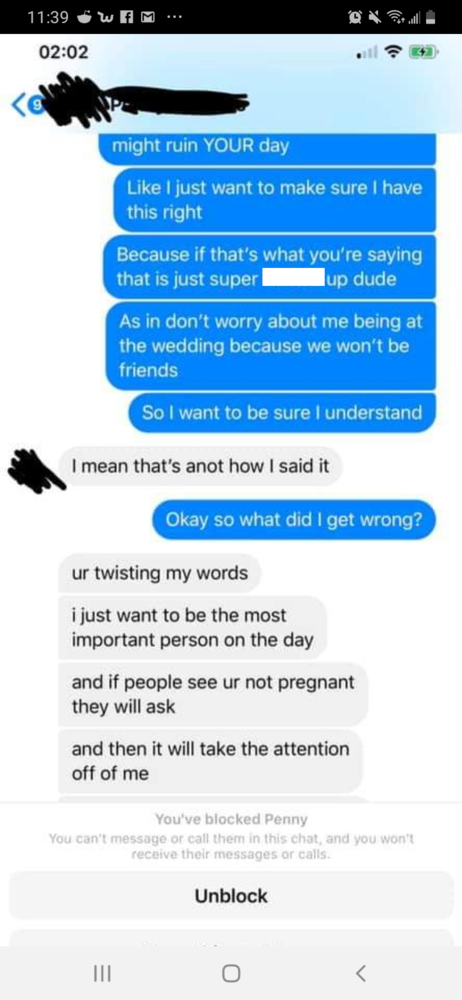 Did she really say 'OVER IT BY NOW??' I can't even with this comment. Let's just hope the bride never has to go through the pain of losing a baby cause if she had, there is no way those words would have ever left her mouth.
"So let me get this straight," the poster responded. "You don't want me at your wedding because the fact that my [expletive] baby died might ruin YOUR day," she wrote.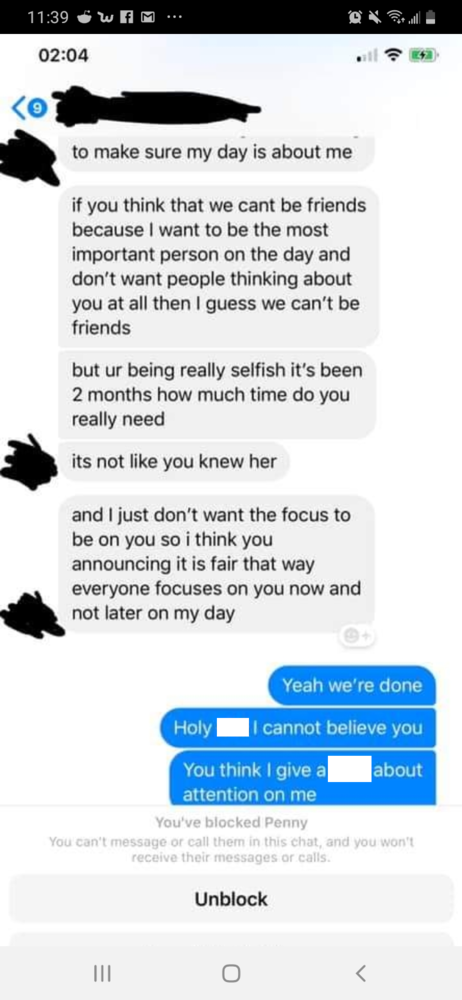 "Don't worry about me being at the wedding because we won't be friends," she wrote to the bride.
Shockingly, the bride seems upset that the woman doesn't get what she's trying to say. "I just want to be the most important person on the day and if people see [you're] not pregnant they will ask and then it will take the attention off of me," she texted.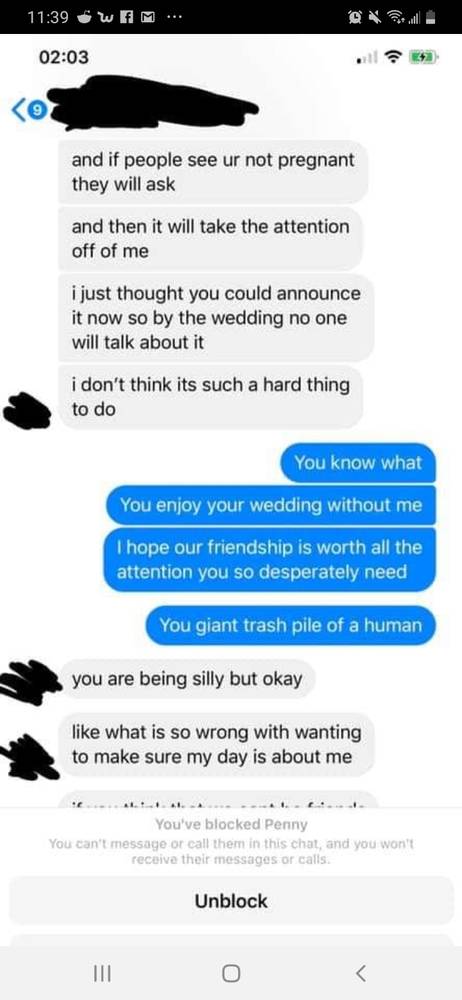 She argued that after two months (are you effing kidding me) the poster should be over her baby's death. "It's not like you knew her," she wrote.
How utterly disgusting!! Who is this bride?
"Yeah we're done," the poster responded. "You think I give a [expletive] about attention on me."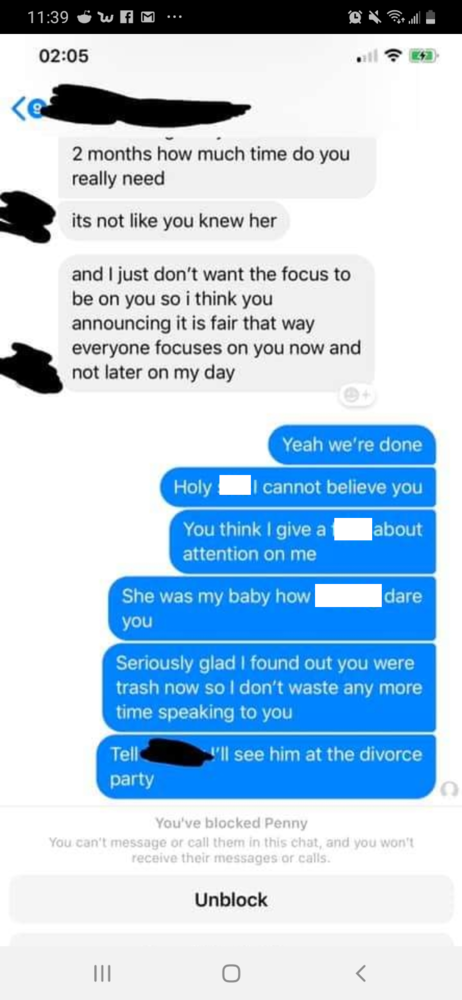 Wow! Just wow! I have never in my life seen such a display of utter self indulgence from a woman, bride or not. How dare she tell this poor woman how to deal with her pain and grief of losing her daughter. And all because she wants to be the centre of attention on her wedding day. Well, one thing's for sure- after this story gets out I can guarantee you every single guest will be talking about that Bridezilla!
Images: Igmur