20 Gift Ideas That Little Bluey Fans Will Love
20 Gift Ideas That Little Bluey Fans Will Love
Bluey has been a phenomenal success since airing on ABC KIDS in October 2018, amassing legions of dedicated fans and hugely popular ranges of books, toys, clothes, games and more. It holds the coveted position of being the most watched program ever on ABC iview, with over 260 million plays for Series One, and is the winner of an International Emmy for Most Outstanding Children's Programme.
If you're looking for a gift for a little Bluey fan you know, we've got just the thing!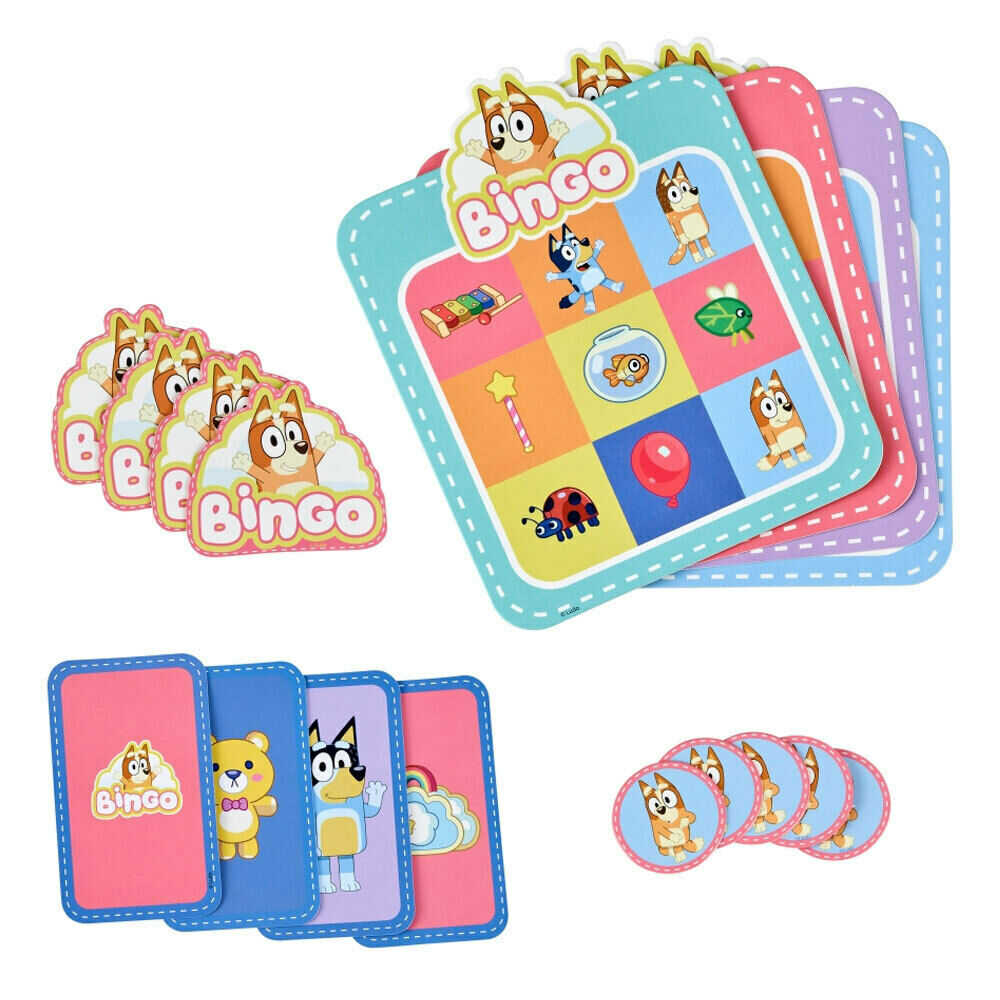 Bingo's Bingo Game Family $25 + free postage
Match pictures of Bluey with this Bluey Bingo's Bingo Game. Yell bingo when you won. A great toy for the whole family. Buy here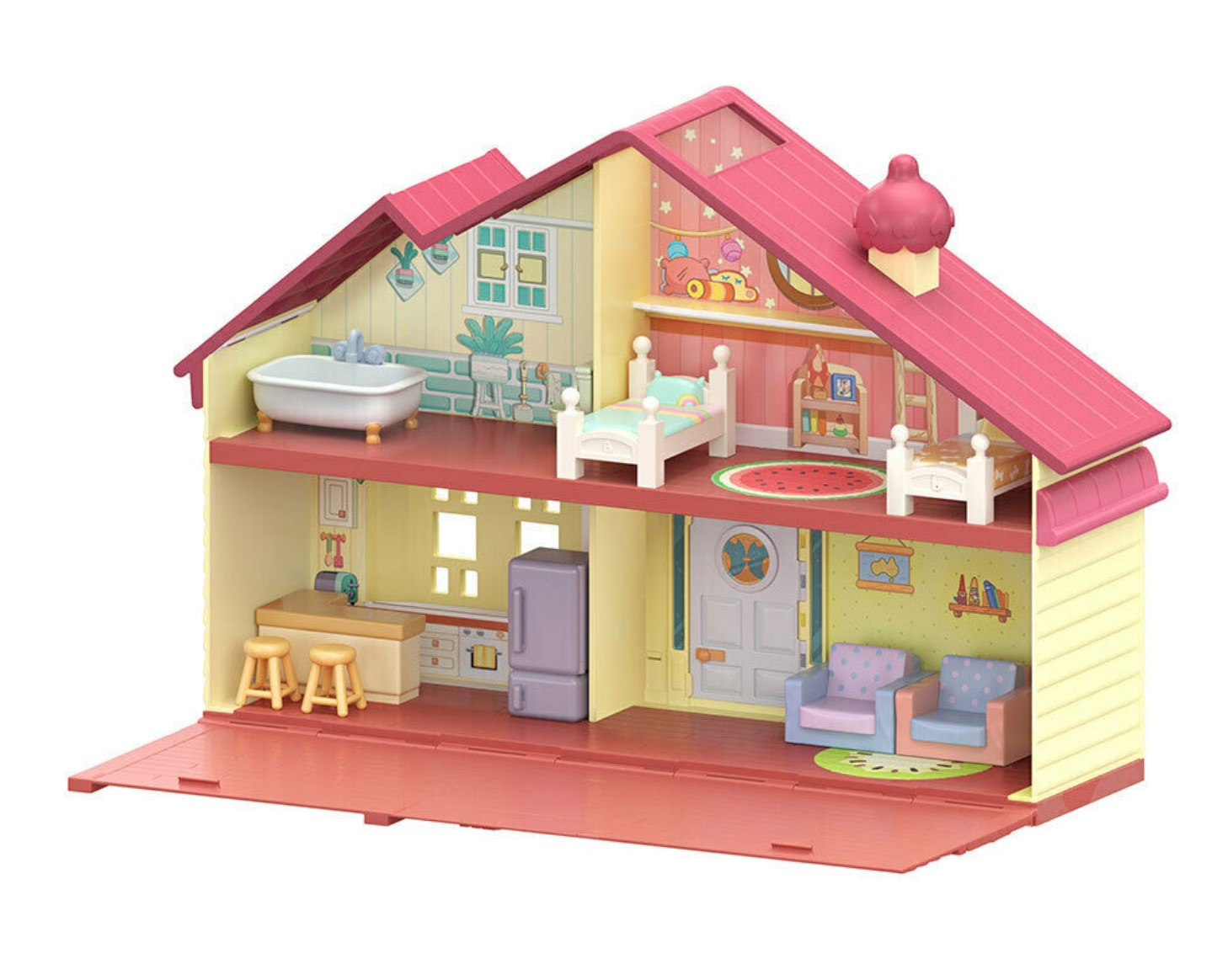 Bluey Family Home Play Set $79.95
Meet Bluey! A loveable, six-year-old Blue Heeler dog, whose everyday family life becomes a playful adventure.  Recreate some of the most memorable moments from the show in the Bluey Family Home playset! Big in size and features, this enormous toy playset is full moulded details with opening doors. and a large wall panel that pulls down to form an amazing outdoor patio!
There is plenty of space for Bluey an her family to play in with four different rooms – a living room, kitchen, bedroom and bathroom. With many pieces of removable  furniture  including 2 beds, 2 stools, 2 sofas, 2 rugs, a bathtub, toilet, dining room counter and fridge, there is plenty to do in this beautiful home!
One Bluey figure is also included in the Family Home. Buy here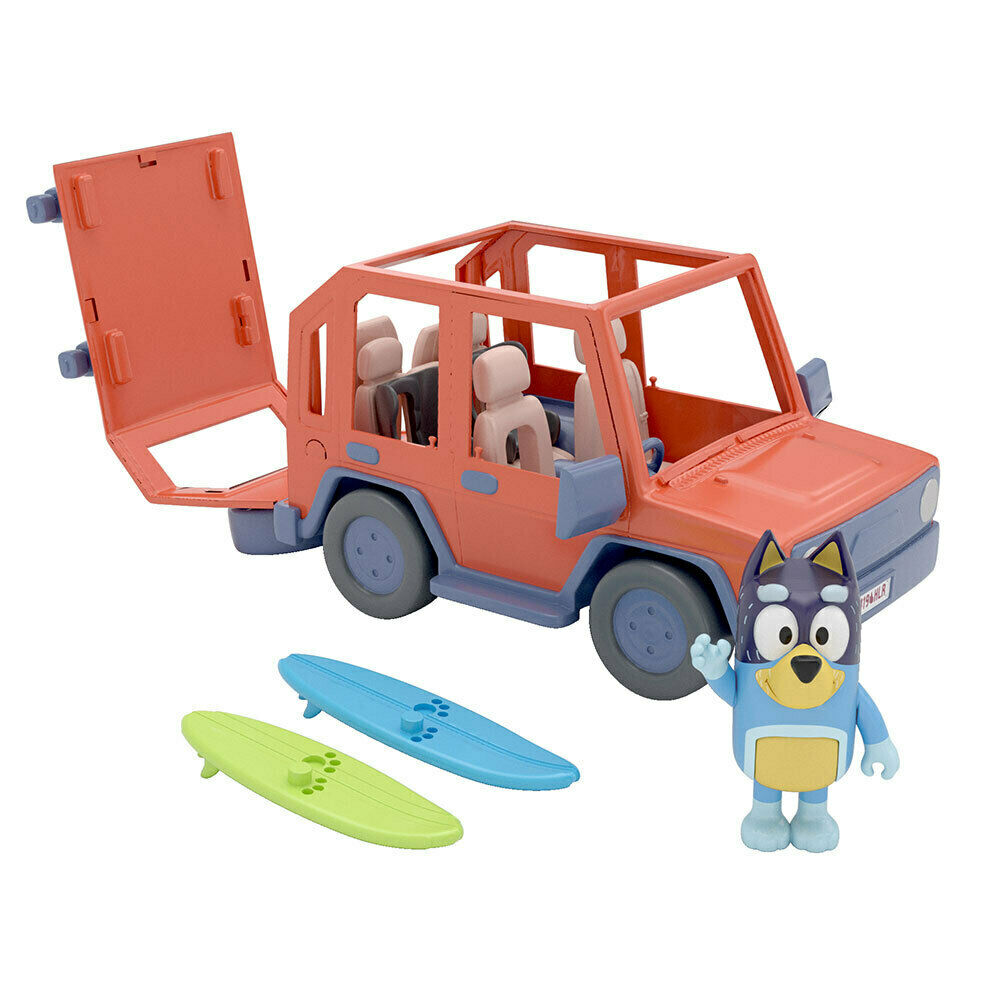 Bluey Series 2 Heeler 4WD Family Vehicle Playset $47
Take Bluey's whole family for a drive in the Heeler 4WD! It's the perfect car to go on fun playful adventures. Open the top of the Family Vehicle to fit all the family Figures inside. The Vehicle is the perfect match for Bluey's Family Figure Pack.You can fit four Figures inside! A Bandit Figure is included so he can drive the family around! On the roof of the Family Vehicle is a Surfboard Rack that holds 2 Surfboards. The Surfboards come off for the whole family to use. They are compatible with all Bluey Figures and are great to use when they drive to the beach. The Vehicle also comes with a fun sticker sheet that includes backseat rubbish and beach friends so that you can decorate the car. Children will love to recreate some of the most memorable moments from the show with these adorable toys! Buy here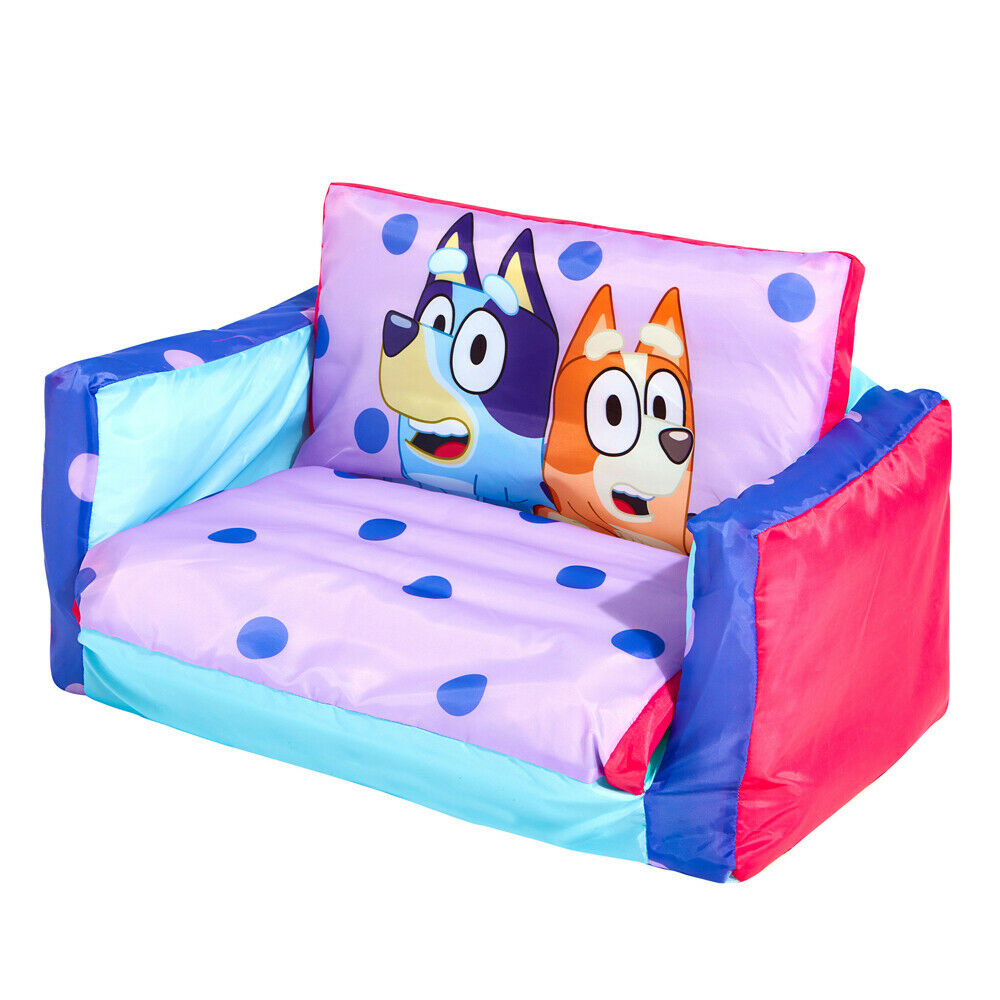 Bluey Inflatable Flip Out Mini Sofa Bed $59.95
This 2-1 inflatable flip out mini sofa opens out and transforms into a comfy lounger, great for relaxing, reading or napping. The inner inflates in minutes to create the ideal Bluey seating and deflates for easy storage and transportation. With a removable machine washable cover, this is perfect for little Bluey fans. Buy here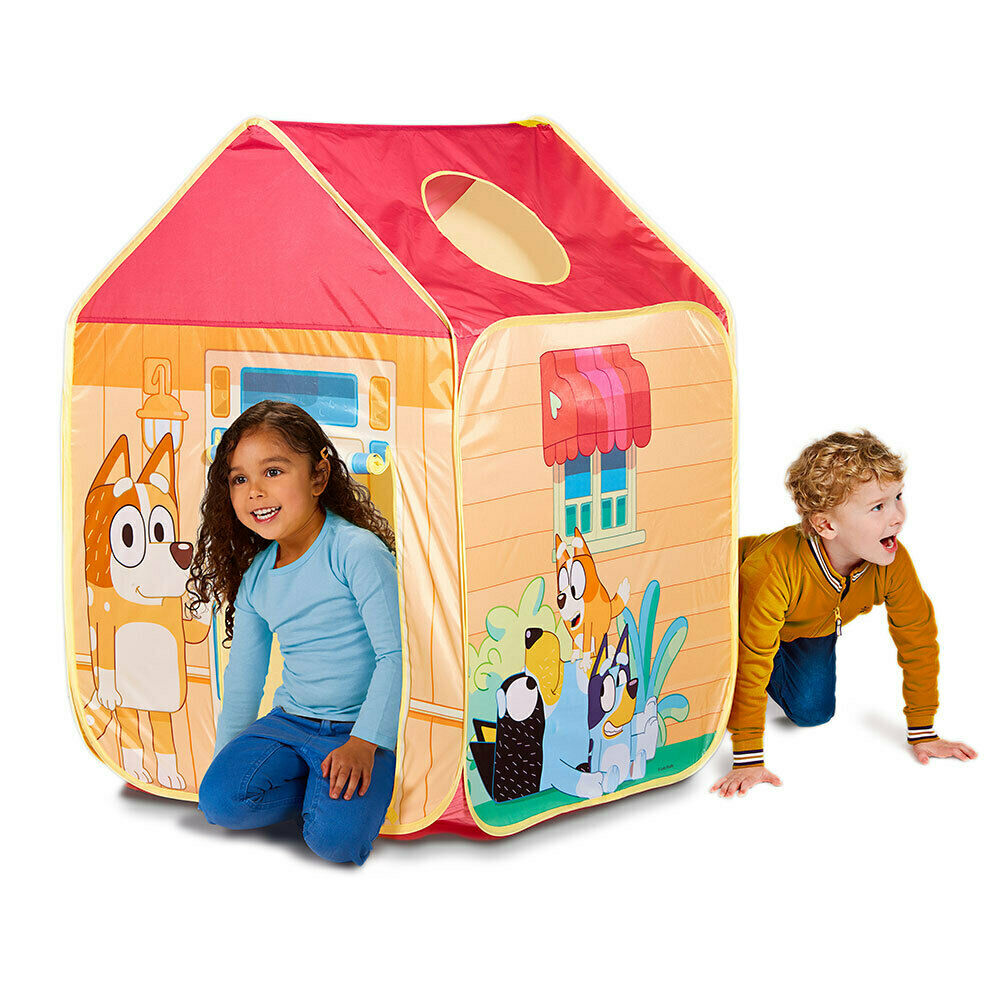 Bluey Kids Pop-Up Cubby House/Play Tent $62
Pop up, peep out and get ready to play with this bright and colourful Play House Pop Up Play Tent.
Little ones will love this colourful play tent featuring their favourite characters.
Ideal for adventures inside and out, this Play House pop up play tent has a roll up door and peek-a-boo hole in the roof, plus it is easy-peasy to put up and simple to store away.
So whether they're having fun in the house, or playing in the garden, adventures with their favourite characters are guaranteed. Buy here
Bluey Wooden Kids/Toddlers Table & Chairs Set $139.95
This fun and colourful kids' table and chairs set featuring their favourite Bluey friends is the perfect size for toddlers. With easy to clean surfaces, this table and chairs set is perfect for arts and crafts, tea time treats or colouring fun. Buy here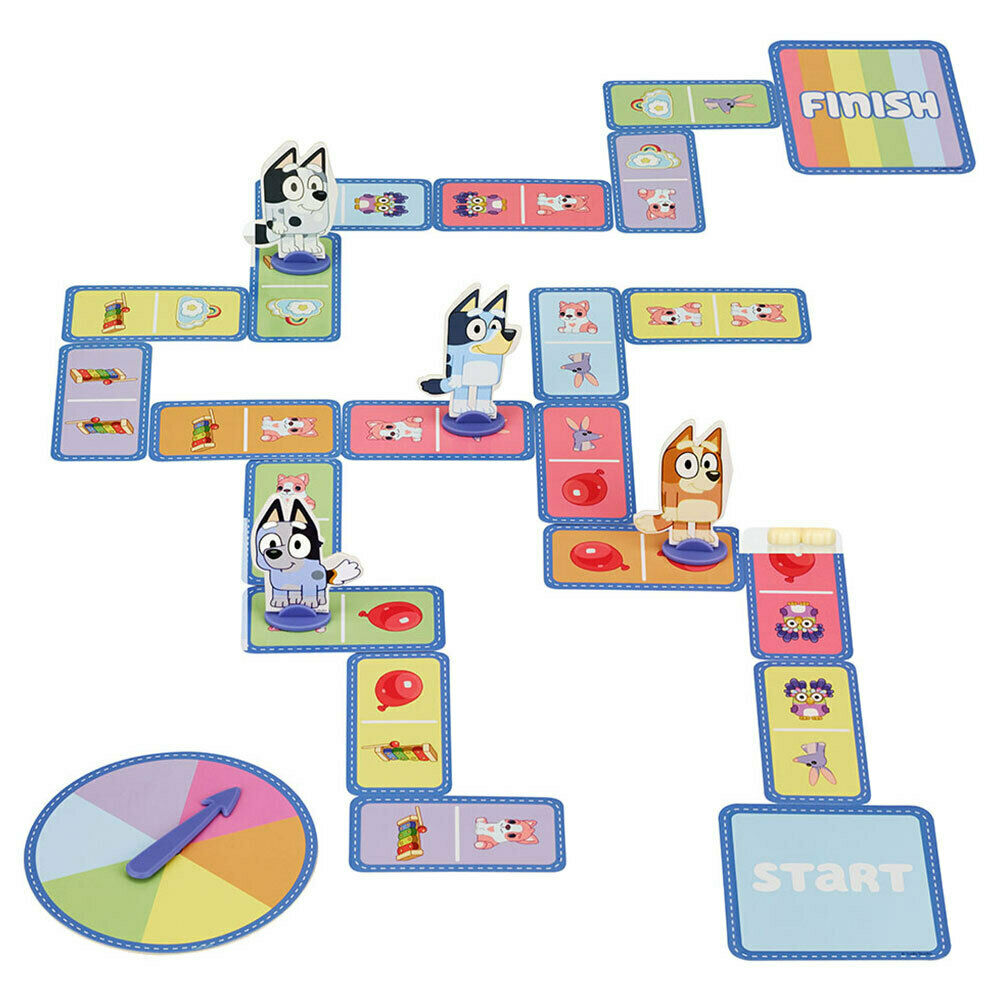 Bluey Hopscotch Race Card Game $23
Join Bluey and her family in a fun game of Hopscotch with Bluey's Hopscotch Race Card Game. Build a Hopscotch path with your friends using the cards then spin the spinner to match the color and be the first to the finish line! This game includes 44 colorful picture cards, a color spinner and 4 character pawns depicting Bluey's family members. A great game for 2-4 Bluey fans to play and ideal for children and toddlers aged 3 years and up. Buy here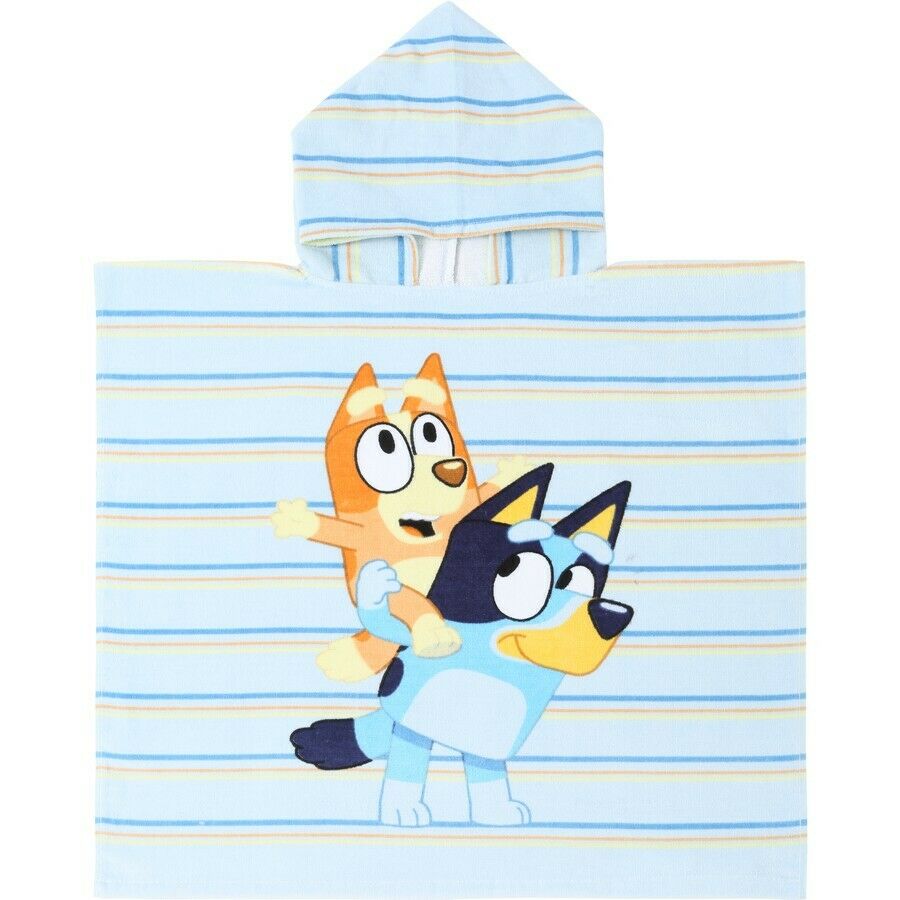 Bluey Family Hooded Towel $19
Keep your little one snug after swimming or bath time with this Bluey Family Hooded Towel! Crafted with comfy cotton, this towel features an exciting Bluey front and back design. Buy here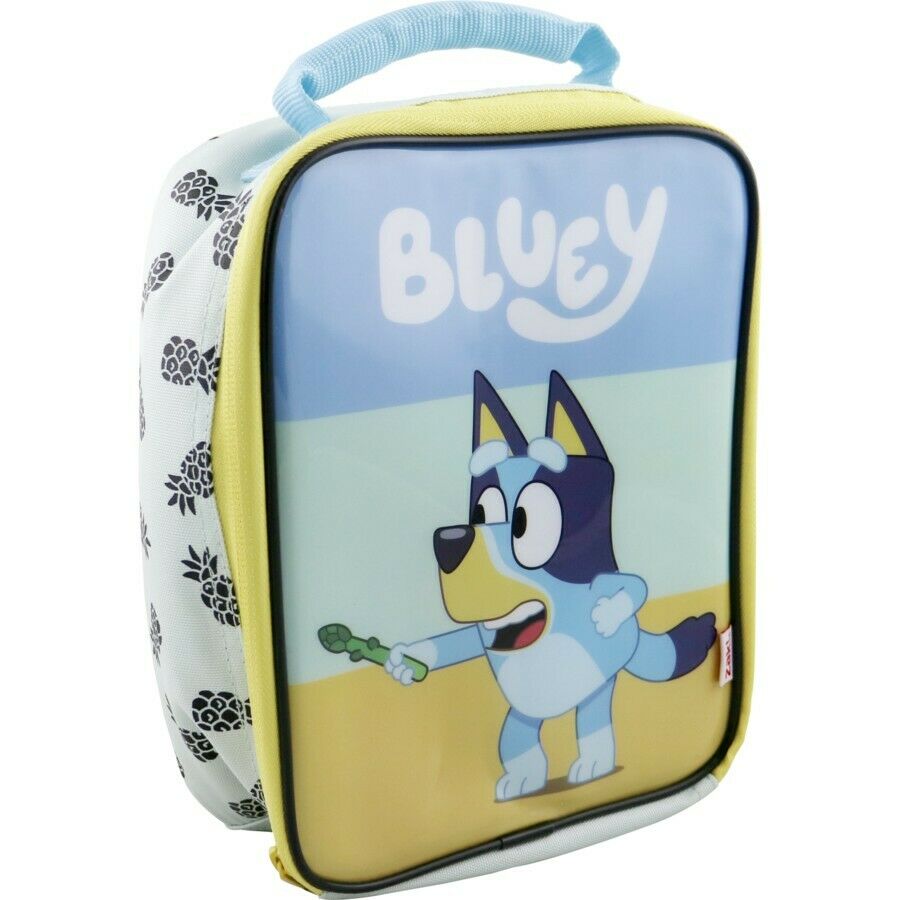 Zak Bluey Lunch Bag $15
This insulated lunch bag is great for kids lunches. Features an easy to clean lining and a carry handle for easy use. Buy here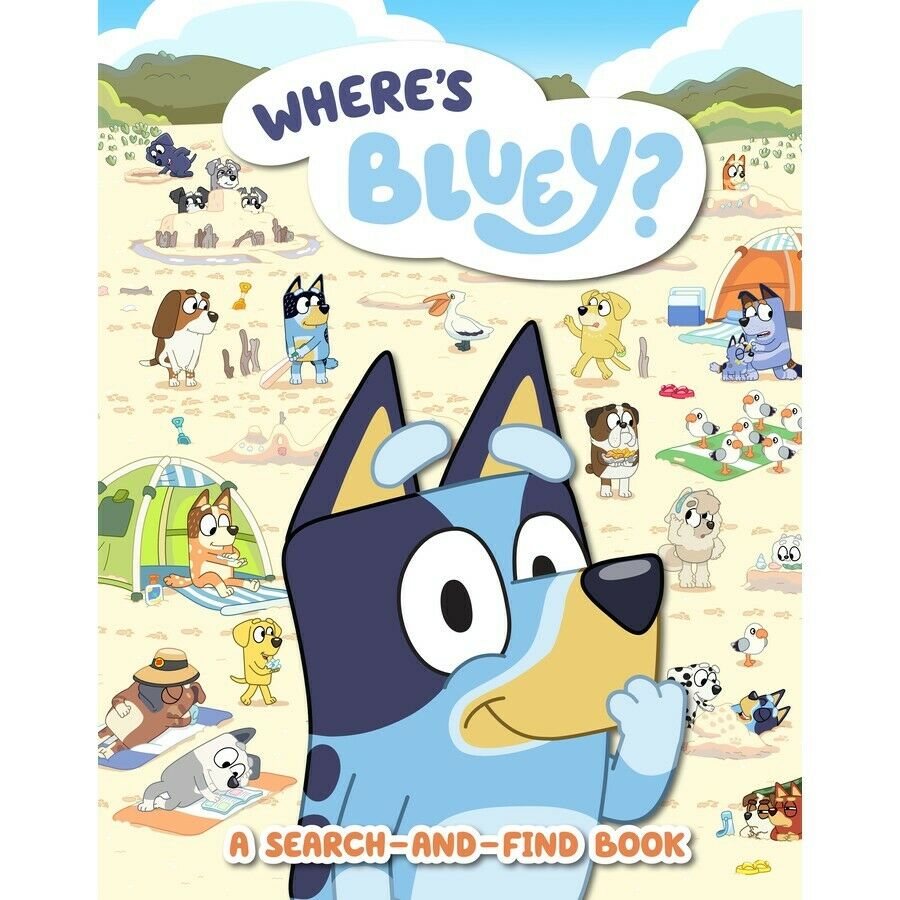 Where's Bluey? Search and Find Book $10
Have you seen Bluey and Bingo? There are lots of other hidden items too, so join the fun in this search-and-find book! Buy here
Bluey and Bingo Ready Bed $49
The Junior ReadyBed is a portable all in one children's airbed and sleeping bag. Settle in, snuggle down and slumber – ReadyBed makes out-and-about bedtime a breeze. From bag to bed in minutes, pop it open, pump it up and tuck your little one in. With a soft and cosy machine washable cover, you can sleep easy knowing they are cuddled up and dreaming. A handy carry pouch and easy to use pump take you from bag to bedtime in a flash. With the Junior ReadyBed you're always set for a great night's sleep – wherever your little explorer snuggles down. Buy here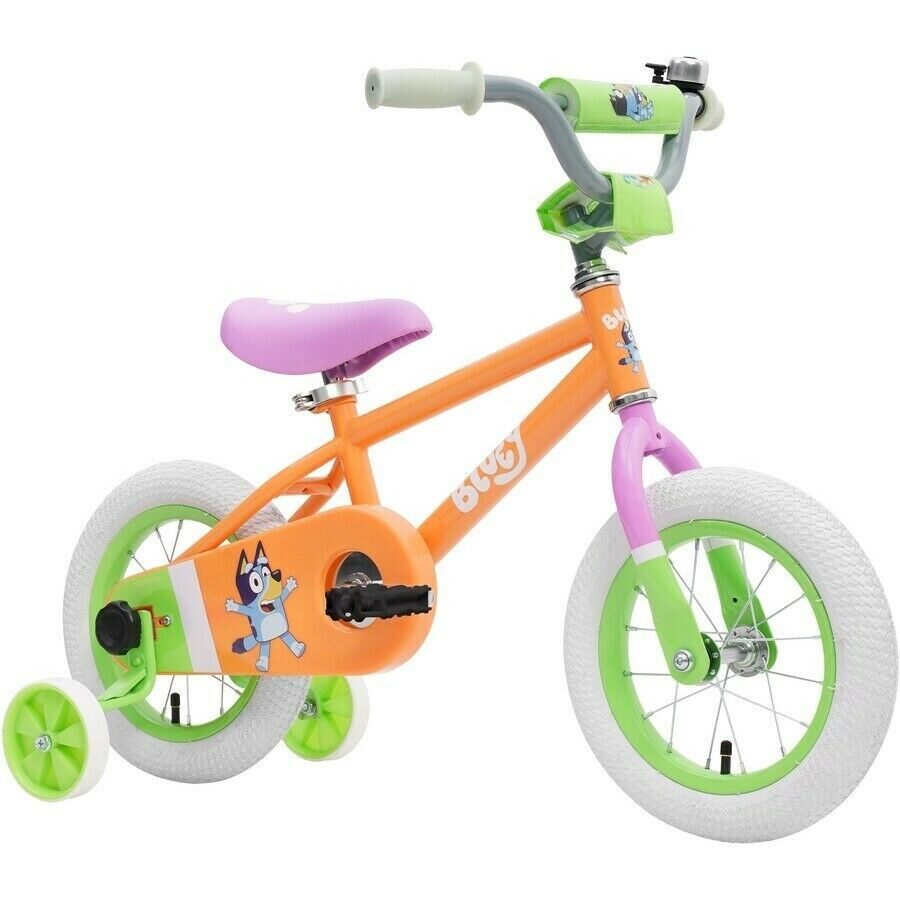 Bluey 30cm Bike $79
Your kids will love riding along with Bluey on their very own 30cm bike. Inspired by the bike from the show, this bike is the perfect starter for your little one! Comes with a full chain guard and rear coaster brake, this bike is all about safety in mind. Removable training wheels helps your child with balance while riding, and can be easily removed once they are confident enough to ride on their own. This bike comes with Ready to Roll feature – assemble the bike in 5 easy steps using the tool supplied. Buy here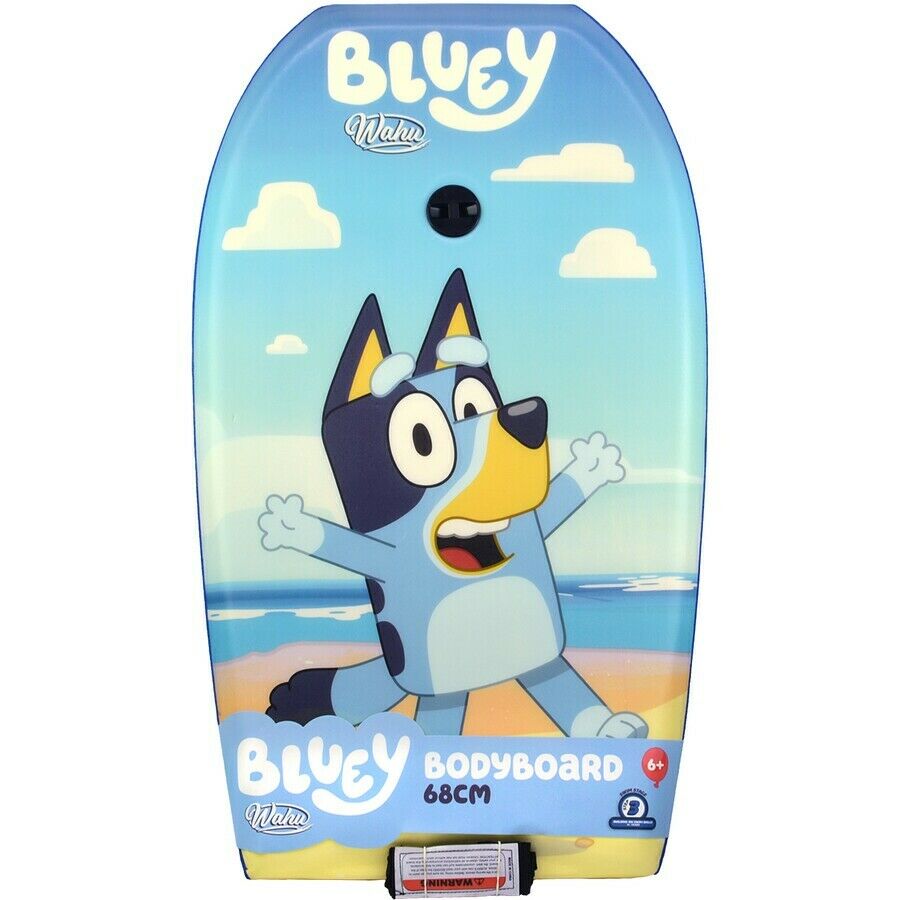 Wahu X Bluey Bodyboard $40
For little Bluey fans with big surf dreams! The Bluey X Wahu Bodyboard is suitable for children aged 6+, who are just itching to get into the water!
Constructed using high-density foam for lightweight performance, the Bluey X Wahu Bodyboard has a PE (polyethylene) slick to ensure a smooth, controlled ride, plus a UV treated board and ankle leash. Buy here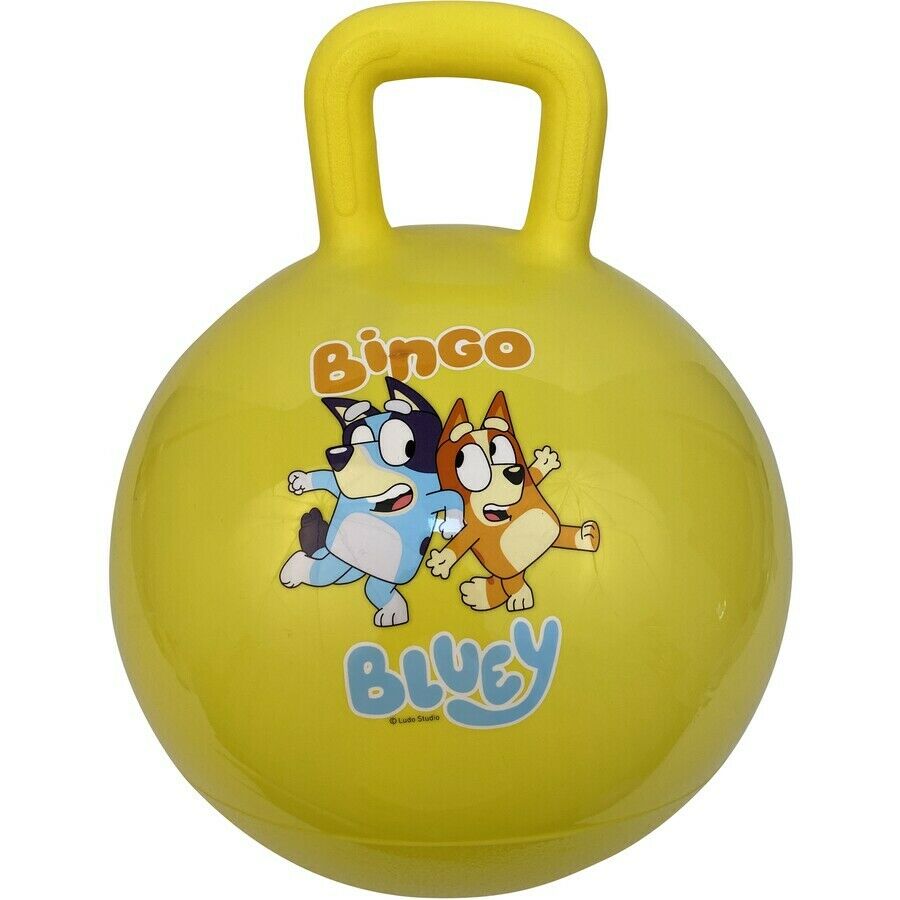 Bluey Hopper $10
Watch your little one bounce around on this Bluey Hopper Ball. Made from heavy-duty gauge vinyl, this toy is great for both indoor and outdoor use. It features a Grab 'n' Grip handle, perfect for little hands. Buy here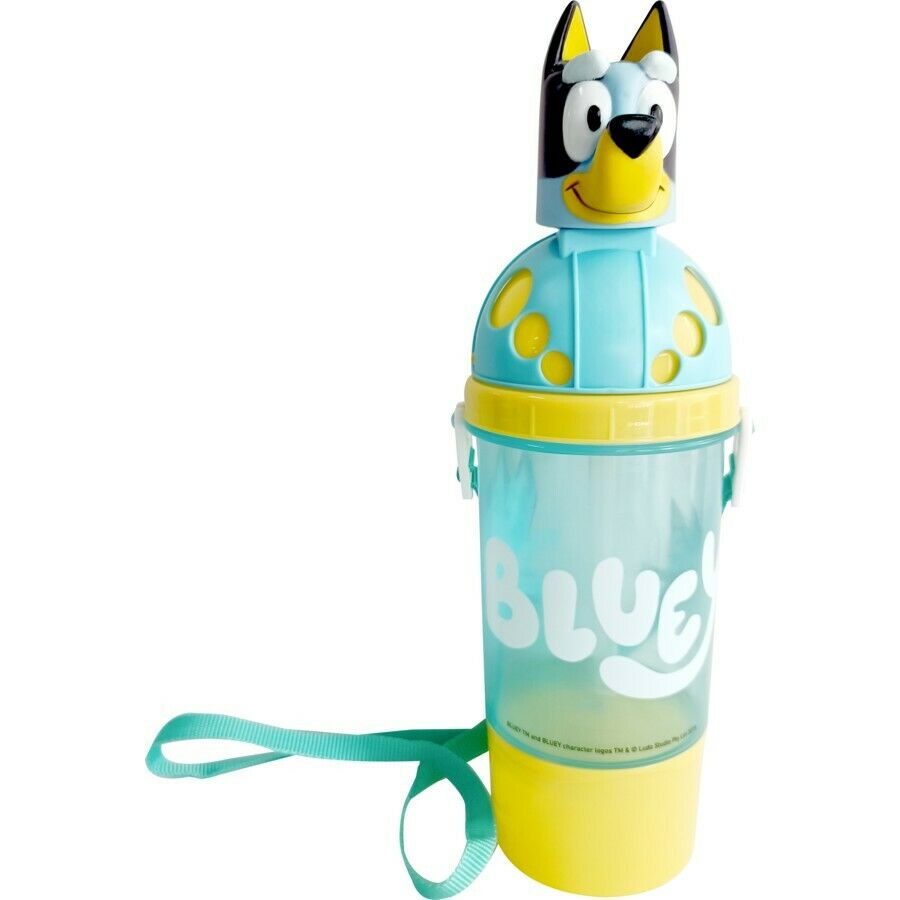 Zak Bluey Fun Sip Snack Canteen $15
Keep your child's drink and snacks together in one place with the Zak Bluey Fun Sip Snack Canteen. Featuring a snack container on the bottom, a flip out straw and a neck carry strap, this canteen is both fun and convenient. Buy here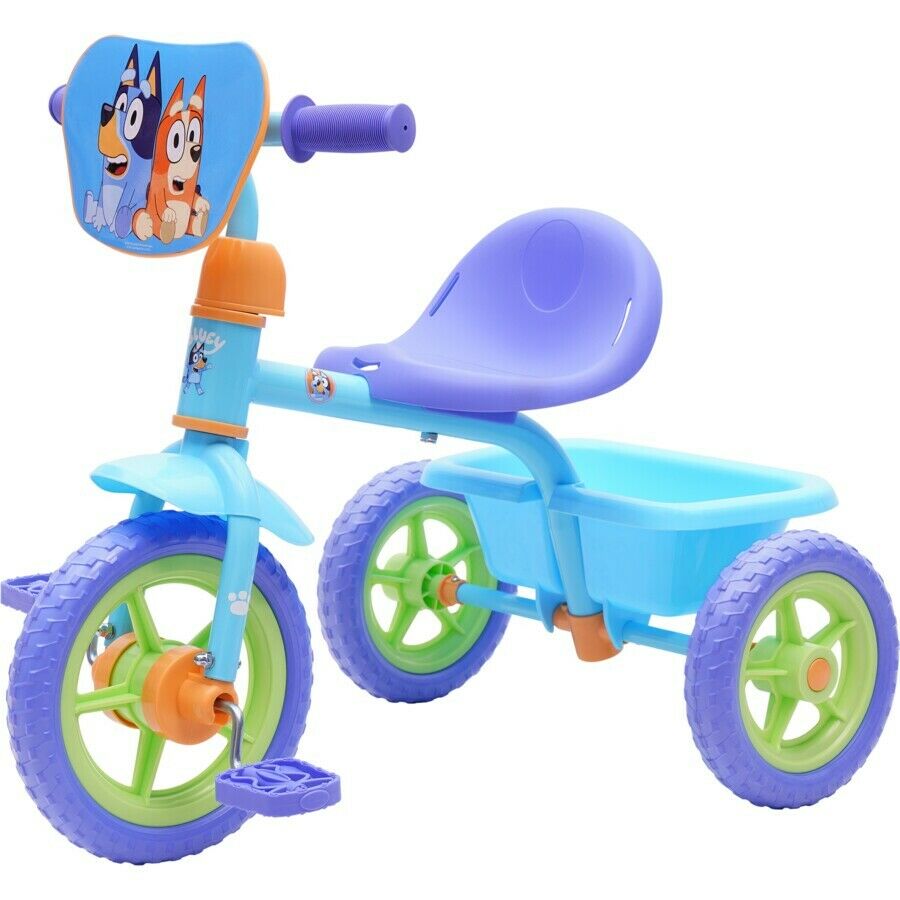 Bluey Trike with Bucket $59
Train your kids and build their confidence with this Bluey Trike. Featuring a tough steel frame, rear bucket, comfortable grips and cute Bluey graphics, this trike is ideal for learning how to ride and helps your little one build up the confidence when they grow. Buy here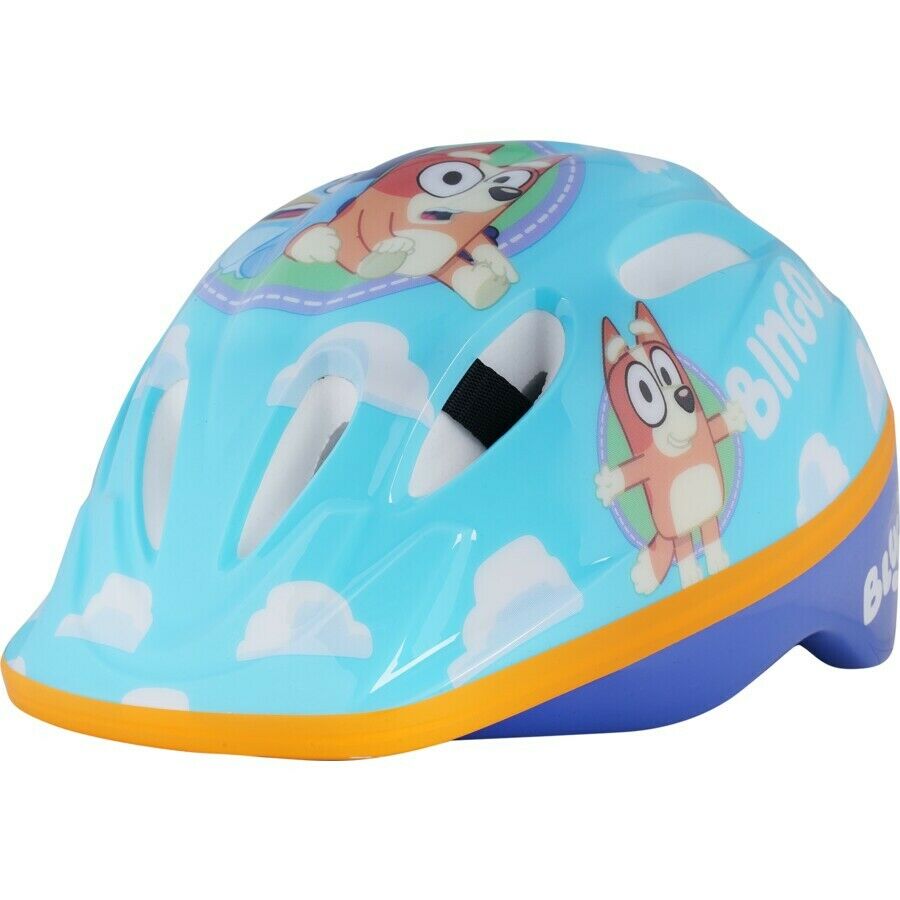 Bluey Toddler Helmet $20
You're child won't have any issues with wearing their helmet with the Bluey Toddler Helmet. Featuring a dial fit system can be adjusted to give their head a snug fit. Complete with a fun Bluey print design.
Let your toddler be cool with their Bluey helmet! Buy here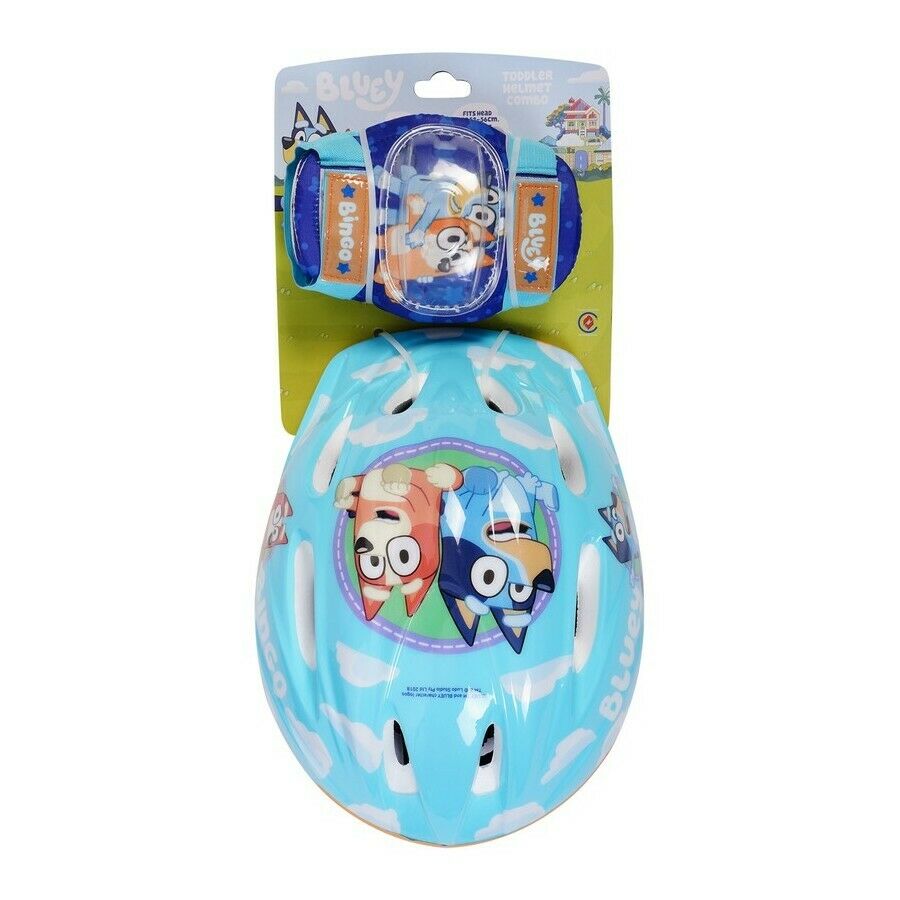 Bluey Kids Helmet and Pads Combo $30
Ride safely with Bluey and Bingo with the Bluey profile helmet. Built to AS/NZS 2063 Standards, this helmet includes adjustable straps and a dial fit system to give your child's head a snug fit. Comes with knee and elbow pads for extra safety. Buy here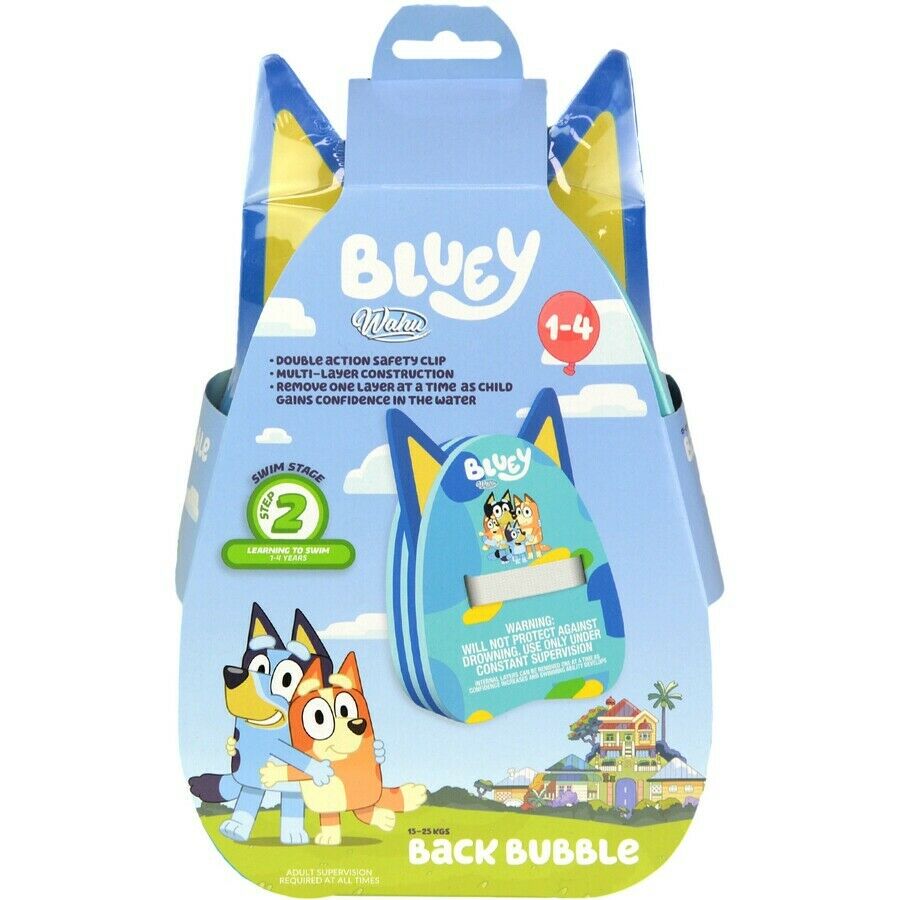 Bluey Back Bubble $24
Little Bluey Fans will be calm and comfy in this contoured, colourful Bluey x Wahu Back Bubble as they learn to paddle, splash and swim – Just like the big kids! Buy here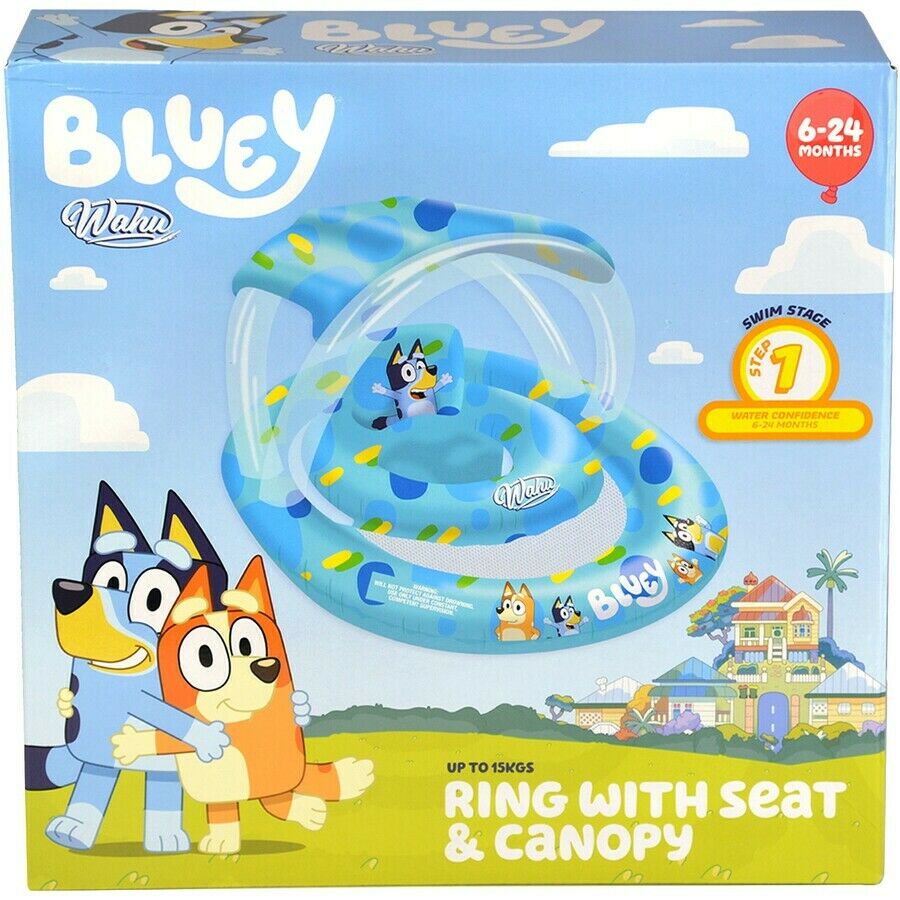 Bluey Ring with Seat & Canopy $29
Little Bluey fans can enjoy a relaxing day in the pool with the Bluey x Wahu Ring with Seat and Canopy.
This inflatable features a play area made from mesh to keep toys out of the water and is designed with scratch-free seams, plus a backrest to maximise your little one's comfort whilst preventing any skin irritation.
The canopy also protects your child's face and eyes from harmful UV rays (although we still recommend that you apply sunscreen on your child each time they have to stay out in the sun) to prevent any sunburn.
The Bluey Ring with seat and canopy is contoured to shape for extra comfort, has Large leg openings provide comfort and plenty of room for little legs to move about in the water, dual air chambers for extra security compared to a single chamber aid, plus non-return safety valves. Buy here
Disclosure: This article contains affiliate links. This means that if you make a purchase we may receive a small commission, at no extra cost to you.