Man Shares Hilarious List of 'Rules' Family Must Follow if He Is Ever in a Coma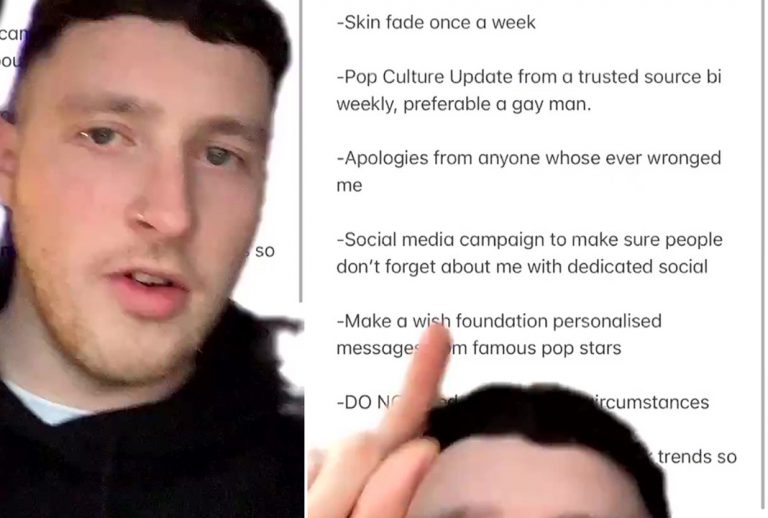 Man Shares Hilarious List of 'Rules' Family Must Follow if He Is Ever in a Coma
A man has gone viral on social media after sharing a hilariously lengthy list of rules he'd like his friends and family to stick to if he should ever happen to be in a coma — and honestly, we've watched it four times and it's still just as funny as the first.
Actor and writer Paul Black from Glasgow, Scotland, shared his hysterical clip on TikTok, featuring very specific instructions on grooming as well as food and pop culture news.
He has a very strong Scottish accent, which, while adding to the hilarity, can be difficult to understand so let's try and transcribe his wishes.
"Ok here are some rules to follow if I'm ever in a coma.
"First of all I need a skin fade once a week, I don't want anything that closely resembles sideburns or any unsightly growth – I've not got the facial structure for it.
"Bi-weekly I would like a pop culture update from a trusted source, preferably a gay man. If Rihanna drops an album, if Meghan Markle gets assassinated, I need to know. Even if I can't hear you, I need to know, my body will sense it.
"Apologies from everyone who has ever wronged me, these must be in person.
"A social media campaign must be started to make sure people don't forget about me. This also must include a dedicated social media manager who gets paid 25K a year to keep my spirit alive.
"Make a Wish Foundation personalised messages from pop stars, real pop stars, not local ones.
"Do not feed me under any circumstances, okay, this is my one shot at this weight loss.
"Include my comatose body in TikTok trends so I stay relevant.
"Put a cigarette to my lips, I know I won't be able to inhale it but I want to know it's there.
"A Go Fund Me must be set up immediately to make sure I've got money to buy new clothes for my skinny body and my various media interviews when I'm out of the coma.
"Play (Lady Gaga's album) Chromatica through my AirPods every day. I don't want to forget it."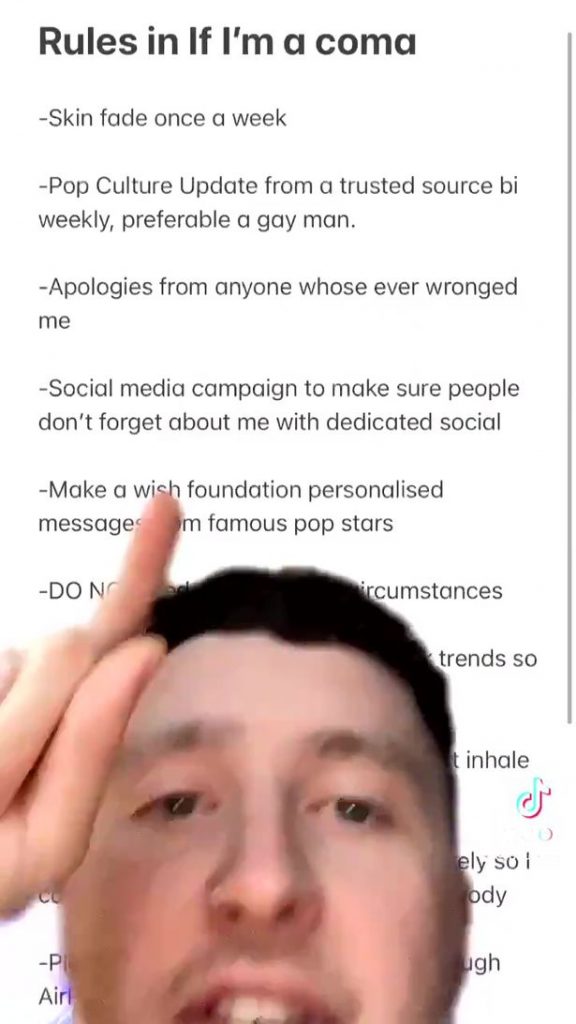 The video has since been viewed more than 400,000 times and garnered over 70,000 likes.
Hundreds of people also took the time to comment, sharing their thoughts, with many finding the whole thing hilarious.
"Gen Z's equivalent of a DNR, love it!" wrote one amused commenter.
"Writing this down to tell my friends and family what must be done. Can I suggest singers coming together for a charity single, too?" added another.
Too funny!
Source: TikTok/Paul Black