Are Violent Video Games Too Much for Our Kids?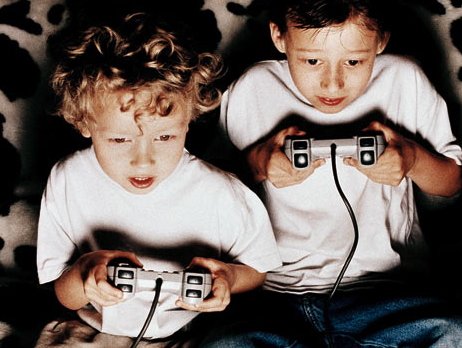 Image source
Does Your Child Watch/Pay Violent Video Games?
Blood, gore, car chases, explosions, shoot-outs. It might be all in a day's work on your child's gaming system.
While more than three quarters of our teens play video games – more than go to the movies each year – the games are becoming increasingly offensive. The Media Awareness Network confirmed in 2010 that today's media has become more violent, graphic, sexual and sadistic.
Child health advocates warn that this trend is definitely affecting our kids.
Studies have shown that teens who play violent video games for hours on end are more aggressive, more likely to confront teachers and fight with classmates, and more likely to see a drop in school achievement.
Researchers guess that, when continually exposed to violent acts, players develop an aggressive reflex during confrontations and become desensitized to any damage they might cause. Boys play more than girls (13 hours versus five hours per week), one study showed, so they're more likely to suffer ill effects — and most major medical associations caution that this aggressive behaviour can be long-lasting. "Playing violent video games leads to adolescent violence like smoking leads to lung cancer," said the American Academy of Pediatrics.
Violent games are especially harmful to kids under eight because they can't yet tell the difference between what's real and what's not. These younger players might have nightmares or become afraid of being hurt.
The Interactive Games and Entertainment Association is one of many voices arguing in favour of the Federal Government introducing an adults-only, R18+ rating for games here, similar to the rating that most Western countries already have. They say such a rating would create less confusion, although some anti-violent video game activists argue that this move will expose children to unsavoury material, as more 'adult' content is released over time.
So as parents, the power – and the plug – is in our hands.
Like most successful parenting strategies, it is up to us to set the boundaries and expectations. You can protect your kid with a kitchen timer. The most aggressive kids studied reported that their parents had never set time limits on their gaming. The more violence, the more your child will be affected. Keep the gaming system out of your kid's bedroom, keep an eye on Internet gaming, negotiate a time limit and then stick to your guns.
Let your child know which games are allowed, watch what your child is playing and talk about what you see. Do your homework and get online to read up and find out about the games that your children are playing or asking to play. If you are concerned that your children are losing empathy due to gaming, start having conversations. Explain how to treat others with respect, how to solve problems, the danger of gender or racial stereotypes and the true consequences of cruelty and violence.
There are also a number of advocates in favour of gaming that state gaming provides everything from motivation and engagement to influencing and problem solving. Even education departments are looking at ways technology and gaming can have a positive effect on the learning environment in schools. Gaming can be for the greater good, if it is used in a positive way. Concerns for parents are when those games get ugly and seem to influence our children in less than positive ways.
While it's true that games may be getting more concerning, remember that you are the parent, so you get to set the rules.
Do you let your child watch violent video games? What age do you consider old enough to play them? 
Article supplied by: Catherine Gerhardt
Kidproof delivers innovative courses and educational materials that cover a range of children¹s safety needs. By connecting with millions of parents and kids annually, Kidproof and its child safety education franchisees help create safer communities by delivering exclusive child safety programs (such as Stranger Smarts, At Home Alone, BullyProofing, CyberSafe and Babysitter Training) to schools, community centres, youth organizations, churches and private organizations.
Established by former police officer Samantha Wilson in 2000, Kidproof has rapidly become the largest and fastest growing children¹s safety education franchisor. To learn more, visit www.kidproofsafety.com.au, email [email protected]or call 1-300-577-663.