Elf on the Shelf Ideas: Why We Love Sam McJingles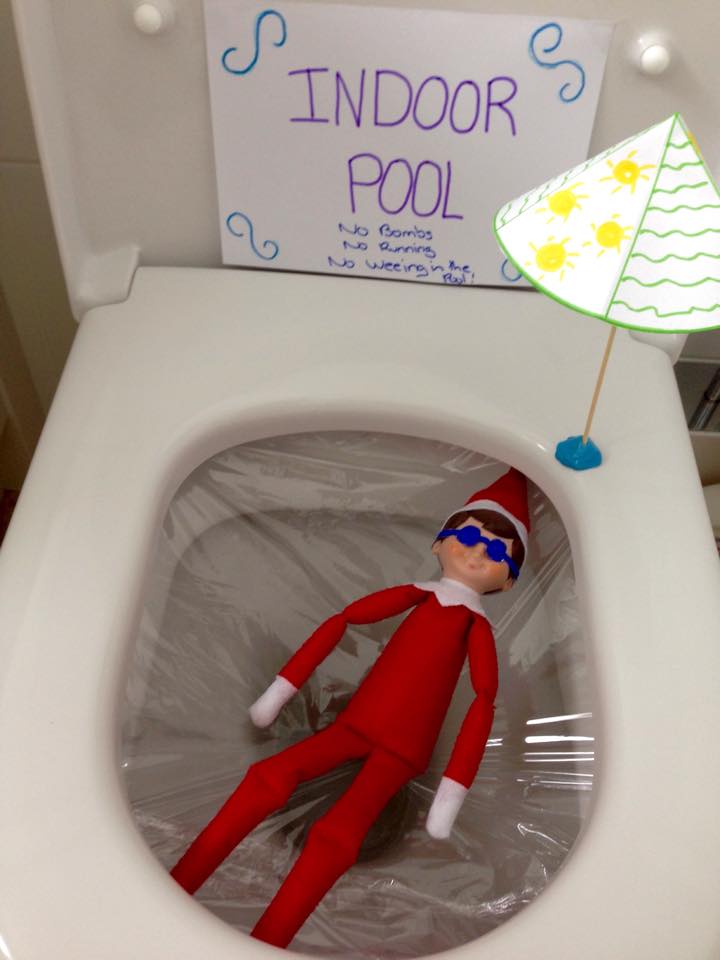 Elf on the Shelf: Why We Love Sam McJingles
We love everything Christmas in our house. We love tinsel, lights, baubles, shortbread, fruit mince pies (well that's really just me) and anything else that says Christmas. So when I heard about the Elf on the Shelf I knew we had to include it in our Christmas traditions.
I love the concept of the Elf on the Shelf (although we don't follow the rule that you can't touch him, that feels a little cruel to me). I love that it is all about fun and not about gifts and getting something. It is solely about joy and it allows me to release some of my inner child and bring fun into what can become quite a stressful time of the year. It's the best watching my daughter's face light up with laughter as she discovers each morning the antics Sam McJingles (our elf) has been up to over night.
But having an Elf isn't for the fainthearted. Planning is required as there is nothing worse than the look of disappointment on your child's face when they find their elf still sitting where they left it the night before. There have been some nights when all I could muster was a quick trip to the fridge (and that was to move the elf there and not to get another glass of wine although I may have achieved both).
This is the 3rd year that our Elf, Sam McJingles, has been to visit. The 1st year he was a bit shy and so we never actually saw him. He only left evidence that he had been around. Some of my daughter's favourites included wrapping the tree in toilet paper and the toilet in wrapping paper!
Last year he had us eating tiny pancakes and having a snowball fight with paper snowballs (which was a fantastic way to start our day). He has wrapped my daughter's school bag with Christmas paper and packed her lunchbox with anything he could find in our pantry. He has covered our tree in underwear and toilet papered our bathroom. The bigger the mess he makes the bigger the smile on my daughter's face.
This year has seen his creative side shine. Earlier this week he drew minions on our bananas (well that's what I told her they were), mustaches, horns and hair on our family photos including the one with Santa (not sure what the fellow in red said to him after that one) as well as setting himself up to have a shave for his hot date with Barbie.
We have had so many antics but one of her all time favourites was when he created his indoor swimming pool over the top of our toilet, including umbrella and sunglasses!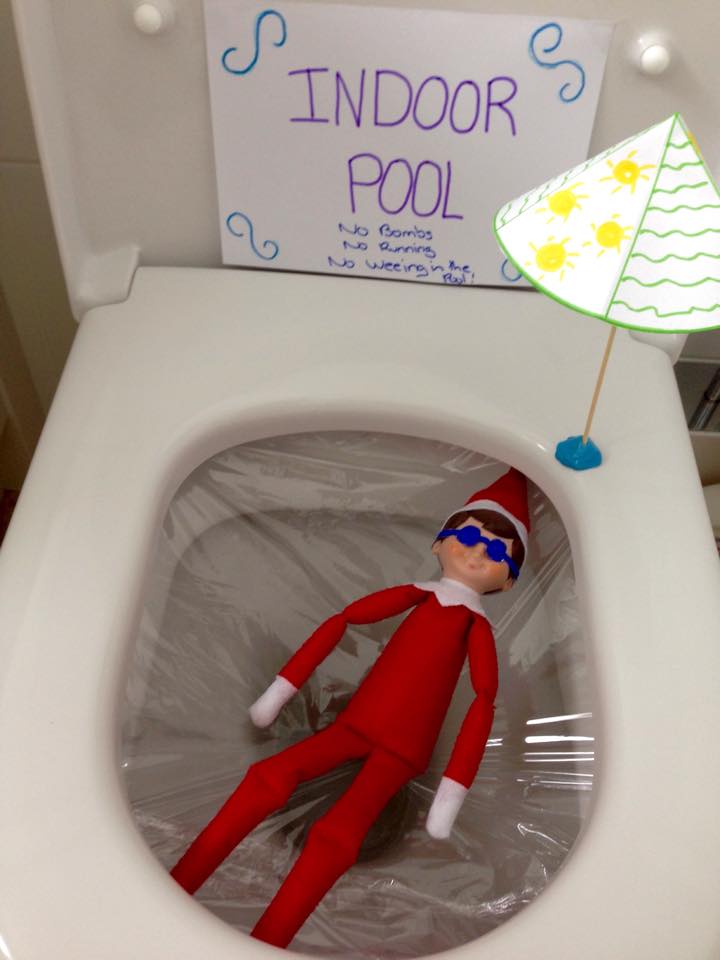 Each year this gets harder but inspiration comes from other's who have taken up the Elf challenge and share either via pinterest or over a coffee after school drop-off. And even though this is meant to be for the kids there is much laughter between the mums over suggested ideas especially when discussing where our creativity must stop so that it remains PG and child-safe.
So with only a few weeks left we have planned a picnic with Barbie (well he has had a shave in readiness for his hot date), some absailing (Bond style), google eyes throughout the fridge, a little red chair "Voice" action and the wrapping of the TV just to name a few. I don't claim to be the inventor of any of these and I am extremely grateful to all the creative people who are willing to share.
On Christmas Eve, Sam McJingles, heads back to the North Pole and to help with the ensuing sadness he leaves a gift box for my daughter with new pj's to wear for Santa, a new Christmas movie and a treat to enjoy as we watch it as a family.
So if you feel like taking on an extra challenge this Christmas I couldn't recommend this higher. The laughter, the smiles and the belief in magic in your child's eyes is worth any effort you have to go to!
Written by Lorraine Scarr