Chocolate Caramel Tim Tam Muffins Recipe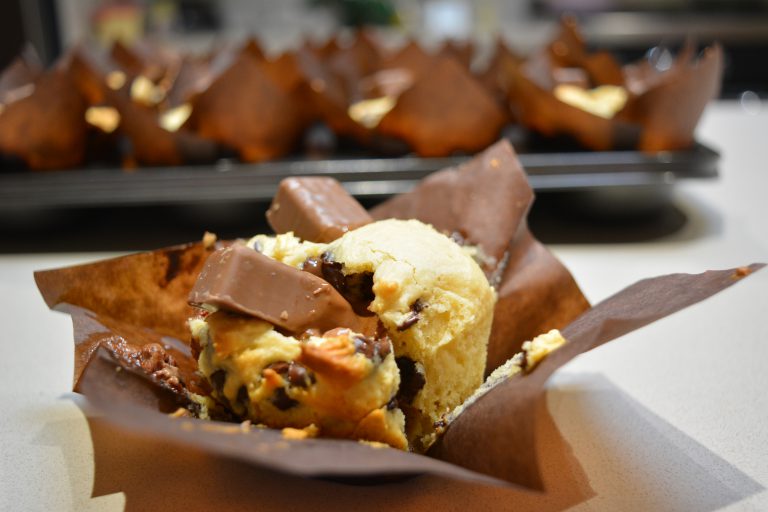 Chocolate Caramel Tim Tam Muffins Recipe
Can you believe all the varieties of Tim Tams that are available now? Milk chocolate, dark chocolate, white chocolate, caramel, double coat PLUS the limited editions (which have been around a while now) of red velvet, coconut cream, and salted caramel.
Then…they went and made mini Tim Tam bites (because they are so small, they have hardly any calories, well… I can only assume). So of course we need to make some cute muffins out of them. Not only are these cute, they are a little bit decadent. They have chocolate chips, caramel chips and two, yes two flavours of mini Tim Tam's in them as well. They are gooey and melty and you may get a bit of chocolate or caramel running down your chin and fingers when you eat them still warm. I hope you love them as much as we did!
Chocolate Caramel Tim Tam Muffins Recipe
Ingredients
350g (2 1/3 cups) self-raising flour
100g (1/2 cup) firmly packed brown sugar
65g (1/3 cup) chocolate chips
65g (1/3 cup) caramel chips (just use all chocolate if you can't find these)
2 eggs
300ml cream
1 pkt Arnott's Tim Tam Chocolicious Bites Dark*
1 pkt Arnott's Tim Tam Chocolicious Bites Gooey Caramel*
*Substitute chocolate covered biscuits and chocolate covered biscuits with a caramel centre if you don't have these where you are (cut in half).
Instructions
Preheat oven to 180C/160C fan-forced/350F. Line a 12 hole muffin tray with paper cases.
Combine the flour, brown sugar and chocolate & caramel chips together. Whisk the eggs and cream together and then combine with the dry ingredients. Only mix by hand and until just combined.
Spoon a heaped tablespoon of mixture into each paper case, then top with two of the dark bites. Cover with the remaining batter. Bake for 18 minutes or until golden. Leave in the tray for 5 minutes, then push two caramel bites into each muffin. Serve warm or at room temperature OR with some ice cream and caramel sauce!
https://mumslounge.com.au/lifestyle/food/chocolate-caramel-tim-tam-muffins-recipe/
Carolyn started her blog Pinkpostitnote.com just over a year ago as a way to deal with her obsession of trying new recipes from the copious collection of cookbooks that she owns (and continues to buy). She is particularly fond of "man" food, both cooking it and eating it. She will happily elbow people out of the road at the sight, sound and smell of a pulled pork burger. When she's not lying awake at 5am wondering if she should buy chooks and a cow to deal with the constant need for eggs and butter, she's dealing with all the paperwork associated with owning a bunch of tip trucks and her favorite time of the day is wine five o-clock.