Flourless Chocolate Cake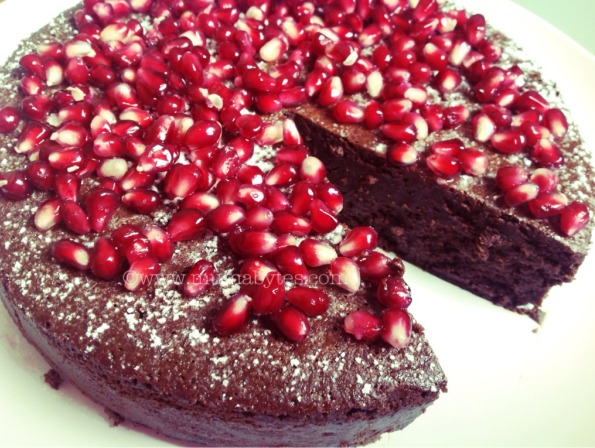 Flourless Chocolate Cake
This is one of my absolute favourite desserts to make, and it's on high rotation for my guests because it never disappoints. The feedback on this is always positive; it's a dense, chocolate delight, and it always looks gorgeous on the serving plate.
I use coconut water for the liquid component of this recipe, but you could use other juices, or even water if you prefer.
Pomegranate and raspberries always look amazing served over this dessert.
Ingredients:
300g dark cooking chocolate
4 eggs
250 ml coconut water (fresh, from a drinking coconut)
1 cup brown sugar
150g almond meal
Icing sugar for dusting
Pomegranate, or fruit of choice
Method:
Pre-heat oven to 150 C, and prepare your baking tin. Grease and line it with baking paper. (The pictured cake was baked in a 20 cm round tin.)
Break up the chocolate into evenly sized pieces and put it in a saucepan with the coconut water. On a low heat stir until the chocolate is melted. Set aside to cool down.
Separate the eggs.
Add the brown sugar to the yolks and beat with electric beaters until pale in colour.
In a separate bowl, beat the egg whites until stiff.
Add the chocolate mixture and almond meal to the brown sugar and yolks, and combine with a spoon.
Lastly, fold through the egg whites.
Pour batter into your cake tin, then place the tin inside a roasting pan, half-filled with water. (This is to stop cracks forming in the cake.) Bake for around 45 – 50 minutes. Just keep checking the cake, when the entire surface feels firm to touch, it is done.
Remove from oven very carefully because the water bath will be boiling. I've burnt myself a few times doing this. The cake needs to cool completely. Then, cover the tin with foil, making sure no foil touches the surface of the cake, and place in the fridge overnight.
The next day, you can remove the cake from the tin and decorate with icing sugar and your choice of fruit. Store in the fridge.
Prep time: 20 mins
Total Time: Overnight
Difficulty: medium
Author: Katie from Mumabytes (http://www.mumabytes.com)
Bio: Katie is a full-time mum and blogger at Mumabytes (insert link: http//www.mumabytes.com). A Melbourne girl, she never says no to chocolate, and loves to share her ramblings about all things motherhood.