Peanut Butter Cheesecake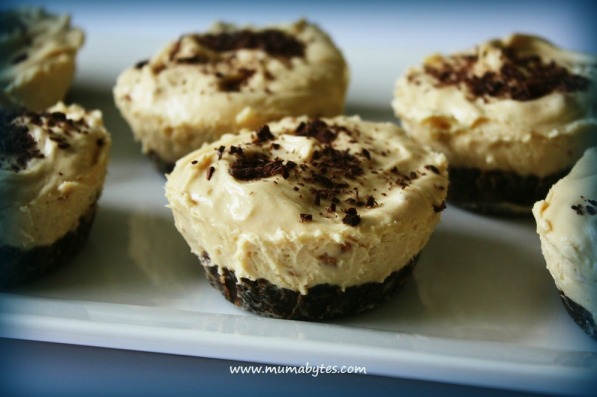 Peanut Butter Cheesecakes
Are you a peanut butter nut? I absolutely am. I'm also a cheesecake nut, so this dessert is right up my alley. You cannot go wrong with these peanut butter cheesecakes.
Definitely not for the faint hearted, this is a very rich cheesecake, so you might want to stop at one – if you can!
Ingredients:
250g Kraft Philadelphia cream cheese (1 block, softened)
250g pk Choc Ripple biscuits
80g melted butter
3/4 cup condensed milk
1/2 cup whipped cream
2-3 tbsp peanut butter (crunchy or smooth, it's up to you. I used 3 tbsp of crunchy.)
Method:
 Grease a 12 hole muffin tray and place a little circle of baking paper in the bottom of each.
 In a food processor, or with a rolling pin, crush the biscuits into crumb and place in a bowl. Pour in small amounts of melted butter with the biscuit crumb until there is enough to form it into clumps that hold. Press down into the bases of the 12 muffin holes and refrigerate.
 Use beaters to whip the cream until it stands in peaks, and set aside.
 Use beaters to combine the cream cheese, condensed milk and peanut butter. Beat well.
 Lastly, fold through the whipped cream.
 Spoon onto the refrigerated biscuit bases then return the tray to the fridge overnight, or at least for a few hours.
 When they are well set, use a knife around the edges to release them from the tin, and peel off the circle of baking paper underneath.
Decorate with whatever you want! Crushed peanuts, grated chocolate, even whipped cream.
Prep time: 15 mins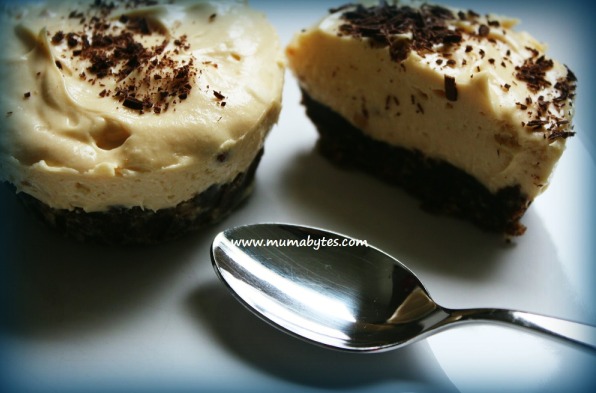 Total Time: overnight to set
Difficulty: easy
Katie is a full-time mum and blogger at Mumabytes. A Melbourne girl, she never says no to chocolate, and loves to share her ramblings about all things motherhood.