Play with Food: Cadbury Crème Egg Brownies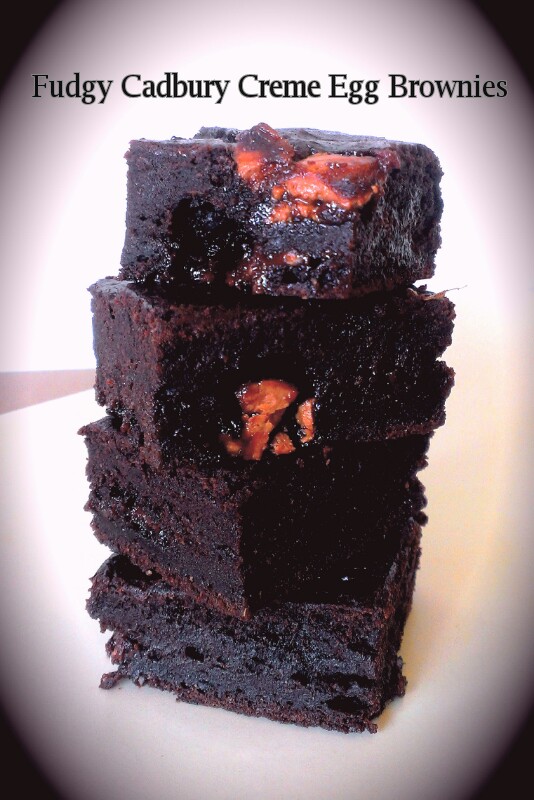 Play with Food: Cadbury Crème Egg Brownies
A milk chocolate shell filled with sweet and sticky goodness. Yes, it's that time of year when the Cadbury Crème Eggs have hit the supermarket aisles ready for Easter! Have you thought of baking with them though?
To have these tasty little morsels go a bit further this year, why not include them into brownies and get the kids involved in making them. I have TWO brownie recipes today that you can add the mini Cadbury crème eggs to, Fudgy Cadbury Crème Egg Brownies and a Cadbury Crème Egg Brownie Cake.
The first is a great brownie recipe that gives a really rich, moist and fudgy consistency. This base recipe is also ironically egg free and lower in fat & sugar – does that make adding the crème eggs OK? (I think so!) It is also a great recipe for kids to participate in as I have made all the measures in ½ cup increments (making less dishes for you!). However, if you are after a totally egg free recipe – do not add Cadbury Crème Eggs as they contain egg. Instead try other types of mini eggs that are available & check their ingredients list. The pumpkin is the key ingredient used to substitute in for the egg. Pumpkin is used to bind the ingredients together.
FUDGY CADBURY CRÈME EGG BROWNIES
Ingredients:
½ cup cocoa
1 cup wholemeal flour
1 tsp baking powder
1 tsp cornflour
¼ tsp salt
½ cup castor sugar
½ cup yoghurt
1 cup pumpkin puree, cooled
½ tsp vanilla essence
1 tbsp coconut oil
1 x 130g packet of Cadbury Mini Crème Eggs
Method: (Where you see an A – it is an adult step and K – is a kids step)
Step One:
A – Steam, puree and refrigerate the pumpkin in advance. (I made mine the night before as extra with dinner)
A – Preheat the oven to 180oC and grease an 8″x8″ brownie/cake tin.
K – Measure out and add the dry ingredients (excluding the Cadbury crème eggs) to a bowl.
Step Two:
K – In a separate bowl, mix the wet ingredients and then add them to the dry ingredients.
A – Check the batter for sweetness (add more sugar if required remembering that the Cadbury crème eggs will add sweetness too). BONUS: It is safe to eat this batter raw due to lack of raw egg in the mixture!
Step Three:
K – Remove the foil from the Cadbury crème eggs and break them in half. Add the eggs to the batter. After mixing in the chunks of crème eggs, spread the batter out in your tin evenly.
A – Place brownies into the oven to bake for 30-40min. (Test that the brownies are cooked after 30min with a skewer, if not leave to bake for an extra few minutes).
The second brownie base recipe that I have developed to go with the Cadbury Crème Eggs is Dairy Free. Please note, you should add dairy free chocolate chips instead of Cadbury crème eggs to ensure the whole product is dairy free. This brownie recipe has more of a cake like consistency. I actually ended up baking it in a smaller round pyrex 8″ bowl instead of a brownie tin.
As a deviation from my usual baking recipes I used weights (instead of cup measures). This gives kids the chance to practice some numbers & requires electronic scales that you can zero after each ingredient is added. Or conventional scales that you can individually weigh each ingredient on before adding it to the bowl.
About the Writer:
Simone Emery is a mum and owner of Sydney based, Play with Food. Play with Food run fun-filled classes and workshops about fruit and vegetables. We use seasonal produce and give parents lots of ideas for encouraging happy and healthy eating in the home environment. Check out our website for more information on singing, playing and laughing your way to happier family eating experiences www.playwithfood.com.au.