Here's What You Can Do Today to Promote Inclusion in the Classroom and Raise Awareness of Children with Disability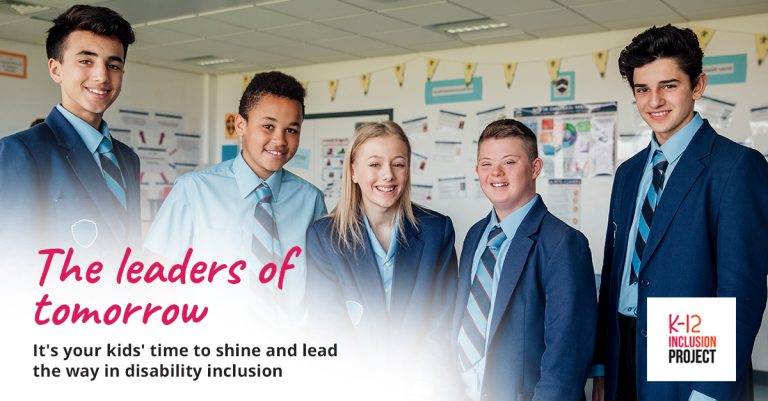 Here's What You Can Do Today to Promote Inclusion in the Classroom and Raise Awareness of Children with Disability
Sponsored post
The K-12 Inclusion Project
All anyone ever really wants, is to feel like belong, which is why it is so important that we teach our children about diversity and inclusion from a young age. The K-12 Inclusion Project have created an awesome new initiative that focuses on providing resources for students and teachers to give people with a disability a voice and show everyone how inclusion can be improved in schools.
Amongst these resources is the K-12 animated video in which the character Kieran and his friends sing 'Focus on My Ability.'
The K-12 song is designed to help to teach children about diversity and inclusion and that it is important for all kids to play together. The aim is to educate students and build school communities that value, celebrate and respond to diversity.
The K-12 Inclusion framework is made up of 3 pillars, Include, Enable and Embrace which can help to build supportive and inclusive school communities that welcome and celebrate everyone's differences.
Include
Everyone in school should feel like they belong. Equal access and equal opportunity are provided to all students in every context.  Physical – students with disabilities are present in the same environments as other students, and experience the place for the same amount of time. Social – all students are welcomed wholeheartedly and belong. Curricular – all students are able to access the same curriculum with appropriate adjustments.
Enable
We want students to be empowered to participate in school and reach their full potential! Every student will have the support they need to succeed and participate effectively in all aspects of school life. This includes development of personality, talents and creativity, as well as cognitive and physical abilities.
Embrace
Diversity is an important part of the school environment. All students will be respected and gain positive attitudes about themselves and the people around them. By acknowledging diversity, respecting it and viewing other experiences as a resource for learning, growth and change, similarities and differences between individuals are celebrated. Students with disabilities develop a self-perception that positively integrates their experience of disability.
Here's What You Can Do
Our children are the leaders of tomorrow. It is their time to shine and lead the way in disability inclusion.
Watch and Share
Watch the K-12 'Focus on My Abilty' video with your child, and talk to them about the three pillars: Include, Enable and Embrace in an age appropriate way.
Share the video with your friends, family, and teachers at your child's school.
Raise Awareness of the K-12 V-R In-Class Program
Talk to your child's school about the K-12 VR in-class program that schools will be able to book.
This will allow students to experience disability and to learn about diversity and inclusion. This learning experience allows children to have 'lived an experience of disability,' and with this new perspective, discuss with each other how they can improve inclusion in their own school and what they can do to help their classmates.
For more information on this fantastic initiative check out the K-12 Inclusion resources here