Mum Of Quintuplets Shares Precious Photos Of Her Babies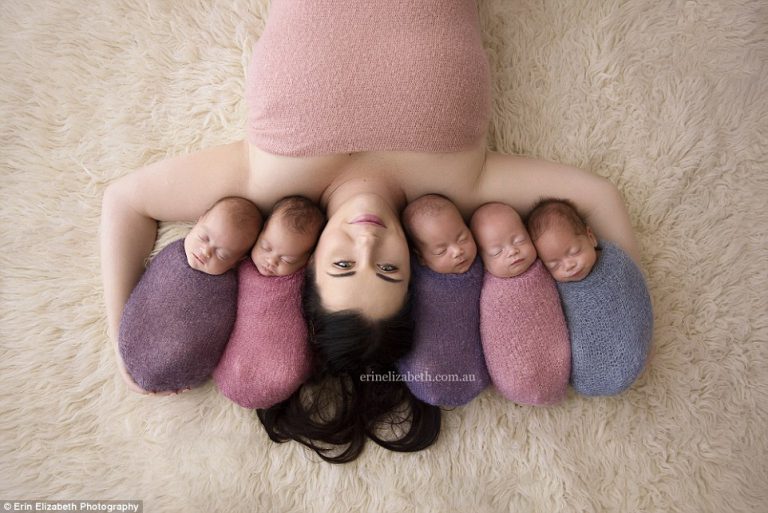 You think you've got your hands full? Spare a thought for mum Kim Tucci who  gave birth to quintuplets in January. Kim and her husband Vaughn already had 2 young daughters, as well as a nine year old son from a previous marriage. If my calculations are correct, that is a total of 8 children!
The proud parents have shared photos from a professional shoot they did with Erin Elizabeth Photography. The five new borns are a boy, Keith, and four girls Ali, Penelope, Tiffany and Beatrix.
The photos are so, so precious! Can you imagine trying to take a photo of all them looking at the camera at the same time?
Ms Tucci recently spoke to Channel Nine's 60 Minutes about the breakdowns she sometimes has while caring for her brood. She admitted to 'locking herself in the bathroom and crying on the floor' as she adapts to life with seven children all under five years of age.
The couple change 350 dirty nappies a week and feed each infant eight times a day.
The couple are definitely 'overwhelmed' by their gargantuan job, but say they are the 'happiest they have ever been in their life'.
'No-one thought I could do it, and I did, I showed everyone in my life. So, I think it's the first time that I've actually been proud of myself,' Ms Tucci said.
To help with the enormous expense and task of raising their children the couple have started a GO FUND ME page to enable them to buy a car to move their brood around. If you would like to help with a donation just click here.
Photo credits to Erin Elizabeth Photography.