Mum Unveils New Play Garage Made From Cardboard Boxes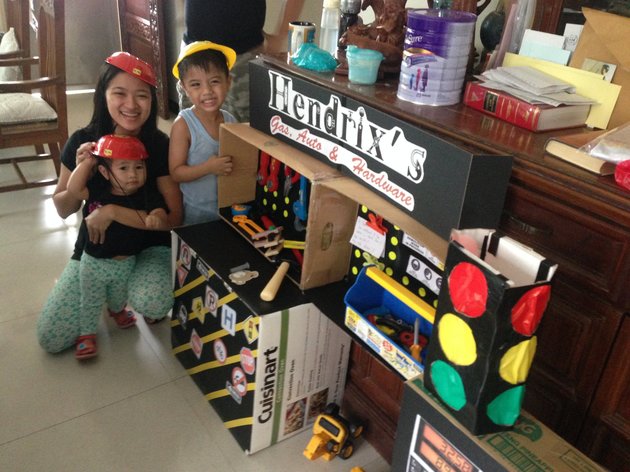 Rodessa Villanueva-Reyes is a creative mum and has an eye for making incredible imaginative play areas for kids using cardboard boxes.
The mum's kitchen creation for her daughter Audrey went viral after she shared her daughter's play kitchen on Facebook.
The incredible kitchen was created out of cardboard boxes, but looked like a real, wooden play kitchen.
After her post sharing her kitchen went viral, parents asked for inspiration on creating a play space for boys.
So Rodessa went to work and put together a car and tool hardware workshop for her three-year-old nephew Hendrix.
"My three-year-old nephew, Hendrix, is fascinated with cars, construction equipments and tools," she told Huffington Post UK.
"I decided to make him a workbench with its own gas pump.
"It was a perfect idea because it could pretty much cover most of his interest and store his existing toys.
"I set up the finished workbench when Hendrix was asleep and he was very happy and excited to play with the workbench – even my little Audrey joined him play with the workbench."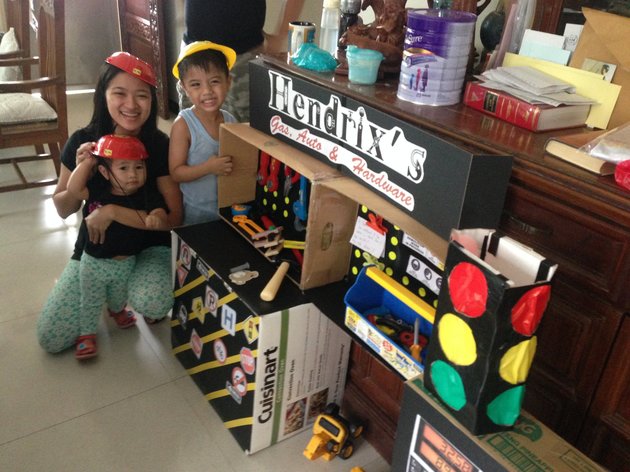 The attention to detail is incredible in both spaces. And to think they've been made out of cardboard boxes… it just shows what can be achieved by recycling.