The New TV Show Helping to Future-Proof Kids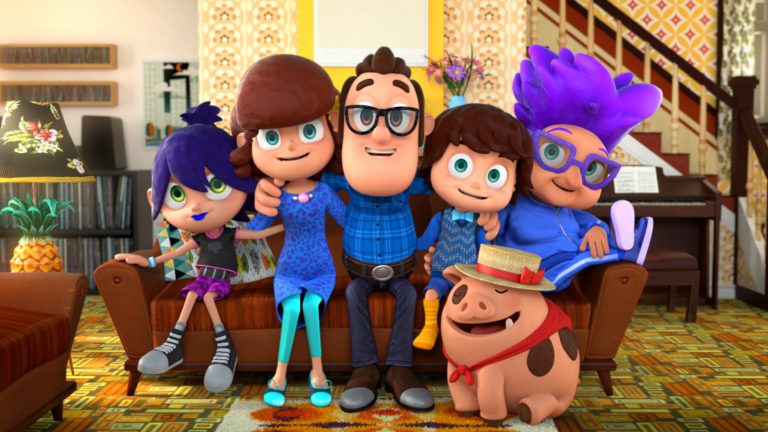 The New TV Show Helping to Future-Proof Kids
Written by Fleur Michell
If you feel guilty for popping your kids in front of the TV when you need a break, then relax. Kids' TV is far from mindless – if you choose wisely. New show Kazoops addresses the importance of critical thinking for kids in a fun way.
Our rapidly changing world pretty much has a lot of us a spin these days. Now more than ever, people are being challenged on a daily basis to use critical thinking, or in other words to, "think outside the box". Dizzyingly fast technological changes and the evolving nature of work means that the kids of today will need all their wits about them as they become the adults of the future. Critical thinking encompasses a variety of skills that helps a child learn to make decisions. Kids learn to generate and evaluate knowledge, clarify concepts, seek possibilities, solve problems and importantly, consider alternative solutions. It involves kids thinking broadly and deeply using reason, logic, resourcefulness, imagination and innovation. The Australian Curriculum recognizes the emerging importance of developing critical and creative thinking. It's one of the seven general capabilities that will be developed across the whole curriculum in the coming years. Given society's escalating demand for innovation, it's perhaps one of the most important future-proofing skills a child can have.
One imaginative new kids' TV show on ABC KIDS weekdays at 8am tackles this important concept head on. Kazoops is produced by Sydney-based Cheeky Little Media, founded by creative partners Patrick Egerton and David Webster and is a humourous and thought-provoking show for kids aged four to seven. The show debuted on British screens back in June and has been incredibly popular. It is also fairly unique as there are not many kids' shows exploring the importance of the imagination as a tool for critical thinking.

However executive producer Patrick Egerton says when the Cheeky team started developing the concept four years ago, they weren't looking to tick any child development boxes. "We were justsetting out to create a distinctive and engaging show," he says. But when they started testing early versions of the show with young children, through Tomorrow's Child, a leading British children's research company Patrick says, "we realised we'd tapped into something quite powerful and core to the way kids develop their sense of the world at that age". Kazoops stars six-year-old Monty as he navigates everyday life along with his best friend Jimmy Jones, the family pet pig, as well as his loving mum, dad, sister Jeannie and gran. The series features eye-catching animation and unique songs written and performed by Australian composer Scott Langley.
Monty is full of curiousity and in each episode confronts a preconception about the world such as 'you always have to wear matching socks' or 'all games need rules'. Monty is constantly questioning why things are the way they are whilst exerting his imaginary powers to tackle a specific notion or question. "He feels 100 per cent safe, nurtured and loved which is an important point as kids need to feel secure before they will let their imagination take them places," says Patrick.
Some of the questions pondered by Monty range from: why does practice supposedly make perfect? to can you have other friends when you already have a best friend? to loftier concepts such as is it possible to be scared and brave at the same time?
"One of our favourite shows asks why we only celebrate big things like birthdays. Monty wants to know why we can't celebrate little things like the sun coming out, or a fantastic chocolate milkshake," says Patrick who is a father of three young children aged four, six and nine. "In another show Monty wants to know why his dad says, 'all good things must come to an end'. However, we are not trying to perfect some kind of manual for life and tell kids right from wrong. We're just trying to encourage kids to be curious and to not always take things at face value. To let them know it's good to challenge social norms and conformity from time to time."
Tomorrow's Child director and child development expert Dr Jacqueline Harding, who conducted research for Kazoops, says today's kids deserve TV shows that have intellectually demanding and emotionally rich narratives. She says such shows have much to offer kids developmentally. "Quality TV shows such as Kazoops can make a significant contribution to society as childhood is where we as humans learn to make choices about our behaviour," she says.
When asked if Monty is a little rebel in disguise, Patrick laughs. "Monty is definitely not a brat!" he says. "He is not a kid who doesn't do what he's told. He just wants to know more and is in a constant state of wonder at the world he lives in. That's something I think all of us would love our children to embrace."
Watch Kazoops on ABC KIDS (weekdays at 8am and 5.50pm). Re-watch Kazoops episodes on the ABC KIDS iview app and ABC KIDS website, which also has Kazoops activity, craft and recipe pages. #kazoops www.kazoops.com