Play with Food: Easy & Healthier Snickerdoodles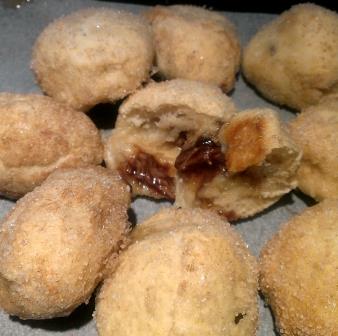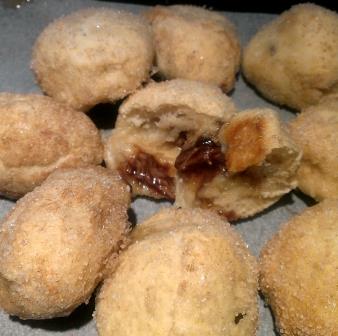 Sometimes I find myself looking at recipes online that just can't be made here in Australia due to ingredient availability. And I know I'm not the only one coming across this. Usually I look for a more Aussie friendly version. When I saw "snickerdoodles" I was intrigued because, unlike the name suggested, it didn't include an iconic chocolate bar in the ingredients. What is a snickerdoodle? It is a gooey centered cookie rolled in cinnamon sugar. It seems that the sky is the limit when it comes to interpreting this – the flavours and the dough. So, I've come up with my own interpretation of an easy and healthier "snickerdoodle". This is a recipe designed for you to get the kids involved in.
Ingredients:
Dough:
1 cup SR flour

2/3 cup Natural Yoghurt

2tbsp Golden Syrup
(extra plain flour may be required depending on temp & yoghurt used during rolling so that a pizza dough consistency is achieved)
Centre:
Chocolate Drops (I used 1 Cadbury Cooking Button Melt per cookie)
Slices of Banana (into rounds)
Topping:
Cinnamon Sugar (mix about 1tbsp sugar with 1 tsp of cinnamon)
Method: (Where you see an A – it is an adult step and K – is a kids step)
Step One:
A – Preheat fan forced oven to 180oC and line a baking tray with baking paper

K – Measure out the SR flour, Natural Yoghurt and Golden Syrup into a bowl and mix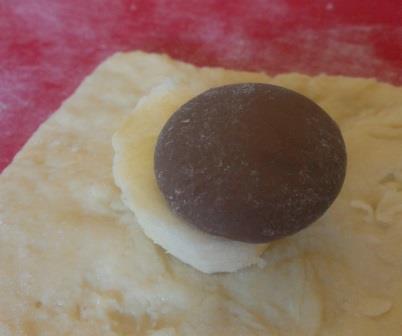 Step Two: 

A – Add extra plain flour if required to make a pizza dough consistency and dust a surface with flour for rolling.

K – Roll out the dough to make a sheet about ½ cm thick
A – Cut rough squares out of the dough
K – In each dough square wrap a piece of chocolate and banana inside and form a ball.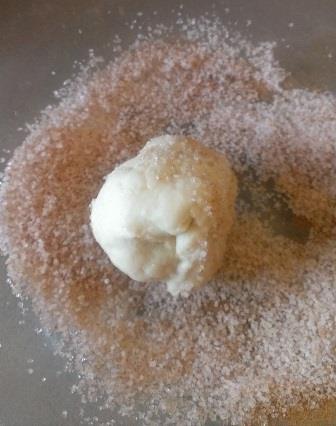 Step Three:

K – Toss the ball in the cinnamon sugar and place it on the baking tray
.
A – Once all the balls are on the tray and place in the oven. Bake for 12 mins. When ready, let cool for at least 10mins as the banana & chocolate will retain heat for a little while. Yummy to eat while they are still warm!
Other options:
You could substitute the fillings for caramel or white chocolate, a blob of Nutella with peanuts, marshmallows, stewed fruits or berries. Your filling choices will dictate how much healthier these snickerdoodles are compared to the originals.
The yoghurt and SR flour dough (without the golden syrup) is a great flat bread recipe, if you add a pinch of salt too. I love to use this savoury version as a pizza base once I cook the flat bread in an oiled pan on the stove top.
Happy Eating!
Simone Emery is a mum and owner of Sydney based, Play with Food. Play with Food run fun-filled classes and workshops about fruit and vegetables. We use seasonal produce and give parents lots of ideas for encouraging happy and healthy eating in the home environment. Check out our website for more information on singing, playing and laughing your way to happier family eating experiences www.playwithfood.com.au.