Tales of Donk and Deception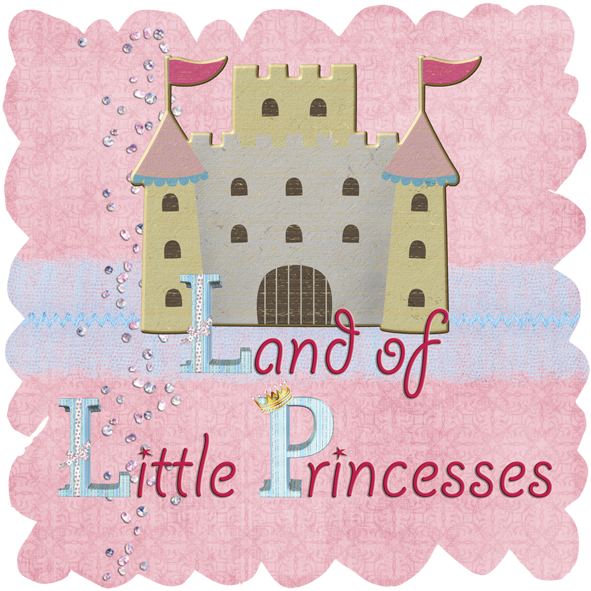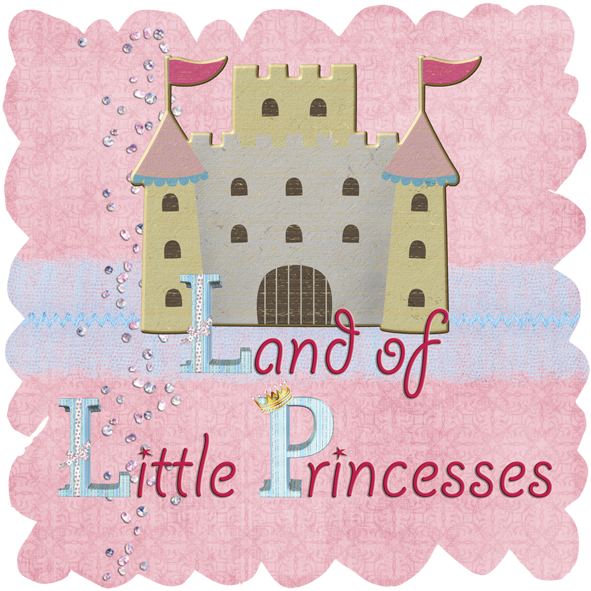 When Emily was a baby my cousin gave her a little Eeyore soft toy with a teether attached. The ribbon that held the teether on was frayed at one end so I cut the teether off. This toy, which forever will be known as "Donk", became her comfort object.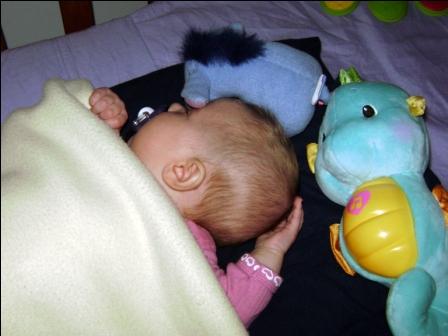 Donk was the only thing that Emily would take to bed. I had tried other toys and blankies, but it was only Donk that she loved. Hubby being the forward thinker (read worrier) that he is, pondered how long this toy would last (or worse, what would happen should he be lost). So I set out on a journey to find another one the same to have stashed away for that worst case scenario (lost, perishing, or spontaneous combustion).
 Fast forward two and a half years or so. Donk has aged reasonably well, and over the years Emily developed a (very cute) habit of rubbing her nose with one of his ears while stroking the inside of the other.  He's survived more than a few washes and had a couple of stitch ups, although he is getting a little lumpy in the middle. So far the search for his twin has been fruitless. We do have a growing collection of 'similar but not the same' Donks that just didn't cut the mustard with Emily. They are now all living in a corner of her bedroom, destined to never be drooled upon.
 In November 2010 we decided that it was time for Emily to give up her dummy (pacifier). So I took it from her one morning and all was good and well. Until bed time. It was the most painful hour of my life (after labour), I gave in and gave it back! Then one morning, a couple of weeks later she came and told me that she'd thrown her dummy in the bin, it was broken. It was the last one in the house and I wasn't looking forward to bed that night. She asked for it and had a bit of a cry when I reminded her SHE threw out, but after that was fine. We haven't heard a peep about it since.
 Donk wasn't so lucky! After the dummy was gone, she started to chew on poor old Donk's ear. Just one. She still stroked the other one. Well, this fast forwarded the perishing of this beloved. We wondered how many more washes he could pull through.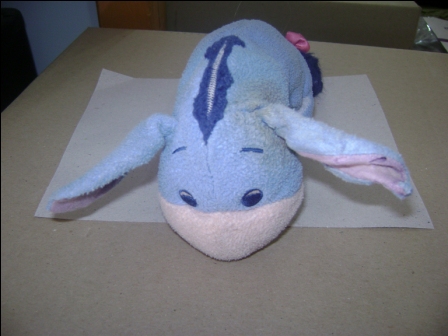 Then the most awesome thing happened (yes, I'm easily excited!) I was up late one night on Facebook, looking through some buy, swap, sell pages when I found it. The EXACT same Eeyore!! I was so excited that I woke hubby up when I went to bed to tell him!
Ok, so I know what you're thinking, three years later, she'll never accept this new toy as a replacement. Believe me I was thinking the same thing, trying to figure out how to make the swap. For a few days before we got the new donk we were talking to Emily about washing Donk and how Mummy was going to fix his ear and make him all better. The day he arrived we had it all planned. We'd convinced Emily that Donk needed a bath. So we got her to put him in the washing machine. Then hubby took her off to distract her play with her. I took the 'new' donk and cut off the teether, trimmed up his mane a little and popped him in the wash too.
When the cycle finished I went in and took out the old, battered but loved toy. Hubby brought Emily in to the laundry to get the 'new and improved' Donk out of the machine. She took him out and gave him the once over, looking really hard at his ears. It was really cute watching her inspect him. Then she said, with a look of puzzlement, "his ear needs to be longer." Well, hubby and I could barely hide our giggles. She'd chewed his ear so much that it had stretched out, not that you'd have noticed as it was always scrunched up in her mouth. Yuk! The new Donk passed inspection and off she trotted with him!
 So we've stashed the old faithful Donk away, and Emily is happy as Larry with the clean little buddy she has now. And one thing I've noticed so far, she hasn't once put his ear in her mouth!
 Do I feel bad that we've lied/tricked/deceived our three year old daughter? I don't see it that way. I like to think of it as a bit of magic. Something old is new again in the eyes of a child. If we can get another three years out of this one I'll be a happy Mumma. It's so cute to see her cuddled up to him.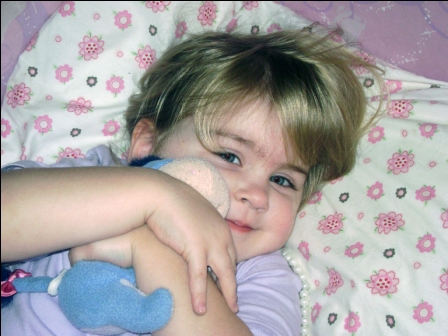 Now, what to buy Jessica for her comfort object?
You can read more about Belinda's adventures in Mummyhood at Land of Little Princesses.
Does your child have a comforter ~ something that they couldn't do without? Have you ever lost it? Or do you have a back up like Belinda?