The Dora Concert ~ When Parents Turn Feral!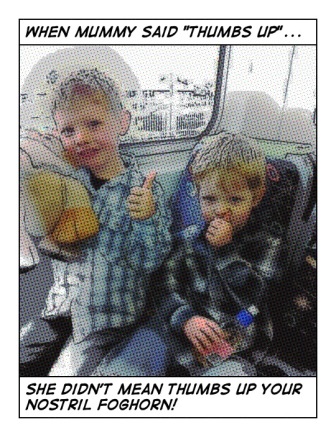 If you have ever wondered if there is anything more frustrating and tiresome than a toddler who has yet to learn the art of turn taking, not pushing his peers in order to obtain what he wants on a whim and thinking that the universe revolves around them…then you have clearly never been to a Dora concert with your little darlings!
Let me tell you ~ the nappy-wearing, dummy sucking bubs, and the tantrum wielding toddlers were angelic in comparison to some of their parents.
It seems all is fair in love, war and getting to the front of the queue for a Dora showbag.
(Just an observation, but  in my humble opinion, those in charge of selling these so called show bags should not only be educated in the art of smiling, and using common courtesies like 'please' and 'thank you' but should also rub their orange make up into their skin and at least attempt some kind of blending!)
One Dad, armed with a rather rotund cherubic faced baby in a carrier on his back, managed to sashay his way through the crowded foyer, parting the crowd effortlessly with the pertinent stench of his sons soiled nappy, in order to work his way not to the family change room, but the front of the queue.
Another woman bulldozed three small children, an inflatable Diego, and the lady checking ticket stubs at the door, in her efforts to get to her seat.  That's right – The seat that she had pre-booked and which she sat in for a whole twenty minutes twiddling her thumbs and trying to pacify an impatient junior in until the show started.
Today was my first experience of taking any of my children to this kind of show.  (As a little aside, we had an absolutely amazing time, the show was fun and engaging (even though Nana and I spent most of the time taking in and enjoying the expressions on the faces of The Woo and Foghorn.) 
I'm just wondering, if this kind of parental bad-behaviour is customary at these events, or if maybe like their offspring, parents also have a 'feral hour,' which is triggered when they are in close proximity to large numbers of other parents and their children, (and overpriced merchandise?)
Have you ever encountered this kind of parental bad behaviour?  Either at a show of this kind or elsewhere?