The Solution if you are Fed Up with Name Labels?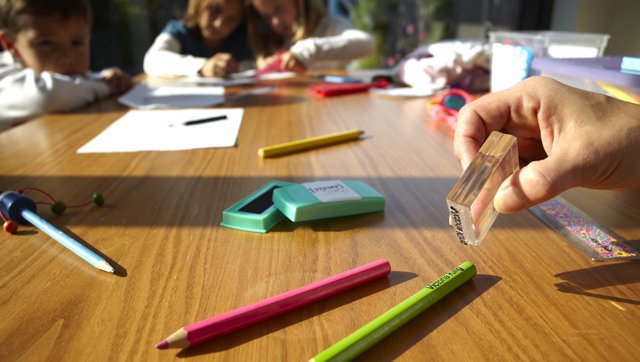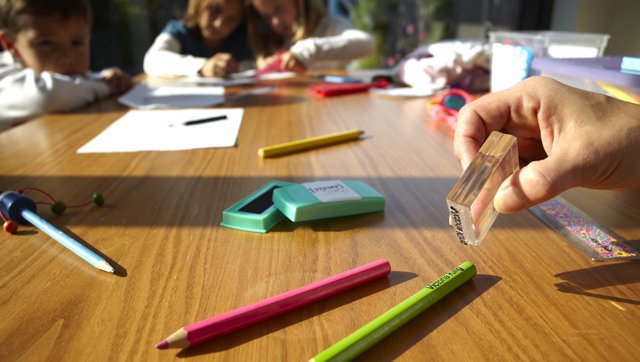 I refuse to even consider sew on labels for the kids. I tried the iron on ones and they stuck to the baking paper. I tried stick on and they either fall off or get picked off by twitchy fingers. I mostly resort to black marker pen (amateur hour) but it is no good for little things.
I'm pleased to report I have found the best solution to date. I was asked to review 'Stamp Tastic' and I was super keen given my kids haven't even hit school yet and I knew there was possibly years of frustration ahead given my brief foray in to this world.
Stamp Tastic is a simple but oh, so effective name label system. I got three custom made stamps (one for each child) made from clear Perspex for easy lining up and a special ink pad developed for application to wood, plastic, materials and metal.
It is actually pretty fun doing the stamping and heaps better than ironing or sewing. I must admit, the ink doesn't stay on the silicon-feel drink bottles very well but it is so easy to re-apply. I leave my stamps in the pantry and if I notice a container or other pre-school item is missing a label it takes two seconds to whip out my trusty stamps.
They can easily be ordered online at http://stamptastic.co.uk/orders/. One stamp costs 17 Pounds and each one after is cheaper. The fifth is free!
I can highly recommend these stamps. I would buy them and they are also a great gift idea – especially if you get the fifth free!
Jodi McAlary is Mum to identical triplet girls. They are 4 years old! Jodi is also the Founder of NSW and ACT kid's activity website, www.todokids.com.au. You can connect with her via Facebook.