5 Fashion Accessories You Need Now You're a Mum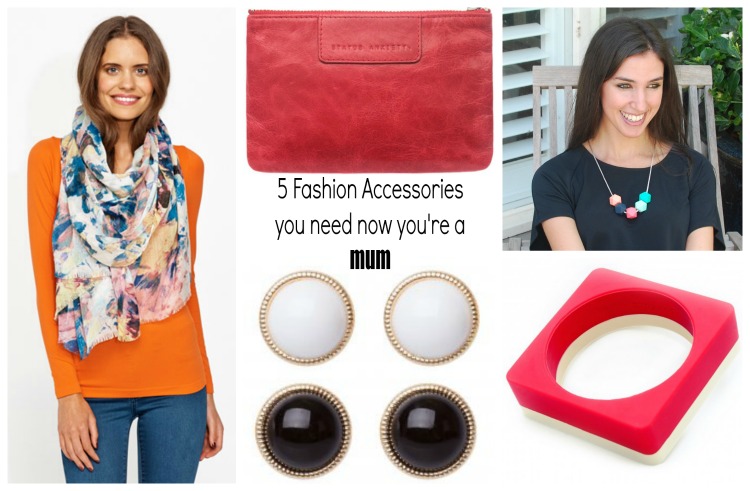 When you become a mum, fashion and accessories are the last things on your mind as you care for a newborn. Some days you don't get time to get out of your pyjamas, let alone get dressed for the day. But once the newborn fog starts to lift, you will start to put thought into your outfits, not necessarily to look fashionable, but to ensure the day's outfit will suit the mothering task at hand.
To dress up any outfit, accessories are your key. From experience, here are 5 fashion accessories you need now you're a mum.
1. The teething necklace. When you carry your child, they always look for something to grab on and suck off your shirt. Beaded and pendant necklaces scream at your child to play with them, so rather than not wear a necklace, invest in purchasing a teething necklace. Not only do they look great when worn, your baby will be grateful for something to chew. It also helps keep them occupied if you are talking to another mum.
2. The teething bangle. If you like to wear arm candy, you may find it can latch onto your baby or cause scratches on your baby's delicate skin. Your baby will also want to chew and suck your bracelets and bangles so why not invest in a teething bangle too.
3. Stud Earrings. If you choose to wear earrings, wear studs. Anything that dangles is an invitation to your baby to grab and pull. I've known of mums who have had sliced earlobes because their baby decided to pull down on their mother's chandelier earrings. Studs will get them interested, but won't give them the leverage to cause damage.
4. A scarf. A scarf is great for so many reasons when you're a mum. It can act as a breastfeeding cover when out and about. It can cover over snot and food stains that your bubba has wiped on your shirt. If can even act as a wrap if you forget to bring a muslin wrap with you.
5. A wallet. Your handbag will convert into a nappy bag, so having a wallet like this one will ensure all the essentials are in one place. This wallet has compartments to stores your phone, credit cards and cash. The wallet can be chucked in the nappy bag and will take hardly any room.
Is there anything else mums need when it comes to fashion accessories? What is your favourite accessory as a mum?
Disclosure: There are affiliate links in this post. If you do choose to purchase one of these items, we may receive a commission at no extra cost to you.