10 Awesome Ways to Repurpose Cardboard Boxes for Imaginative Play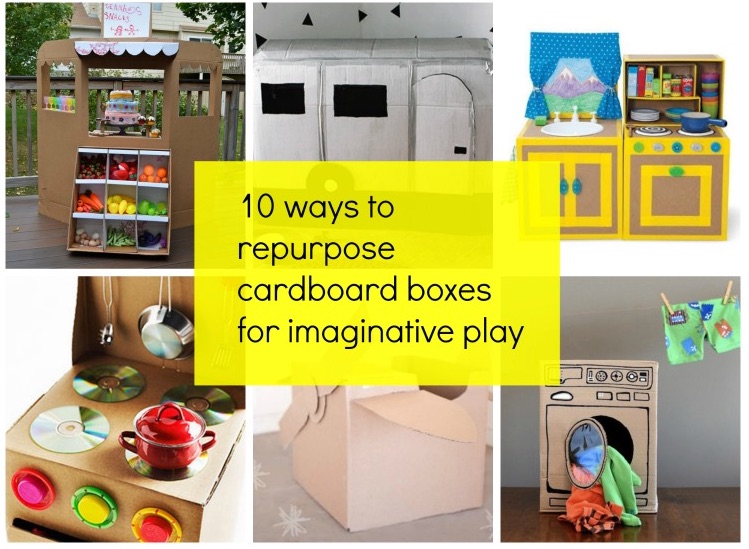 10 Awesome Ways to Repurpose Cardboard Boxes for Imaginative Play
Imaginative play is a vital part of children's development. But you could spend a small fortune on toys that can create different scenes for your children to role play in. The humble cardboard box can change this and make any set possible. We have found 10 ways to repurpose cardboard boxes for imaginative play. You'll be itching to buy some appliances to build your collection.
1. Outdoor play house. This cubby is the ultimate play house with a door, slanted roof and windows for serving. The kids will spend hours outside role playing buying a loaf of bread or asking how much it will cost to send a parcel.
Alternatively you could make an indoor caravan. Spray paint the box white or grey and fold it to form the rounded shape of a campervan.
2. A pirate ship. This may require more than one cardboard box, but the result is epic and gives the kids a set to role play Peter Pan or Pirates.
3. What kid doesn't want to know what it's like to be in a space rocket? The sky's the limit with the role play possibilities of this cardboard box project.
4. A washing machine doesn't sound very exciting, but give your child a few random clothes to stuff in the box and your child will spend hours putting the washing in and out of the machine. Set up a peg line and have pegs available so the kids can hang up their 'wet' clothes.
5. Kitchen stove top. If you have a few large cardboard boxes, group them together to create a kitchen.
Use old cds to represent the stove top and old milk bottles and plastic plates as the nobs for the oven.
6. A plane can be easily made out of one large cardboard box.
7. Make your own letterbox to encourage kids to write letters and post them in the box. They can even write to Santa and request their Christmas present.
8. Open out your cardboard box and create a grocery shop.
9. Make an elevator and have fun changing the levels using the arrow.
10. This coffee shop scene will allow your kids to learn their latte's from their short blacks. It's all in the accessories to make this theme set work.
What do you do with all your old boxes? Which project could you try next time you have a large box to get rid of?