Go To Bed in Style – Winter Pyjamas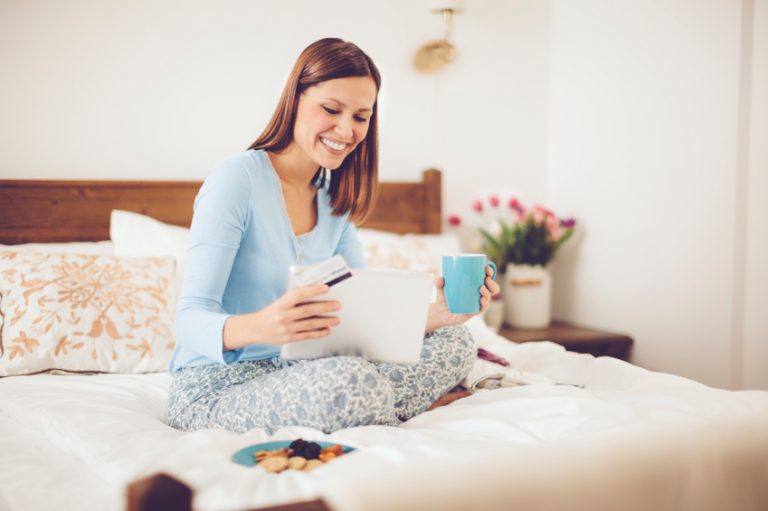 I love nothing more than to snuggle up on the couch at night, watching tv wearing my winter pyjamas. I love winter pyjamas. I love nothing more than to go to bed in a nice pair of pyjamas and wake up knowing I've started the day right by wearing a coordinated pair of pjs. I don't know if it's a fetish. I know some friends wear old clothes as pyjamas. Or a tracksuit. The stylist in me can't handle not wearing something nice to bed, so if you are after some inspiration on getting your winter pyjamas in order, here are some selections that are currently online.
I always suggest to have two to three pairs of winter pyjamas. Mostly so that when one pair is in the wash you have a spare pair. And if the baby spews or some unforeseen accident happens with the second pair while the other is in the wash, you have another pair ready to wear.
A bright pair of pyjamas like these Peter Alexander Flannelette Paisley Scarf set would definitely help me sleep in style at night. You could almost get away with wearing the pants with a long sleeve black top to do the school run and now one would notice.
If the paisley pattern doesn't appeal to you, and for many, it can be a busy print to wear, this Spiced Floral Pyjama set from David Jones will help you get to sleep. Can't guarantee you'll smell like flowers in the morning, but you will look like a stylish pastel bouquet.
I never thought I could wear leggings to bed. Until I realized they fixed the problem of the hem riding up my leg which can be so annoying in winter. This Peter Alexander Penguin leggings set will ensure your legs don't get annoyed.
If penguins are a bit too cutesy, this floral Henley style set from Peter Alexander may be the style you are after. The top and pants need to be purchased separately.
You'd be forgiven for thinking this is an outfit rather than a pyjama set. Each piece needs to be purchased individually, but what I love about these pyjamas is that you could literally walk out of bed and take the kids to school with no one knowing you're wearing your pyjamas. This is the perfect set of pjs for winter for that reason. Providing you don't have to go to work afterwards.
 Last but not least, I finish with this nightie from Florence Broadhurst. It doesn't look like a nightie and if you wore black tights and a pair of boots, no one would know you slept in it the night before. Best of all it's on sale for $55.96.
What do you wear to bed in winter? Are you like me and need to wear a coordinating PJ set?
Disclosure: There are affiliate links on this post. Should you choose to purchase anything on this post, we will receive a small commission at no extra expense to you.