How to Wear Green in 2013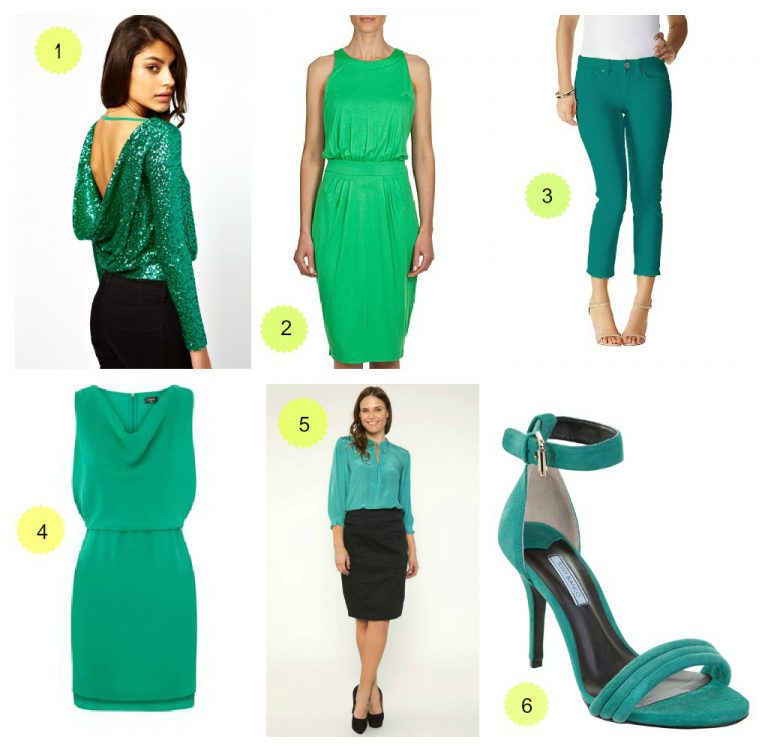 Every year Pantone 'the global colour authority' picks a colour from its extensive range as its chosen hue setting the tone for fashion designers and fashionistas everywhere. 2013 is the year to be seen in emerald green! Pantone described emerald as 'a lively, radiant, lush, vivid, verdant green' which 'enhances our sense of well-being further by inspiring insight, as well as promoting balance and harmony'. There you have it! Celebrities have already started embracing this trend on the red carpet. So how do you add green to your wardrobe? Here are 10 picks to help you do just that.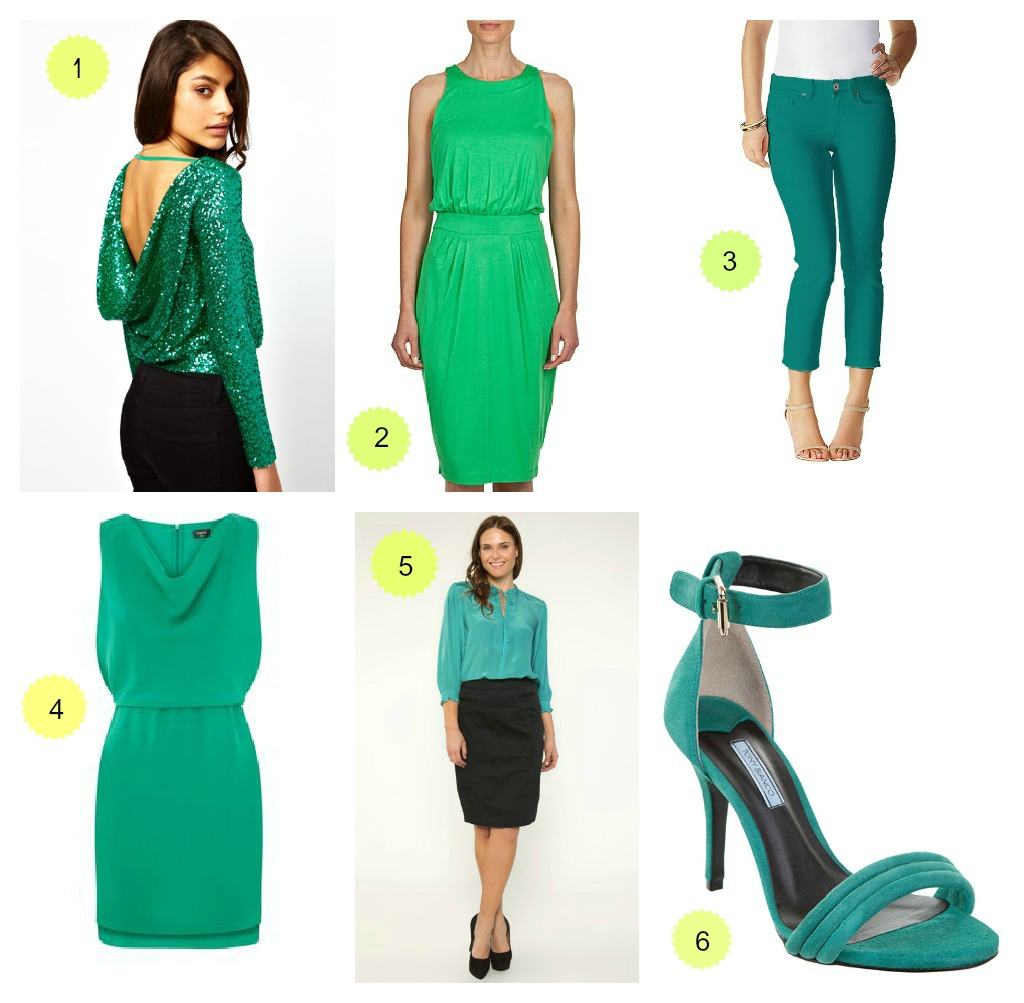 2. Country Road Gathered Dress
4. Oasis Rubie Dress @ House of Fraser
5. Stitches Embroidered Shirt @ The Iconic
6. Tony Bianco Libby Shoes @ The Iconic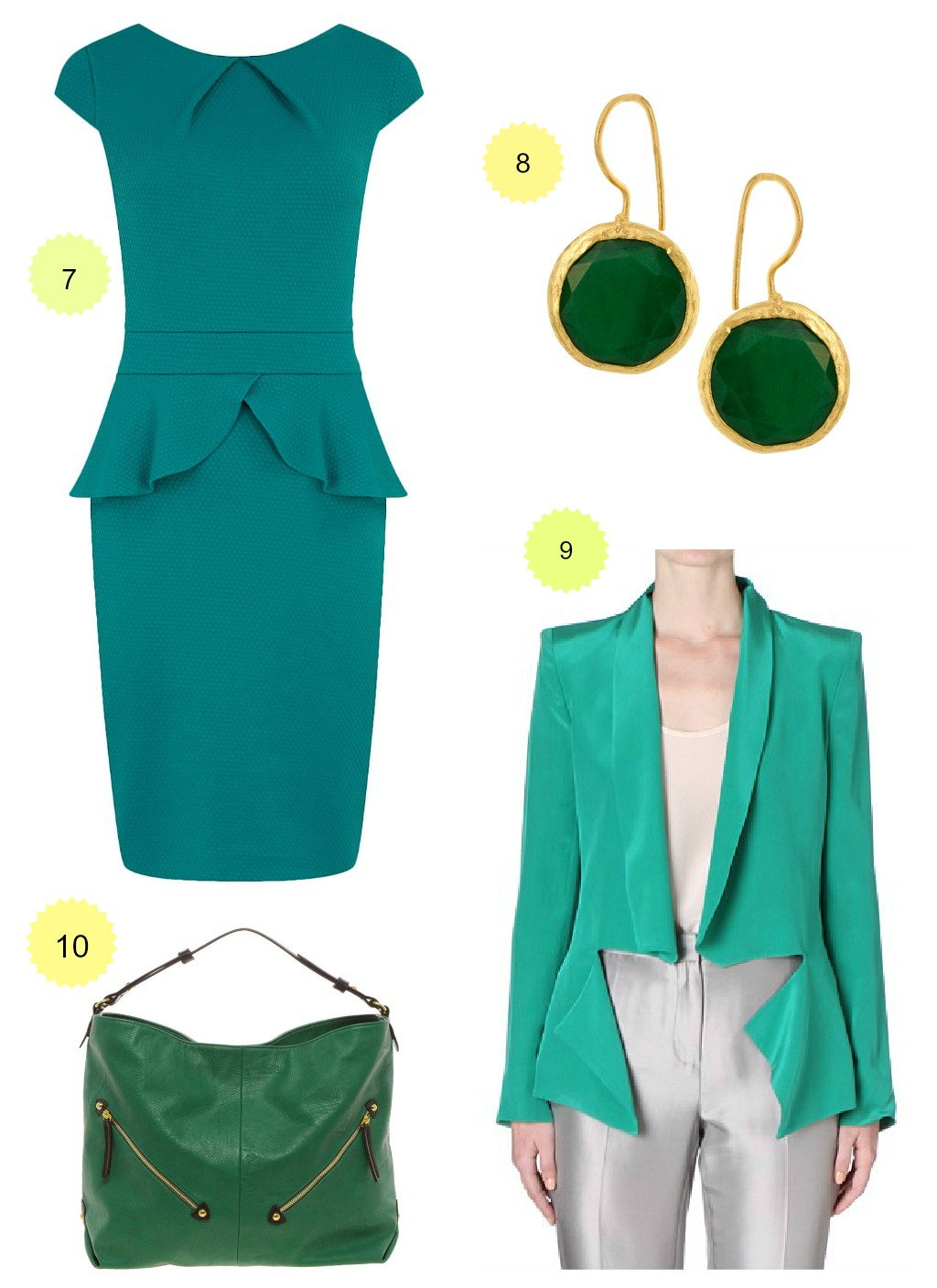 7. Dorothy Perkins Waffle Peplum Dress
8. Ottoman Hands Circle Drop Earrings
9. Bianca Spender Silk Incision Jkt @ASOS
10. ASOS Hobo Bag
Tips on wearing green:
Wear with glam gold, red, silver or rose jewellery
Pair green trousers with a white, blue, pink, purple, gold, grey or black top
Best colour shoes to wear with green? Beige, black, brown, yellow, red, gold, silver, purple, pink or even leopard print.
If you don't see yourself wearing green just add green accessories to your wardrobe: a bag, belt, jewellery or shoes
Wear green nail polish or eye-shadow for a quick update
Olive and emerald green is great for brunettes and dark skin types
Bright green is a great choice for warm blondes
Mint green is a good colour for ash, platinum blonde and grey hair
Green is a great colour for redheads
Have fun!

Will this be a trend you will embrace?
Mama Stylista is a Mother, Stylist, Presenter and Blogger originally from London and now living in Sydney, Australia with her husband and son. Mama Stylista has over 15 year experience in the fashion industry. She has trained at the London College of Fashion and worked as a fashion buyer, event organiser and stylist. Mama Stylista is also a trained TV presenter/host. Creator of the 'Mama Stylista' blog that combines Motherhood and Fashion where you will find fashion tips, online finds, 'What I Wore' posts, Motherhood Minutiae, Reviews, Competitions and much more. Mama Stylista is a columnist at Eastern suburbs newspaper 'Latte Life' and a fashion contributor at Leaders in Heels. Find here site here www.mamastylista.com