Titty Sweat Is a Thing of the Past Because the Ta-Ta Towel Is Here!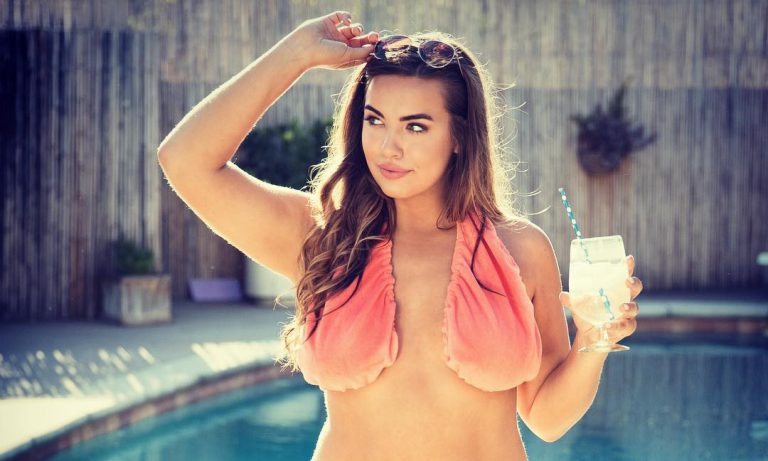 Titty Sweat Is a Thing of the Past Because the Ta-Ta Towel Is Here!
And we don't know whether it's genius or pants-on-head crazy!
The Ta-Ta Towel is specifically designed to keep your boobies dry while you are getting dressed or lounging around the house. Because titty sweat is real, you guys, and until now, difficult to avoid.
Created by California-based designer Erin Robertson, the boosie holster holds your boobs up, so they don't stick in the summer heat. The towel-like fabric slips over one boob, around your neck like a halter top, and over the other. It is fully adjustable to accommodate different body shapes, and available in three sizes.
Erin wanted something to wear that would absorb under-boob sweatiness. She created a DIY one with an old towel, saw a business opportunity and the rest is history.
I mean, we can see the benefits.
They don't look uncomfortable as such, but you wouldn't want to make any sudden moves lest one of your norks pops out.
Wear a titty towel while you water your garden, make a cuppa or lounge seductively in a cowboy hat.

No matter how sexy they are made to look, we can't help but think this is the female version of this:
People are really digging them though, with many designs selling out quickly and others with long back orders in place.
Reviewers are quick to note that the Ta-Ta Towel has other benefits besides boob sweat management.
"The Ta-Ta Towel is such an amazing idea. As soon as I get home, I take off my bra and put on my Ta-Ta Towel. The comfort of my boobs being held up without a tight strap around my back is incredible. It's also great to wear it after I get out of the shower and rush around to get ready. No more under-boob sweat!" one customer wrote.
"It's sooo comfy, I never want to take it off! I wish I could wear it all day. My boobs have never loved me more!" wrote another.
A Ta-Ta Towel would set you back $56 plus postage and are so popular that there is a four to six-week wait until delivery. Summer is still a long way off — there is still plenty of time to purchase one to combat your own titty sweat!
What do you think of the Ta-Ta Towel?
Source: Instagram/Ta-Ta Towels and Facebook/Ta-Ta Towels