Remove Dark Colours From Your Hair Yourself: Colourless Max Effect Hair Remover Review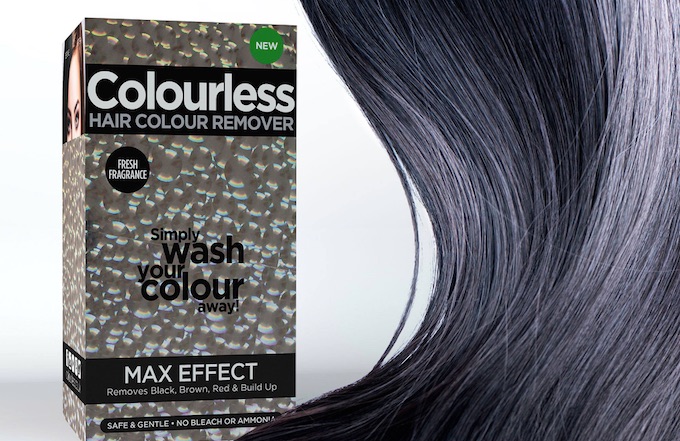 Remove Dark Colours From Your Hair Yourself: Colourless Max Effect Hair Remover Review
Sponsored post
Anyone who has ever dyed their hair black, brown or red will know that trying to get it back to its original colour later can involve several costly visits to the hairdresser over quite a few weeks or even months. It can be an absolute nightmare to get out…or at least, if you haven't discovered Colourless Max Effect hair colour remover, it can.
Thanks to Colourless, you can now wash your colour away at home! With a faster processing time than existing Hair Colour Removers, Colourless Hair Colour Remover is the safe and gentle way to easily wash away your unwanted permanent or semi-permanent hair colour at a fraction of the price at home! Allowing you to get to the colour you desire. You can safely re-colour immediately after use.
How Does it Work?
Colourless removes dye from the hair by reversing the dye process, by shrinking dye molecules within the hair cuticle, allowing them to be washed away. Colourless is a much safer alternative to bleach and a much cheaper alternative than going to the hair dresser.
Max Effect contains 25% more active ingredients than other Colourless variants. The ultra- strong max effect is designed to remove dark colours and stubborn colour build-up. No Ammonia and no bleach means Colourless Hair Colour Remover is very gentle on the hair's condition!
Last month we invited Mums Lounge members who wanted to remove their current hair colour and return to their original colour to review the Colourless Max Effect product for themselves at home and share their thoughts with the rest of us.
Here's what our reviewers had to say about their experience:
My hair had been coloured many many times before using Colourless. It was Red with my natural colour being brown. I was keen to try and remove some of the colour build up and try and get it back to a better state. I have longer than shoulder length hair and thick. The box stated to use more than 1 packet for that length hair but I decided that I would try with just one. There was enough in the 1 packet to cover my hair sufficiently.
I applied Colourless to my hair and left it for the required 45 mins. My hair had definitely lightened and become a dark blond colour. The Colourless had taken most of the colour out of my hair which I was very happy with. It was a little streaky in places but that could be because I only used 1 box or because of the amount of build up of colour In my hair.
The smell of Colourless going on wasn't the nicest but It was bearable. I did notice the smell persist a little over the next couple of days. My hair came out a little dryer on the ends, but I expected it to.
All in all, Colourless did the job it said it would do and I was able to do it myself from home. I was very happy with the outcome and would use it again.
Amanda
This product is great. It took the colour out of my hair on top worked well. Down the bottom I'd say I probably need another box. It did take the black out but I still have some red left.
The product was so easy to use and I would recommend to everyone.
Overall I am very happy with the product
Katherine
Worked brilliantly, massive colour change and now I am on my way to my dream goal colour! And without expensive salon visits!
My hair is soft and still so strong and the product didn't smell like other colour removals which I can barely deal with!
Thank you for letting me trial this product 100% recommend!
Janaya
For more information about Colourless Max Effect or any of the other products in the Colourless range please visit www.colourless.com.au
Available in Priceline and Woolworths. RRP$26.95.