The Female Bitch Factor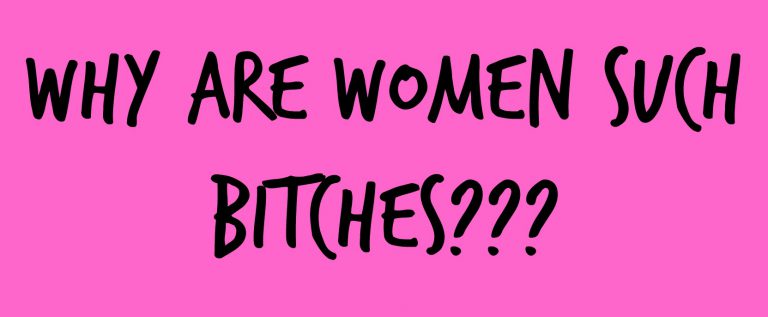 The Female Bitch Factor
I'm slightly hesitant writing these words but I'm going to go for it anyway. Takes deep breath in.
I love women and I love their company but they can just be a pack of bitches and well, men aren't.
The best job I ever had in my life was as a weighbridge operator at an asphalt plant in Sydney and I was the only woman there.  It was just me and about 25 guys. And you would think it would be a terrifying prospect hanging out with men who are basically the guys that wolf whistle and heckle women when they walk past a road crew and yes these were those guys and in a group, away from me they were dickheads in that way but individually, every single one of those guys there was a sweetheart and polite and friendly and looked out for me and I felt like they were all a bunch of big brothers who had my back.
Every other job I've had has largely been in an office environment where there are loads of women and they definitely do not always have your back, that is for SURE. My last boss was a woman and she would say things to me like "I like your hair today, did you wash it?" Or, "I like your hair up like that, it gives you a bit of a facelift". Or, "Are you still going to the gym because you don't look that fat".
She also used to call me Barbie and Marilyn because I have blonde hair and was usually in a ruffly dress and my favorite colour is pink. She didn't say this in an effort to be nice. She was inferring I was blonde, plastic and vacuous. And she didn't just pick on me. She picked on everyone and people went in droves to HR to complain about her but she was best friends with the female HR manager and nothing ever happened. And she gossiped and bitched about every other woman in the office. You basically had two choices; either laugh and agree with whatever she was saying and be "in" with her or risk her wrath by disagreeing with her and basically kiss your job goodbye.
And every place I've ever worked has been a lonely, isolated affair for at least the first several months where I often felt I had to pass some sort of assessment before I was deemed worthy enough of being invited for lunch with one of the popular girl cliques. Just like I was still in high school.
I have a friend, Dianne who belongs to this huge group of girls who get together several times a year, either in rented apartments for a weekend or they take it in turns to have each other over on a Saturday night. Diane pestered me for years to go to one of these weekend get-aways and I kept turning her down. I didn't know any of the other women and I wasn't sure how much fun it would be so I just kept saying no. Then two years ago it was her turn to organise the accommodation and she booked three, 3 bedroom apartments based on previous attendance and put a deposit down. Come close to the date and a bunch of these women bailed so she begged me, BEGGED me to come and even suggested I invite another friend of mine along, Mary. I still said no but she was so persistent that in the end I caved in and agreed to go for one night only.
It was kind of a scary night to be honest. These women had been going to these things for years and every time another one turned up there would be screams of "Hello BITCHES" and everyone would go nuts to the newcomer and hugs and kisses would ensue. It was so noisy I could hardly hear myself think and I quickly downed a few glasses of wine to relax. Eventually they settled down and then the bitching about husbands and male partners in general started. How this one was an arsehole and this one was a dead-shit and how much they hated men and how much they loved each other and frankly the whole thing made me uncomfortable. At one point two of the girls stripped naked (which everyone else thought was hilarious) and did a five minute dance. I fake laughed along so I didn't stand out (and I am NO prude). The one big bonus was that I did eventually get to speak alone and separately to several beautiful, friendly, lovely ladies who I actually had a lot in common with so all in all I was glad that I went. And when I got home I told my friend Mary all about the night and said next time there's one of these get togethers you can come too!
A few months went by and I got invited via a private Facebook group to the next get-together at someone's house. This time, having survived the initiation I invited Mary. Dianne knew Mary well. All 3 of our families had been at our place for BBQ's, had been away camping together and even been to the horse races together. All good, right?
Mary's husband drove all 3 of us to the house in question and agreed to pick us all up at midnight. There was lots of laughter and (oddly, more nudity) and again I got to have some quiet moments with some of the lovely ladies I'd met the previous time. Mary's husband turned up at the appointed time but Dianne was told "she wasn't allowed to go yet" and she didn't.
It turned out she had been held back so she could have a severe talking to. Apparently I, as a "newbie" was not allowed to invite other newbies and had broken a cardinal rule. I was also in trouble because during the end of the evening a woman, named Hannah who we all knew was mentioned and there was agreement that no one was to let her know they had gotten together without her (i.e. no posting photos on Facebook etc). I innocently asked why not and was thus deemed a threat to the safety of their group! And…. the owner of the home we were partying at was, particular about who she allowed into her home and was not impressed I'd rocked up with a stranger (pretty sure Mary was neither a thief nor had fleas). When Dianne told my stunned adult self all of this, I asked with disbelief; "and what did you say?"
Dianne told them she didn't know why I had brought Mary and it was nothing to do with her.
Umm, so basically you threw your hands in the air, pleaded ignorance, conveniently forgetting that not only did you know and like Mary but that you'd told me to bring her to the last one when numbers were down and yeah, basically threw me under the bus. Better to save face and remain in the GROUP then risk permanent banishment and end up like Hannah. Thanks a lot.
To say I was furious would be an understatement and I knew then and there that I had no interest in ever going to another one of these nights. Ever. Again. And I told Dianne as much saying this is why I didn't want to go all those years…because women are bitches!!!!! I have no interest or desire in belonging to a group who hand picks which woman is good enough to hang out with them.
No man would EVER do that. They might trade insults and say to each other "that Steve-o's a bit of a knob" and then someone else will stand up for him and say "oh, he's OK don't mind him" and that's it. If someone pisses them off, they tell them then and there and then it's done. Over, forgotten. They don't feel the need to call 6 of their other guy friends and go over it in excruciating detail and punish the offender for 6 months by not speaking to them. If you're the new guy on the night, you buy the first shout and you're mates. Got the same football team in common? One of my new best mates. You helped him shift houses? Best mates for life. AND I have it on close authority after having asked several men including my husband out of curiosity, that men never discuss their wive's shortcomings, nor their sex lives (unless it's lack thereof) in an open forum like women do. And I love that attitude. Women could take a leaf out of their books. Meanwhile I will stick to a few, close, real friends thank you.