Abs are Made in the Kitchen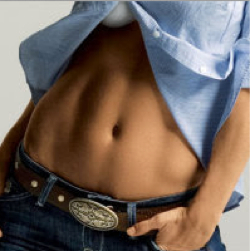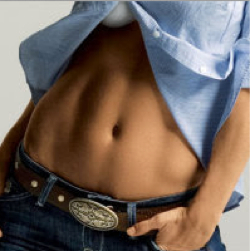 Yes you read the headline correctly…I'm here to bust the myth that toned, defined, flat abs come from thousands of crunches per day!
I'd be lying if I said core exercises didn't play a part in creating that toned, flat stomach we all dream of, but when it comes to the crunch (no pun intended!), diet plays a bigger part in achieving the perfect abs.
Like any area of the body, we cannot spot reduce our waistline. We can work hard to lose weight from our whole body and we can hone in on specific body parts to build lean muscle, but as clever as our bodies are, they aren't clever enough to know that each time we go for a run or take part in a grueling spin class that we are wanting the fat to move from one certain area.
This means that yes, performing abdominal exercises will help to strengthen your all important core – just like leg exercises or upper body exercises have their place in working those specific areas – but without striping back any additional fat from your waistline too, all your hard work to create toned muscles will be wasted because they will not be seen.
So how does food play a part in creating abs?
Weight loss or fat loss is not achieved by exercise alone – and anyone who tells you otherwise should be questioned!
You could exercise all day every day for weeks on end, but unless your diet is clean, healthy and supportive of your training, you will not see the results you are working hard to deserve.
There are a number of obvious foods that are not good for fat loss – for example, saturated fats and foods high in sugar, so addressing your regular eating habits should definitely be a priority for anyone with a health and fitness goal…and it should absolutely be a priority if you are aiming for the abs of your dreams!
Think of it like striping back the Winter doona to see the Summer sheets! With the right diet and exercise, you can strip away any excess weight to reveal the hard work that lies beneath – in this case, your toned, defined, flat abs!
Emily is the owner of and a personal trainer at Bondi Bum, an outdoor group and personal training company in Sydney, NSW.
Emily's number one goal as a trainer is to help clients get outside, move around and reap the benefits of exercises. She is a strong believer that anyone, anywhere can exercise, and more importantly anyone, anywhere can enjoy exercise.
She says: "Exercise doesn't have to be something that people fear or can't do. In its most basic form, exercise is movement and that's what our bodies are made to do…move! By increasing or decreasing the range of movement, the type of movement and the speed of movement, all appropriately to the individual, we can all exercise."
Emily is also the fitness coach for national website, Weigh It Up Australia (www.weighitup.com.au), helping people around the country lose weight, get active and make a difference to their life.
You can follow Emily and Bondi Bum updates at www.bondibumfitness.com.au/blog/ or www.facebook.com/bondibum