How to Do Mountain Climbers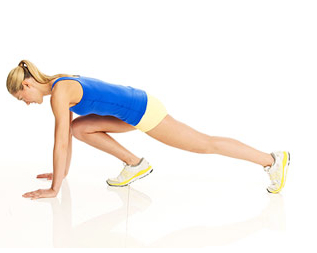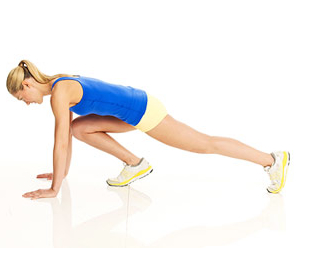 Mountain climbers…sound tough? They are! But they are a great cardio exercise, and they will quickly improve your fitness, flexibility and core strength.
They require no special equipment, and not a lot of space, so no excuses.
Begin in a push up position, arms straight, balls of your feet on the floor.

Brace/engage your core and keep your body still.

Bring your left foot forward and place it on the ground under your chest. Your knee and hip are bent, and your right leg is straight, with the knee off the ground. Your right toe is tucked and your heel is off the ground.

Lift your hips and jump the right leg forward, driving the left leg back. Both legs leave the flour, as you switch legs over. Switching each leg once is one rep.
Tips:
Drive one leg back as far back as possible

Drive the other leg as far forward as your flexibility will allow

Keep your back flat and straight. Focus on engaging your core muscles

Don't let your butt stick up too high in the air!
Start with 20 reps (slowly if you need to) or for an extra challenge see how many you can do in oneminute…two minutes. And challenge yourself!
Neen Monty is NOT a personal trainer…but she's often called a gym junky, fitness fanatic and health nut. She's a single mother of two, and knows how challenging it can be to find the time to exercise. Since her diagnosis of Rheumatoid Arthritis five years ago, appropriate exercise has been part of her treatment regime and she is a firm believer in finding a form of exercise that suits your level of fitness, general health and interests.
She writes a blog about Rheumatoid Arthritis called Arthritic Chick and also runs a website selling Pilates DVDs.