Beefy Mexican Tortilla Pie Recipe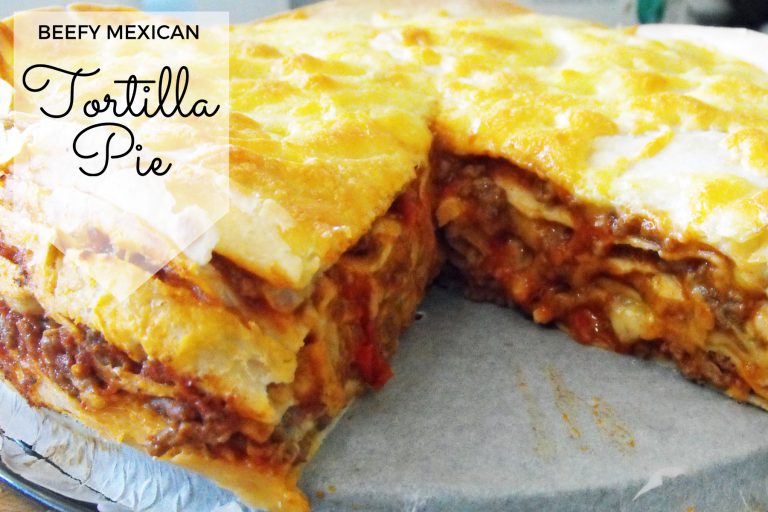 Beefy Mexican Tortilla Pie Recipe
If you are sick of preparing tacos all the time but want a distinctly Mexican inspired dish that the kids will love, then try this beefy Mexican tortilla pie! It is layered like a lasagne, but you use veggie-boosted taco mince and tortillas instead of tomato mince and lasagne sheets. Brilliant!
Serve it with a yummy fresh salsa made up of red onion, avocado, tomato and corn kernels and a simple green salad and you have a meal that is absolutely jam-packed with fresh vegetables. And let's face it, it makes a nice change from plain old tacos!
Beefy Mexican Tortilla Pie Recipe
Ingredients
2 teaspoons olive oil
1 large red onion, finely chopped
2 garlic cloves, crushed
500g beef mince
1 small red capsicum, finely chopped
125g can corn kernels, drained, rinsed
1 packet taco seasoning
415g can diced tomatoes
6 x 20cm tortillas
1 ½ cups grated tasty cheese
Salad to serve
Instructions
1. Preheat oven to 180°C. Heat oil in a frying pan over medium-high heat. Add garlic and onion to pan and cook, stirring, for 3 minutes or until soft. Add mince. Cook, breaking up mince with a wooden spoon, for 8 minutes or until browned.
2. Add capsicum, corn and taco seasoning. Cook, stirring, for 3 minutes or until capsicum is just tender. Stir in diced tomatoes. Reduce heat to medium and simmer, stirring, for 5 minutes or until mixture is thick. Set aside for 10 minutes to cool.
3. Place a 6cm-deep, 20cm round springform pan on a baking tray. Place 1 tortilla in base of pan. Spread some of the mince mixture over tortilla and sprinkle with grated cheese. Repeat layers with remaining tortillas, mince mixture and cheese, finishing with 1 tortilla. Sprinkle with remaining cheese.
4. Bake for 15 minutes or until cheese is golden. Set aside for 5 minutes before removing from pan.
5. Serve wedges of pie with a fresh salsa salad.
https://mumslounge.com.au/lifestyle/food/beefy-mexican-tortilla-pie-recipe/