The Best French Toast Recipe Ever!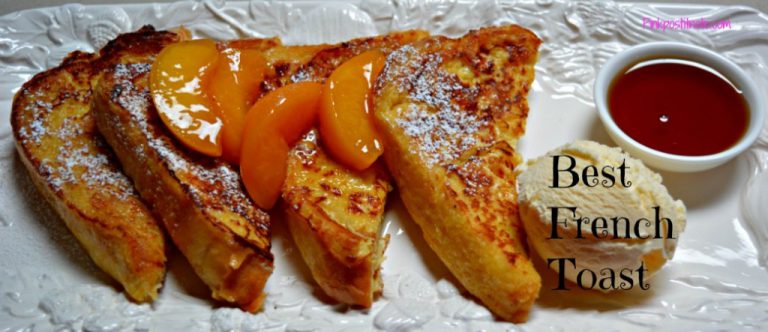 Best French Toast Recipe
Just about every Sunday when I lived at home we would have a big breakfast. Like, I mean – HUGE. It wasn't just bacon and eggs and toast. It was bacon and eggs and toast and pancakes OR waffles OR French toast. Plus fruit. I never ate the fruit. My eyes were always bigger than my stomach and I would try to eat a little bit of everything and never manage to finish my plate. I'm kind of the same now whenever we stay in a hotel and there's a buffet breakfast. I would eat like that everyday if I had the metabolism of a 15 year old boy but sadly I do not so now big breakfasts are saved for special occasions. Having said that there is no reason on earth why you can't have things like this French Toast for dinner! And that's exactly what we did the other day. My other half isn't as fond of a big breakfast as I am, preferring a cup of coffee and a slice of toast but he suggested French Toast for dinner the other day and it was a magnificent idea.
In Canada we only put maple syrup and butter on our French Toast, he has his with peaches and ice cream so you can pretty much please yourself what toppings to put on. Just make sure you buy an uncut loaf of bread so you can slice thick slices yourself. Day old bread is best but if you only have fresh bread, just leave it out for a while in the air to dry out a bit or even pop it in the oven for a few minutes first.
The Best French Toast Recipe Ever!
Ingredients
4 thick slices of white bread
4 eggs
1/2 cup milk
2 tbsp. sugar
1 tsp vanilla
1/2 tsp cinnamon
4 tbsp. butter
Maple syrup, ice cream, fruit to serve
Instructions
In a large shallow bowl, whisk together the eggs, milk, sugar, vanilla and cinnamon. Dip 2 pieces of bread into the mixture and allow to soak for 1 minute. Flip and repeat. Depending on how big your pan is, you might need to cook in batches.
Heat the butter in a large fry pan until bubbling. Let the egg mixture run off the bread and place in the pan. Cook for around 2-3 minutes per side on medium heat until golden. Slice in half and top with fresh fruit, ice cream and maple syrup.
https://mumslounge.com.au/lifestyle/food/best-french-toast-recipe-ever/
Carolyn started her blog
Pinkpostitnote.com
just over a year ago as a way to deal with her obsession of trying new recipes from the copious collection of cookbooks that she owns (and continues to buy). She is particularly fond of "man" food, both cooking it and eating it. She will happily elbow people out of the road at the sight, sound and smell of a pulled pork burger. When she's not lying awake at 5am wondering if she should buy chooks and a cow to deal with the constant need for eggs and butter, she's dealing with all the paperwork associated with owning a bunch of tip trucks and her favorite time of the day is
wine
five o-clock.