50 'Bring a Plate' Ideas – FREE Printable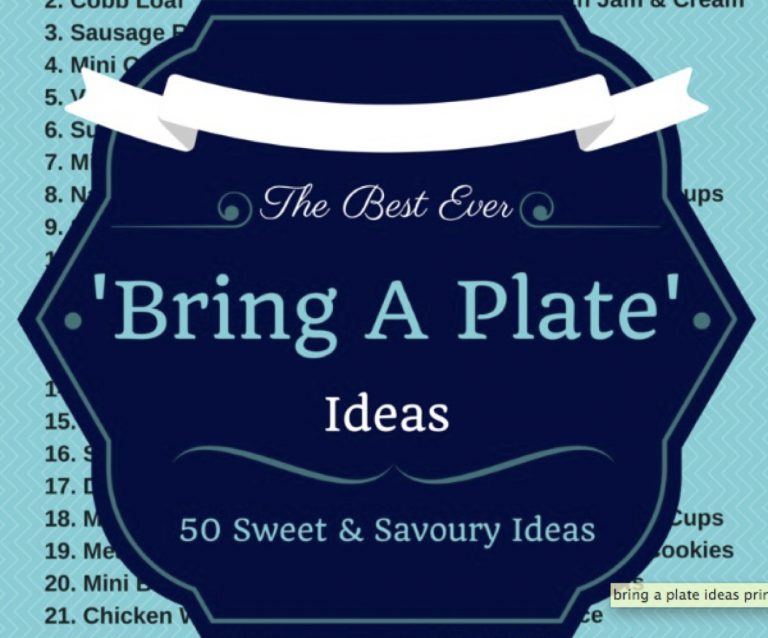 The Totally Delicious 'Bring A Plate' List
It happens to all of us… the dreaded feeling of needing to bring a plate of food to a celebration or party but having absolutely no idea of what to take. Yep it happens to the best of us…. All. The. Time!!
So rather than having to umm and ahh and pore your way through cookbook after cookbook, simply print out our "50 'Bring A Plate' Ideas" and kiss your worries goodbye. Our guide will save you hours of scrolling through Pinterest and will let you get cooking straight away (mind you, if you're like me, you probably quite enjoy procrastinating on Pinterest for a few cheeky hours here and there!).
Anyway, next time you're asked to bring a plate to a party, you won't need to look any further! Just print this list out, pop it on your fridge and you'll be good to go whenever the next 'Bring A Plate' emergency arises!
If you're looking for some savoury inspiration then why not make a cobb loaf, some mini pizzas or meatballs. Or perhaps a batch of mini quiches, savoury muffins or mini burgers is more your thing!
And let's not forget about the all important sweet food! Bring along a plate of jelly slice, peanut brittle, rocky road or chocolate mousse cups and you'll be the star of the party. Or why not let your inner sugarholic out with a batch of coconut ice, fudge or mini pecan pies?
So whether you're after sweet or savoury 'Bring A Plate' options, we have you totally covered! There's inspiration galore in our awesome little printable.
So what are you waiting for? Get Printing!
What's your go-to favourite 'bring a plate' recipe?