5 Fun Family Weekends That Won't Break The Bank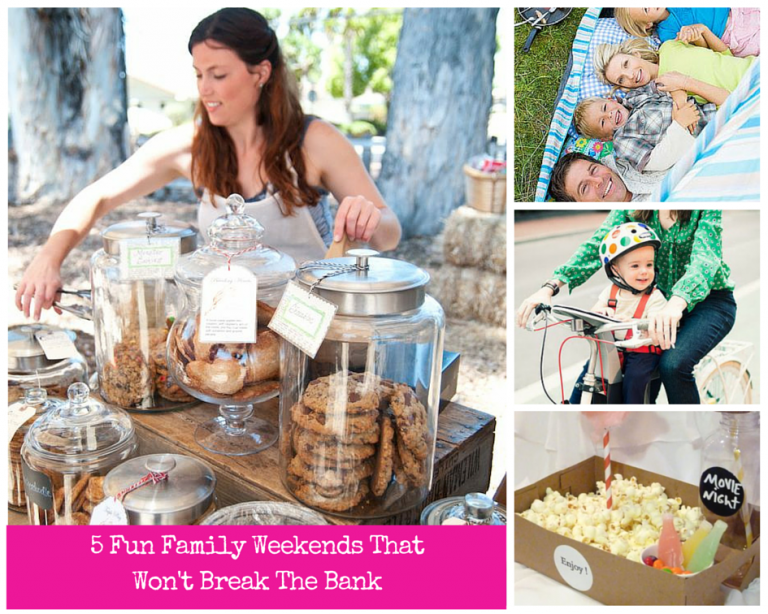 Let's face it… nowadays everything seems to be so expensive! You take the kids to the movies and you can kiss goodbye to $50. Add in some popcorn and choc-tops and the best part of $100 has gone out the window – and all for less than 2 hours of entertainment! Or you decide to treat everyone to a day at the zoo, only to find your wallet completely empty by the end of the day. Yep, we all know that feeling. But while we all hate parting with our hard-earned cash, we also want to fill out weekends with fun activities that the whole family will enjoy. So here's 5 fun family weekends that won't break the bank!
1. Have a camp out
Ok I'll be honest, I'm not a fan of camping. BUT kids love it!! So why not set your tent up in the backyard and have a family camp out. Camping at home is still lots of fun, but you also get to have a hot shower in the morning and you don't have to share the BBQ with 20 other families. Set up a little campfire and roast marshmallows, tell scary stories and play card games. Best of all, this weekend of fun will hardly cost you a cent!
Image: Parents.com
2. Hold a movie marathon
Now that the weather is getting cooler, it's often difficult to get outside. If it's going to be a yucky, rainy weekend, decide to hold a movie marathon. Have each member of the family choose their favourite movie from your collection. Whip up a big bowl of popcorn and get watching! Why not pop everyones sleeping bags into the lounge-room for a sleepover too. In between movies, play board games or card games!
Image: Etsy
3. Pack a picnic
One of the most expensive things about weekend activities with kids is the cost of food. If you go to a cafe for lunch, you can often find that you're shelling out $15 for a sandwich… which gets very expensive when you're feeding a whole family. Pack a picnic lunch and head down to your local park, beach or gardens. Spend the day exploring and then settle down for a yummy lunch. You'll save a whole heap of money (plus you can make exactly what you like!).
Image: Design Mom
4. Go for a bike ride
The family that rides together stays together… ok so maybe that's not quite the saying, but you know what I mean. Exercise gives everyone a big boost of happy! Get everyone outside for a fun family bike ride. Go to an exciting new place where you can explore the area. If it's your first family bike ride, start off small and build from there.
Image: Joanna Goddard
5. Go for a drive
Pack the car with lunch, snacks and drinks and head off for a family drive. Have a vague idea of where you might be headed, but allow for a lot of flexibility. If you see a little farmers market, stop and check it out. If you drive through a cute town, stop and explore. If your kids notice an awesome park, stop and have a play.
Image: Heather Bullard
What are your favourite budget-friendly family weekend ideas?