Easy Chocolate Slice Recipe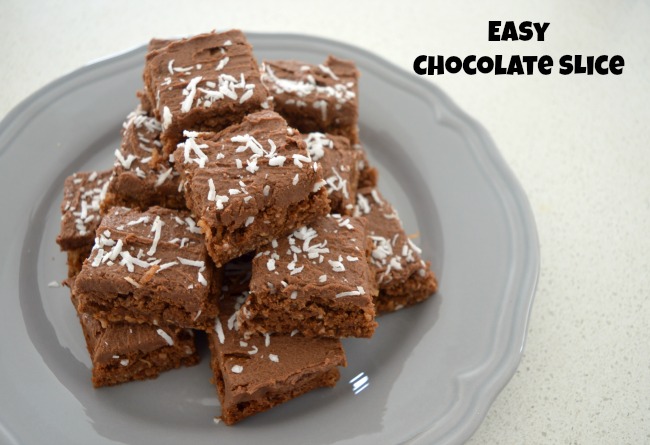 While it's fun to come up with fun new recipes, sometimes all you want (and need!) is a classic slice recipe like this easy Chocolate Slice.  This slice recipe reminds me of the trays of goodies we used to buy at cake stalls when I was young.  It is an incredibly easy recipe to put together and is perfect if you have a little kitchen helper of two!
Easy Chocolate Slice Recipe
Ingredients
2 cups self raising flour
2 tablespoons cocoa
1 ½ cups coconut
250g butter or margarine
1 cup sugar
For the Chocolate Icing
2 cups icing sugar
1 cup shredded coconut
2 tablespoons cocoa
6-8 tablespoons hot water
Instructions
To begin, preheat the oven to 180°C and line a slice tin with baking paper, making sure to leave plenty hanging over the sides as this will help you remove the slice from the tin when it has baked.
Sift the flour and cocoa into a large bowl, add the coconut and stir to combine.
Place the butter in a medium saucepan with sugar and heat until melted. Pour over dry ingredients and then mix until combined.
Press mixture into the lined tray and place in the oven to bake for 15 minutes.
Remove from oven and allow to cool slightly
Combine the icing sugar and cocoa, add hot water a tablespoon at a time until your icing is thick but still can be spread.
Spread icing over the warm slice and sprinkle the coconut over the top before placing in the fridge to cool Once cool, cut into small squares.
https://mumslounge.com.au/lifestyle/food/easy-chocolate-slice-recipe/
I decided to decorate this chocolate slice with coconut, but you could also use 100s and 1000s or even chocolate chips if you want to make it extra special.
Do you know someone who would love this Easy Chocolate Slice?
What is your favourite slice recipe from your childhood?