Nutella Snickerdoodles Recipe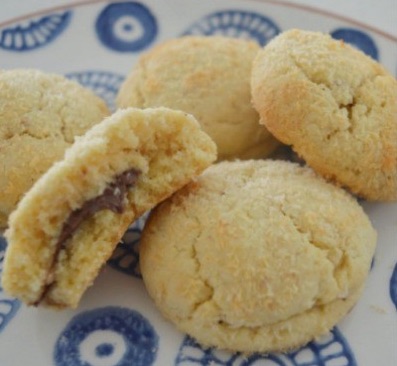 Nutella Snickerdoodles Recipe
For a very long time I was under the impression Snickerdoodles were actually made from Snickers Chocolate Bars – I mean it makes sense with 'Snickers' in the name! When I first had the opportunity to try one of these soft and delicious cookies a few months ago, although they didn't contain any chocolate, I was certainly not disappointed.
Thanks to my discovery of what Snickerdoodles actually are, and spurred on by the idea of actually adding chocolate to these amazing cookies, Nutella filled Snickerdoodles were born.
Nutella Snickerdoodles Recipe

Ingredients

250g of plain flour
3/4 teaspoon of baking powder
1/2 teaspoon of salt
125g of butter - softened
1 egg
100g + 2 extra tablespoons of caster sugar
1 teaspoon of vanilla extract
1 tablespoon of coconut
1/2 cup of nutella

Instructions

Line two baking trays with baking paper and preheat your oven to 180 degrees.
In a large bowl, combine the flour, baking powered and salt and set aside until needed.
Place the two extra tablespoons of caster sugar and coconut into a small bowl as set aside.
In a mug, add the vanilla extract and egg and whisk together using a fork.
In the bowl of an electric mixer, place the softened butter and 100g of caster sugar. Beat on a high speed until the mixture is light and fluffy.
Gradually add the egg mixture and continue to beat until it's completely combined.
Add the dry ingredients to the bowl and stir through with metal spoon until a smooth dough forms.
Use a tablespoon to scoop up the dough and roll it into a ball.
Using your thumb, make a small indent in the middle of the ball and add approximately 1/2 a teaspoon of nutella. Gently work the edges of the dough until they cover the nutella and roll back into a ball.
Roll the filled balls in the coconut and sugar mixture.
Place on your lined baking tays, making sure you leave approximately 3 cm between each cookie. Bake for 15 minutes or until they begin to turn golden brown and small cracks appear on the surface of the cookies.
Remove the trays form the oven and cool for five minutes before carefully transferring to a wire rack to cool completely.

https://mumslounge.com.au/lifestyle/food/nutella-snickerdoodles-recipe/
Enjoy!
Have you tried a Snickerdoodle before? What did you think?