Candy Cane White Chocolate Slice Recipe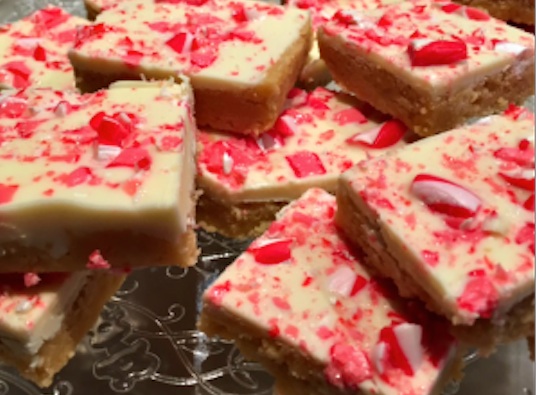 Candy Cane White Chocolate Slice
Yippee – another no-bake slice you can make before Christmas. These gorgeous red and white squares just sing "Merry Christmas" to me, the crushed candy cane on top of the white chocolate sparkles and glistens – wrapped up in some clear cellophane they would make an excellent gift. I absolutely love baking a whole variety of treats around late November, freezing them and then making "samplers" of all the goodies to give to my friends and neighbours a few days before Christmas.
I also keep a few of everything de-frosted under a glass cake dome so that anyone who pops in to visit gets a choice of treats to go with their coffee. Little do they know that I made them all weeks before and have been storing them in the freezer!
The one thing to bear in mind about this slice is that the base and white chocolate, together with the candy cane sets quite firm so make sure you have a sturdy chopping board and a hot knife when you go to slice them. Keep these in the fridge until ready to serve to keep the chocolate firm.
Adapted from Donna Hay's Christmas 2014 magazine
Candy Cane White Chocolate Slice Recipe
Ingredients
500g plain shortbread biscuits (cookies)
180g unsalted butter, melted
160g white chocolate, melted
2 tsp vegetable oil
6 candy canes, crushed (pop into a plastic bag and use a rolling pin or meat mallet)
Instructions
Place the biscuits in a food processor and process until fine. Add the butter and process until combined. Transfer the mixture to a slice tin approximately 35cm x 25cm lined with non stick baking paper and, using the back of a spoon, press the mixture evenly into the base. Refrigerate for 15-20 minutes.
Mix to combine the chocolate and oil and pour over the biscuit base. Allow to stand for 5 minutes or until starting to set.
Sprinkle with the crushed candy canes and refrigerate for 1-2 hours or until firm.
Allow to stand at room temeprature for 5 minutes before cutting into bars with a hot knife to serve.
https://mumslounge.com.au/lifestyle/food/candy-cane-white-chocolate-slice-recipe/
Carolyn started her blog Pinkpostitnote.com just over a year ago as a way to deal with her obsession of trying new recipes from the copious collection of cookbooks that she owns (and continues to buy). She is particularly fond of "man" food, both cooking it and eating it. She will happily elbow people out of the road at the sight, sound and smell of a pulled pork burger. When she's not lying awake at 5am wondering if she should buy chooks and a cow to deal with the constant need for eggs and butter, she's dealing with all the paperwork associated with owning a bunch of tip trucks and her favorite time of the day is wine five o-clock.