Cheesy Bacon Potato Cakes Recipe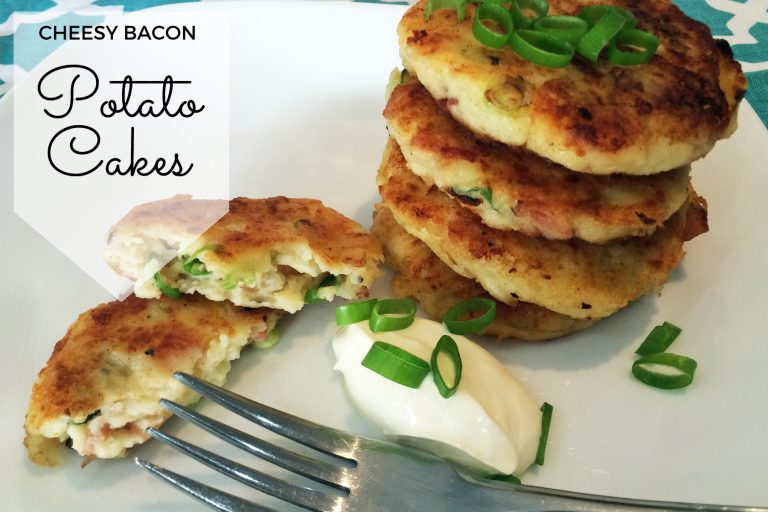 Cheesy Bacon Potato Cakes Recipe
This is the perfect recipe to use up leftover mashed potato from the night before – treat yourself to some cheesy bacon potato cakes for lunch and let the kids scoff the rest for an after school treat!
I made this recipe after making Potato Skin Nachos the night before. I had all that lovely potato flesh in a container in the fridge, waiting to be put to good use. One of our lovely preschool teachers gave me the idea and I thought it only fair to drop some in for her at pick up that afternoon. I hope you enjoyed them, Miss Julie!
Here are all the ingredients you need to make some magic out of leftovers.
I used shortcut bacon but you can use whatever you have – ham, leftover corned beef etc. A little bit of leftover tinned salmon would be rather special too. You also need one egg, one shallot or green onion, two thirds of a cup of grated tasty cheese, three cups of mashed potato, plain flour and some oil to cool the potato cakes in.
If you are using bacon, quickly fry it and allow it to cool slightly. Then mix everything together with your hands in a big bowl until well combined. Divide the mixture into twelve and form the potato cakes in flat discs.
Coat them in flour and they're ready to be cooked! It's that simple.
If they feel a little soggy while you're handling them ready to be fried, just pop them back in the flour and recoat.
Heat some oil in the base of a frying pan and cook them in batches for a few minutes each side or until crispy and golden.
Drain on some kitchen paper and sprinkle with a little salt and pepper as desired. Serve immediately with sour cream and some extra chopped green onions.
Cheesy Bacon Potato Cakes Recipe
Ingredients
3 cups cold leftover mashed potatoes
2/3 cup grated cheese
3 rashers shortcut bacon, chopped and fried
1 shallot
1 egg
3 tablespoons plain flour
½ cup plain flour, extra
Canola oil
Sour cream, to serve
Instructions
In a large bowl, stir together the mashed potatoes, cheese, shallots, egg and 3 tablespoons of flour until combined. Divide the mixture into 12 portions. Roll each portion into a compact ball then flatten it into a pancake about a 1/2-inch-thick.
Place the remaining 1/2 cup of flour in a shallow dish and carefully coat each pancake in the flour.
Pour enough vegetable oil to coat the bottom of a large frying pan and place over medium heat.
Fry the potato cakes in batches, until they're golden brown and crispy on both sides, 3 to 4 minutes. Add more oil to the pan as needed between batches. Transfer the pancakes to a paper towel-lined plate and immediately sprinkle them with salt.
Serve topped with sour cream and garnished with additional chopped shallots.
https://mumslounge.com.au/lifestyle/food/cheesy-bacon-potato-cakes-recipe/