Cheesy Chicken Bacon and Ranch Bake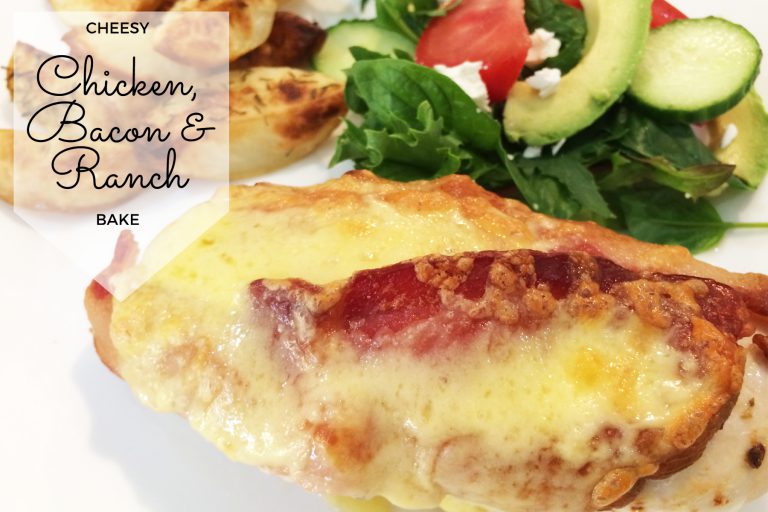 Cheesy Chicken Bacon and Ranch Bake
Chicken bacon and ranch are a match made in heaven, seriously. So why not combine them into a simple and tasty oven bake, ready in 45 minutes? And best of all, there are very few ingredients to gather.
Here's what you'll need.
Chicken breast fillets – enough to go around or one per adult, ranch dressing, bacon and grated tasty cheese. You'll also need some seasonings too – salt, freshly cracked pepper, dried herbs (oregano, parsley or an Italian mix would be great) and some garlic powder.
Place the chicken into a large baking dish.
Then top with the ranch dressing and seasonings and herbs.
Then top with the bacon! Cut it to size if need be.
Bake in the oven for 35 minutes or until the chicken is cooked through and the bacon is golden and crisp.
Then top with grated cheese and return to the oven for another five minutes.
They'll come out looking like this!
Then all that's left to do is to serve your cheesy chicken bacon and ranch bake with homemade potato wedges and a simple salad. Dinner is served!
Cheesy Chicken Bacon and Ranch Bake
Ingredients
4 chicken breast fillets
Salt, pepper, garlic powder and dried herbs
Ranch dressing
8 slices of shortcut bacon
1 cup grated tasty cheese
Salad and wedges to serve
Instructions
Place the chicken breast fillets in a baking dish, sprinkle with seasonings and herbs
Spread 1-2 tablespoons of ranch dressing over each chicken breast, then arrange bacon to fit and layer on top of dressing
Bake in oven preheated to 200C for 35 minutes or until chicken is cooked through and the bacon is golden and crisp.
Top with cheese and return to oven for 5 minutes or until cheese has melted.
Serve with a fresh salad and homemade potato wedges
https://mumslounge.com.au/lifestyle/food/cheesy-chicken-bacon-ranch-bake/