Cheesy One Pan Tacos Recipe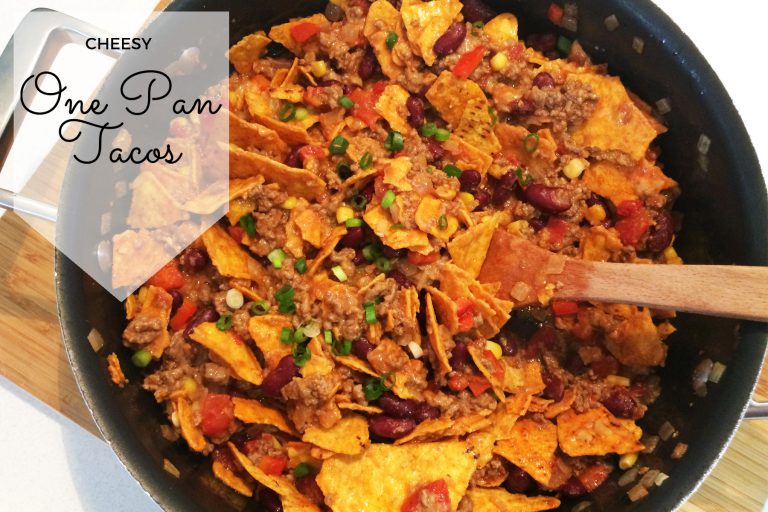 Cheesy One Pan Tacos Recipe
So picture this: a one pan dish that combines all the elements of tacos, but without the mess of chopping up salad ingredients and having the tacos break and fall apart and the fighting over who gets the last taco shell — or is that just my family?
Maybe your family eats tacos in a more civilised manner than mine do, but I'm sure you'll all love this meal anyway! It's kinda like nachos, but not really. It's one pan tacos!
This family favourite is super quick and easy to throw together too. Kids absolutely love this stuff.
Here's what you'll need to make it!
Just normal taco stuff! You'll need some beef mince, taco seasoning, an onion, red capsicum, a small tin of corn kernels, big tins of chopped tomatoes and red kidney beans, a nice packet of corn chips (from the taco section, not Doritos, although they'd work too), some grated cheese and shallots to serve.
Brown the mince and chopped onion and then add the taco seasoning and water as per packet directions. Stir through the diced capsicum, tomatoes, corn and beans, then allow to simmer for a few minutes. It will look like this:
It's looking great already!
Now comes the hard part. You have to squish that packet of corn chips to break them into smaller pieces. Don't go too hard, you don't want crumbs, you want smaller chunks. Actually, that wasn't very hard at all, was it? Told you this recipe was easy!!
Stir through the corn chips and grated cheese, top with shallots and serve immediately.
One pan to cook it all in and one bowl and fork for each person means very little washing up. And that's a meal that makes everyone happy!
I hope you enjoy it as much as we do.
Ingredients
2 tbsp olive oil
500g beef mince
1 small onion, chopped
1 packet of Taco seasoning
1 tin of diced tomatoes
1 small tin of corn kernels
1 tin of red kidney beans
1 red capsicum, finely diced
1 bag of corn chips
2 cups shredded cheese
Shallots, finely sliced, to serve
Instructions
In a large, heavy based big frying pan, heat oil and cook mince and onion until beef is browned and onion is tender.
Add Taco seasoning and water (as per packet directions) and stir until combined and the mixture starts to thicken.
Add corn, tomatoes, capsicum and beans. Stir well and cook over medium low heat until heated through.
Squeeze the bag of corn chips gently to crush slightly. Add corn chips and cheese to the taco mixture and stir until melted.
Sprinkle with shallots and serve immediately.
https://mumslounge.com.au/lifestyle/food/cheesy-one-pan-tacos-recipe/