Chicken Caesar Club Sandwiches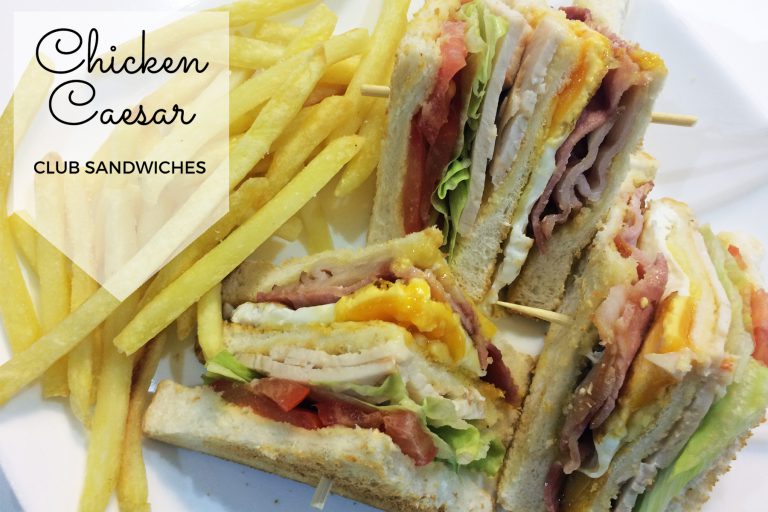 Chicken Caesar Club Sandwiches
If you're after a tasty light meal at the end of the day, you can't go past these delicious chicken Caesar club sandwiches! My kids loved them, proving once and for all that they will eat sandwiches for dinner if I make these bad boys!
Here's what you'll need to get this meal on your table in about twenty minutes:
Oven baked French fries, a loaf of bread, butter, caesar salad dressing, some eggs, bacon, parmesan cheese, tomatoes, lettuce and some sliced chicken meat from the deli. I think the one I bought was thickly sliced barbecue chicken breast, but you could use shaved or even the budget square stuff on a roll. Whatever works for you.
Get your oven fries baking and pan fry your bacon. Remove to a baking paper lined plate to drain and crack on with your eggs (see what I did there? heh). Once they are cooked to your liking, you're ready to assemble your club sandwiches!
Toast your bread, then butter them and spread some salad dressing on each piece. Put four pieces on a work surface and top with egg, bacon and parmesan cheese. Then add another piece of toast and top with chicken, lettuce and tomato. Finish with the last piece of toast and slice into little triangles. Add a toothpick to keep everything together and serve with your French fries! Simples!
Recipe below!
Chicken Caesar Club Sandwiches
Ingredients
4 rashers bacon, halved
4 eggs
12 slices of white bread
Butter or margarine spread
2/3 cup Caesar salad dressing
2/3 cup shaved parmesan
400g sliced barbecue chicken deli meat
4 iceberg lettuce leaves, sliced
2 tomatoes, sliced
Oven baked French fries to serve
Instructions
Cook oven fries as per packet directions
Heat a large non-stick frying pan over medium high heat and cook bacon for 3 minutes each side or until golden. Drain on paper towel. Pan fry eggs in the same pan until cooked to your liking.
Toast bread. To make club sandwiches, place 4 slices of toast on work surface, spread each with butter then 1 tablespoon of Caesar salad dressing.
Top each with an egg, two pieces of bacon, and two tablespoons of parmesan cheese. Then add another slice of toast, buttered and spread with salad dressing.
Top with chicken, lettuce and tomato, then remaining toast.
Cut the sandwiches into small triangles and secure with toothpicks. Serve with French fries.
Notes
This recipe makes 4 triple-decker club sandwiches which are then cut into quarters to serve.
https://mumslounge.com.au/lifestyle/food/chicken-caesar-club-sandwiches/