Why the Bread You Choose to Put in Your Child's Lunchbox Matters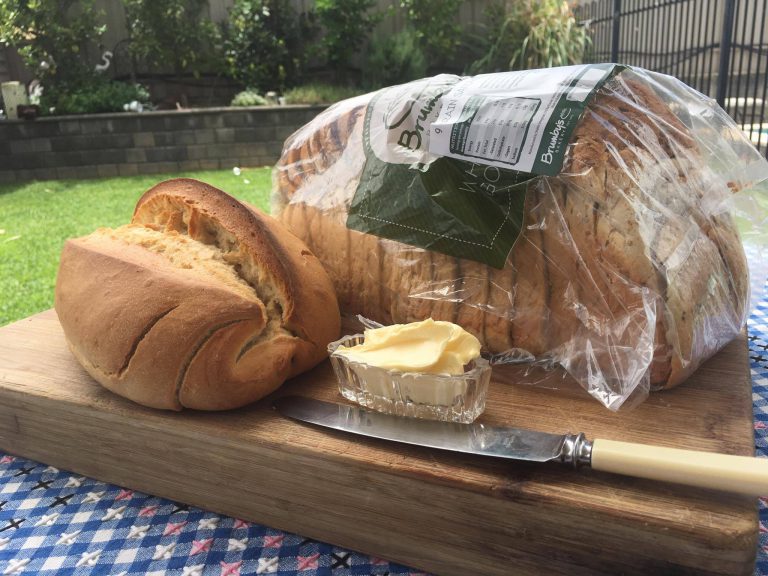 Why the Bread You Choose to Put in Your Child's Lunchbox Matters
Sponsored post
With kids across Australia gearing up to start or go back to school soon, it won't be long before parents everywhere are looking for lunchbox ideas. Whilst I love food inspiration and awesome sandwich ideas as much as the next parent (in fact I'll be sharing some of my own next week), I thought that it was worthwhile going back to the basics before we tackle the fillings, and discuss bread. Everyone seems to get so focussed on what to put into their kids sandwiches, we sometimes forget that the bread that we are making them with is extremely important. There's no point grating, slicing and chopping up organic salad vegetables only to sandwich them between two slices of bread that is crammed full of preservatives, additives and goodness knows what else, is there?
Australian Dietary Guidelines recommend eating a wide variety of mostly wholegrain and/or high fibre varieties of breads, cereals, rice, pasta, noodles, polenta, couscous, oats, quinoa and barley. Breads and cereals are a good source of fibre, carbohydrates and protein and a wide range of vitamins and minerals which children need for energy and normal growth and development. So choosing which bread to feed my family, for me, is very important, because as many of us know, not all bread is created equally.
I want the bread I buy to be made fresh that day (there is nothing worse than spongey or stale bread, yuk!), be free from preservative and other artificial nasties, and packed with as much goodness as possible. So when Brumby's Bakery delivered a hamper of goodies to my door for my family and I to try, you can imagine how excited I was. Not only does their bread tick all of the boxes mentioned above, it's also made from 100% whole wheat.
Brumby's Bakery's premium range consists of six varieties:
White Hi-Fibre
Honey and Oat
Wholemeal
Multigrain
Soy and Linseed
Rye
Hi-Fibre White
If, like many of us, you have children that point blank refuse to eat any kind of bread that isn't white bread, making the switch to a White Hi Fibre option is a great alternative to your standard white bread. Fibre is crucial to a healthy diet. It helps to keep us feeling full, encourages bowel movements and improves gut health. As far as the kids need to know though it's just delicious, fresh white bread – honestly, they'll have no clue it's healthier for them (but you will!)
You won't even mind making them the odd fairy bread or chocolate sprinkle sandwich as a treat!
Wholemeal
The wholemeal bread has a slightly malty taste (which I personally love) and isn't your average heavy kind of brown bread (if you know what I mean). It's jam-packed with fibre so it's great for helping you feel full for longer (which is great for me as I'm less prone to snack between meals) but it also means that my kids won't lose concentration in class mid-afternoon due to a rumbling tummy! Wholemeal bread retains nutrients and healthy plant compounds found naturally in the grain and is a good source of folate, thiamine, magnesium, selenium and vitamin E.
Honey and Oat
Yes! It tastes every bit as good as it sounds! The Honey and Oat bread is made with Australian honey and smells divine and is perfect for toasting or making sandwiches.
Multigrain
The multigrain is another super-healthy bread option and is my number 1 favourite! It's high in fibre and contains a broad variety of other nutrients beneficial for my families health: niacin, thiamine, potassium, iron, folate, soluble fibres, phosphorous, vitamin B6 and vitamin E! All that goodness comes from the all the lovely grains  – it contains malted wheat flakes, kibbled rye, maize semolina, kibbled mung beans, sunflower, linseed, oat grotes, bumped barley, kibbled sorghum, soyflour, millet and sesame seeds! Seriously, you'd have to be crazy to go past this loaf! Not only is it good for you, it tastes amazing! But you are still having problems getting your kids to eat grainy bread, I'll be sharing some awesome lunchbox ideas next week that might just make them change their mind!
Soy and Linseed
Soy and Linseed is another really healthy option.  It's high in protein, is full of essential vitamins, high in fibre and may even help to lower cholesterol (thanks to the linseeds.)
Rye
Last but not least, the Brumby's rye bread is lower in gluten and made with rye grains and flour, and has a lower glycemic index than the others. It is also a great source of minerals such as magnesium and protein. (My idea of heaven is a weekend that starts with smashed avocado and poached eggs on toasted Rye.)
So next time you are picking up a loaf of bread for the school lunches, ask yourself if your choice in bread is packing as much nutritional punch as it should. We aren't above sneaking extra veggies and fruits into them whenever possible are we, and getting extra grains into them is equally as important. Buying better more wholesome bread needn't stretch the budget either. You can buy 2 loaves at Brumby's Bakery for just $3.95!
With 24 stores, including 19 convenient OTR locations open 24/7, your nearest Brumby's is just around the corner. So, next time you don't know what to eat for breakfast, why not swing past and try getting your day started with a healthy foundation of seeds and grains.
Giveaway
Brumby's Bakery are offering residents of SA the chance to win a sensational prize consisting not only of a 4 x Brumby's family hampers (1 per week for 4 weeks) but also a month worth of cleaning with VIP (so you'll have more time to enjoy your lunch too!)
The hamper includes:
2 x Loaves of premium bread
6 x Rolls
1 x Glen
4 x vanilla slices
Cleaning with VIP includes:
$200 worth of cleaning (equals 1 month cleaning).
For your chance to enter, complete the entry form below.  Good luck!
a Rafflecopter giveaway

Terms and Conditions
The total prize value is $382.80
Not redeemable for cash
All services may not be available in all areas
Gift vouchers must be redeemed by calling 13 26 13
There is a 12 month expiry date on vouchers