Chicken Noodle and Sweetcorn Soup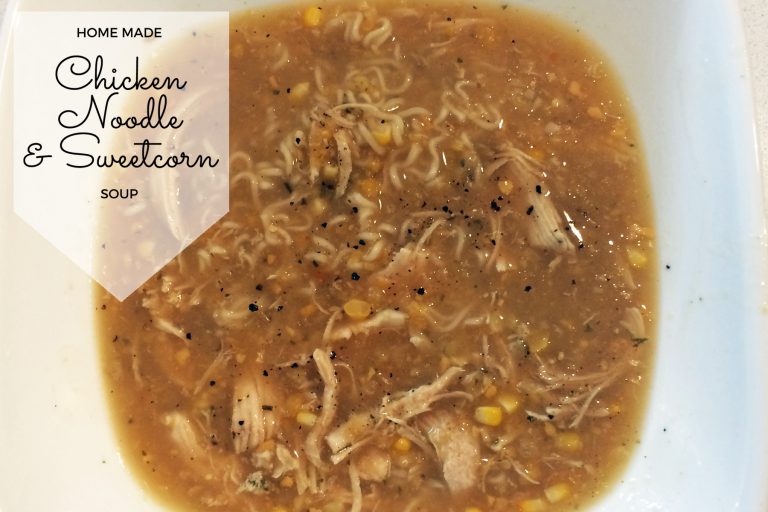 Chicken Noodle and Sweetcorn Soup
Chicken noodle and sweetcorn soup was what I came up with when my littlest girl was sick one day. I was meant to do the grocery shopping that day and had planned to pick up something for dinner while at the shops. Instead, we spent the day snuggled up watching Peppa Pig on the lounge, while I wracked my brain thinking of what I could make for dinner. This is what I came up with.
Everything here involves pantry staples and things I had in the freezer. I was floating about like Mary Poppins adding a spoonful of this and a sprinkle of that and was thrilled with the result, as was my little girl. There's nothing fancy here, just good basic food that needs no airs and graces.
Sometimes you just want to snuggle up and have some soup and noodles. Peppa Pig is optional.
Chicken Noodle and Sweetcorn Soup
Ingredients
2 chicken breast fillets
1 tablespoon Tuscan seasoning
2 chicken Oxos
420gm tin of creamed corn
1 ear of corn (or a tin of corn kernels or 1 ½ cups frozen corn)
1 packet of cream of chicken soup mix
3 packets of Maggi noodles
1 shallot, finely chopped (not pictured)
Salt and freshly cracked black pepper to taste
Instructions
1. Heat a large saucepan of water until boiling and place chicken fillets and Tuscan seasoning in it to poach for 15 minutes or until cooked through.
2. Remove chicken, shred with two forks and return to saucepan. Add the oxos, creamed corn and fresh, tinned or frozen corn, shallots and soup mix and stir well to combine.
3. Cook the Maggi noodles as per packet directions, omitting the flavour sachet. Divide noodles among serving bowls and top with soup and season with salt and freshly cracked black pepper to taste. Serve with crusty bread.
https://mumslounge.com.au/lifestyle/food/chicken-noodle-sweetcorn-soup/