Chicken Steak Sandwiches Recipe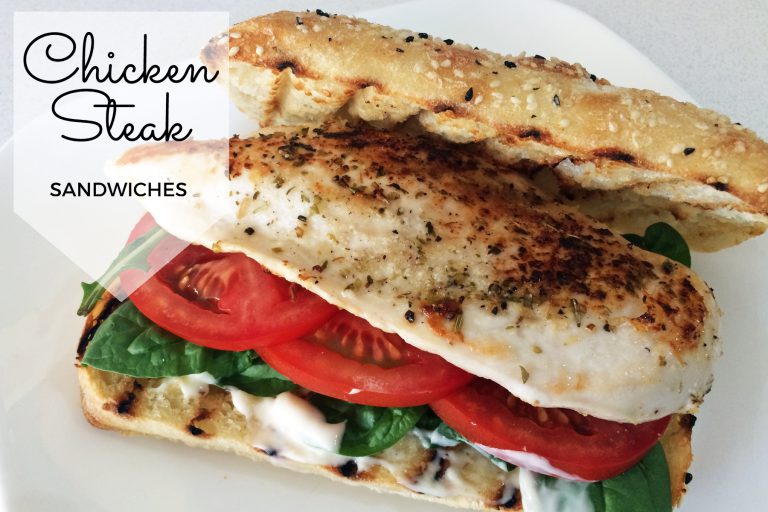 Chicken Steak Sandwiches Recipe
If I've said it once, I've said it a thousand times. It's the simple things in life that are the best. I'd never turn down an invitation for a ten course degustation menu, don't get me wrong! But you also can't beat a simple chicken steak sandwich with good, honest flavours and tomato juice dripping down your wrist.
Have this delicious sandwich on your table in less than ten minutes! It couldn't be easier, let me show you how.
You need enough chicken breast fillets and Turkish rolls to feed your people. One bread roll each, and one chicken breast to serve two people. I fed six so I used six bread rolls and three chicken breast fillets. There will be enough of everything else to serve up to six people.
First, you make a delicious lemony aioli with the whole-egg mayo, garlic clove and the grated lemon rind and juice. It's well worth doing this because it's amazing, but I'll understand if you just reach for your favourite flavoured mayo and be done with it. You do you.
Cut the chicken breast fillets in half lengthways to form two flat steaks. Season them with your favourite Italian seasoning, or make up your own with these guys.
One teaspoon dried oregano to half a teaspoon each of garlic powder, onion powder, freshly cracked black pepper and salt. I love this mix of herbs and spices so much that I made up my own blend in an old jar and use it all the time.
Sprinkle it on the chicken and grill or fry for a few minutes each side until golden and cooked through. Then simply spread some of your mayo on the base of the toasted Turkish roll, top with the salad leaves and sliced tomato and finish with your scrumptious chicken steaks! Serve immediately with chips or without for a quick summer meal everyone will love.
Ingredients
2/3 cup whole-egg mayonnaise
1 garlic clove, crushed
1/2 lemon, rind finely grated, juice squeezed
2-3 chicken breast fillets, trimmed
Italian seasoning blend
olive oil cooking spray
4-6 Turkish bread rolls, split, toasted
Mixed salad leaves
2-3 large tomatoes, thickly sliced
Instructions
Combine mayonnaise, garlic and lemon rind and juice in a bowl. Mix well, cover and refrigerate until needed.
Remove tenderloins from chicken fillets (freeze for another use). Using a sharp knife, cut fillets in half through centre to make 4 thin fillets. Sprinkle both sides with seasoning.
Preheat a barbecue grill or frying pan on high heat until hot, then reduce heat to medium and spray with oil. Cook chicken steaks for 2-3 minutes each side or until golden and cooked through.
Spread lemon and garlic mayonnaise over bread roll bases. Top with salad leaves, tomato, and chicken. Cover with bread roll tops and serve.
https://mumslounge.com.au/lifestyle/food/chicken-steak-sandwiches-recipe/