Chipotle Steak with Avocado Salsa Recipe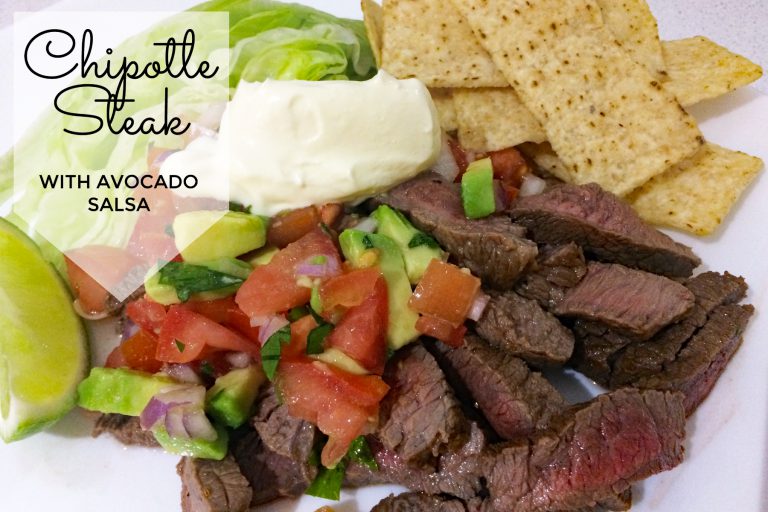 Chipotle Steak with Avocado Salsa Recipe
Spice up your summer salad menu with this chipotle steak and avocado salsa recipe!
This fantastic family meal features the flavours of smokey barbecued steak, lime juice, avocado and sour cream. And coriander too, if you like that awful stuff.
It is really simple to put together, and makes a wonderful change to boring summer salads.
Here is what you'll need to make this fun family favourite in no time at all.
Blade steak, a packet of chipotle seasoning (you can also use a smokey bbq as I did, or even just a standard taco seasoning spice mix), red onion, tomatoes, avocado, an iceberg lettuce, sour cream, lime juice, oil and some corn chips and limes to serve.
You need enough blade steak to feed your family — we are feeding 6 (2 adults, 4 children) so I bought about a kilo. Then trim the steak of all the fat and place in a large shallow bowl. Combine the spice mix, oil and lime juice in a jug and pour over the beef, turning to coat. Cover with cling film and allow to marinate for fifteen minutes.
Meanwhile, make your avocado salsa by chopping your veggies up finely and combining them in a bowl with some lime juice, salt and pepper.
Heat a frying pan or char-grill on high heat and cook your steaks for two minutes each side for rare, or longer if preferred. Remove to a plate and cover with foil and allow to rest for five minutes. Then slice thinly.
Cut your iceberg lettuce into wedges and arrange them on your serving plates. Divide the seared steak pieces among the plates, then top with avocado salsa and sour cream. Serve with corn chips and lime wedges.
Chipotle Steak with Avocado Salsa Recipe
Ingredients
1kg beef blade steaks, trimmed but left whole
1 pkt of chipotle spice mix
2 tbsp vegetable oil
¼ cup lime juice
2 medium tomatoes, finely chopped
1 avocado, finely chopped
1 small red onion, finely chopped
2 tbsp chopped coriander
½ small iceberg lettuce, cut into wedges
2/3 cup sour cream
Corn chips and lime wedges to serve
Instructions
Place beef in large shallow dish. Combine the oil, the spice mix and half the juice together in a jug. Pour over steaks and turn to coat. Cover with cling film and stand for 15 minutes, turning once to marinate.
Meanwhile, place tomato, avocado, onion, coriander and lime juice in a bowl, season, and stir to combine. Set aside.
Preheat char-grill or frying pan over high heat. Cook beef for 2 minutes per side for rare, or longer until cooked to your liking. Transfer to a heat proof plate, cover with foil and allow to rest for 5 minutes. Slice thinly.
Arrange lettuce on serving plates, add beef then avocado salsa and sour cream. Serve with corn chips and lime wedges.
https://mumslounge.com.au/lifestyle/food/chipotle-steak-avocado-salsa-recipe/