Creamy Alfredo Chicken and Bacon Meatballs with Fettuccine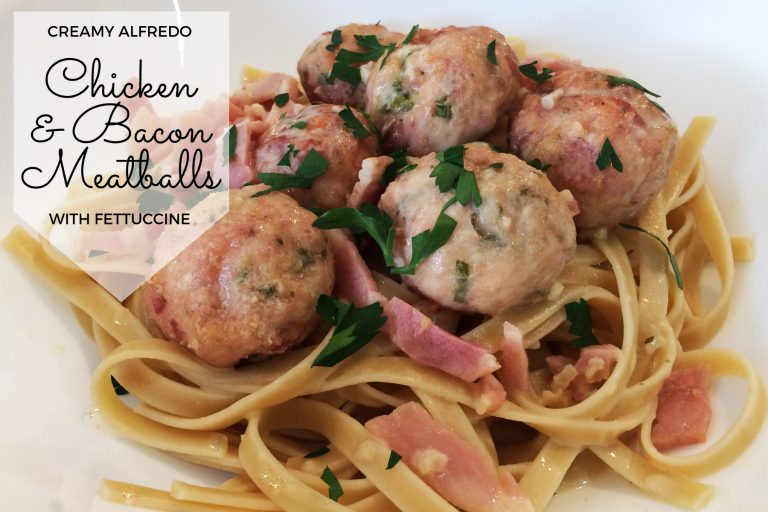 Creamy Alfredo Chicken and Bacon Meatballs with Fettuccine
Our family loves pasta, and it is on our table at least once or twice a week. They really love meatballs, but I feel like they get sick of the usual beef or pork ones with tomato sauces. So I served up this delicious creamy alfredo pasta with the yummiest chicken and bacon meatballs. And now they love meatballs twice as much!
Chicken and bacon meatballs are a cinch to make. Just like beef or pork ones but a little wetter. Here's what you'll need for the meaty part of the recipe.
Chicken mince, a couple of rashers of bacon (trimmed of fat and chopped finely), a green onion finely chopped, some plain flour, garlic powder, freshly cracked black pepper and dried parsley.
You'll also need some kitchen preparation gloves for this one because chicken mince is gooey and messy. Wine glass with a straw is optional.
Roll your chicken and bacon mix into golf ball sized balls and place on a baking tray. I rolled the balls in a little plain flour too, as they were a little too wet and gooey. Then just pop in the oven to bake for twenty minutes.
Once they are in, cook the pasta as per packet directions and whip up a quick and easy alfredo sauce with some garlic, cream and parmesan. I added some extra bacon to ours as well because you can never have too much bacon in your life. That's a rule to live by.
Mix the pasta with the sauce and serve with meatballs on top!
Creamy Alfredo Chicken and Bacon Meatballs with Fettuccine
Ingredients
For the Meatballs:
2 rashers of bacon, finely chopped
500g chicken mince
3 tablespoons plain flour
1 Shallot, diced
1 tablespoon dried parsley
1/2 teaspoon freshly cracked black pepper
1/2 teaspoon garlic powder
For the Sauce:
25g butter
4 garlic cloves, crushed
300ml thickened cream
2 rashers bacon, chopped
2 tablespoons chopped flat-leaf parsley leaves
1/3 cup grated parmesan cheese
375g dried fettuccine to serve
Instructions
Prepare oven tray with baking paper. Pre heat oven to 180deg with the rack in the middle. Combine all meatball ingredients and form into golf ball sized meatballs. Arrange in a single layer and bake for 15-20 minutes until golden brown.
Meanwhile, cook the pasta as per packet directions and saute the remaining bacon until golden. Melt butter in a large non-stick frying pan over medium heat. Add garlic. Cook, stirring, for 1 minute or until fragrant. Stir in cream and bring to a gentle boil. Reduce heat to low. Simmer for 3 to 4 minutes or until sauce slightly thickens. Add parsley, bacon, parmesan cheese and pasta and stir well to combine.
Serve meatballs on top of pasta and sauce with extra parmesan and parsley sprinkled on top.
https://mumslounge.com.au/lifestyle/food/creamy-alfredo-chicken-bacon-meatballs-fettuccine/