Creamy Garlic Prawn Pasta with Bacon & Spinach Recipe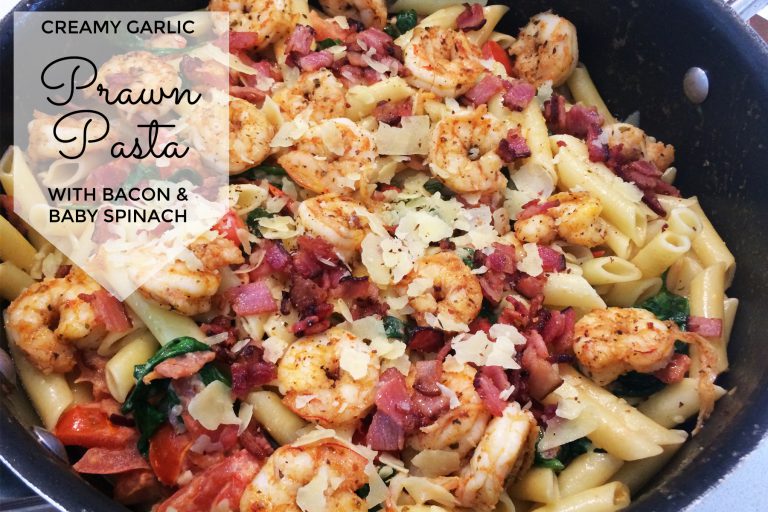 Creamy Garlic Prawn Pasta with Bacon & Spinach Recipe
If you have been looking for a show stopping pasta dish, look no further because this creamy garlic prawn pasta with bacon and spinach is the best one around!
I mean seriously, what's better than garlic prawns? Garlic prawns seasoned with smoked paprika, chilli flakes and doused in a creamy cheesy sauce with crispy bacon, tomatoes, baby spinach and penne pasta!
This is seriously good, you guys.
Here's what you'll need:
Bacon rashers, half a kilo of raw, peeled and deveined prawns, olive oil, salt, smoked paprika, Italian herbs, chilli flakes, cream, garlic, tomatoes, dried pasta, parmesan cheese and baby spinach.
Cook the prawns in the seasonings for a couple of minutes, then remove to a bowl and add the bacon to the pan to cook until golden and crisp.
Next up, add the tomatoes, garlic and most of the other sauce ingredients to the pan but at this point I realised that my family had eaten more tomatoes than I had first thought. So here's a shout out to my beautiful neighbour Debbie for coming to my rescue with this babies from her fridge. 

I bought some replacements and gave her hubby some of my leftovers for lunch the next day. I do love my neighbours!
Once your sauce is made (and it's really just a matter of dumping and stirring until it thickens up, honestly) it's time to add your cooked pasta to the sauce, add the prawns and the rest of the bacon and serve sprinkled with extra parmesan cheese.
This was even better than it looks, and I know it looks pretty good! We'll definitely be making it again, although the way my kids hooked into the prawns makes me think I might have to buy more of them in future. They were the best part, hands down.
I hope you enjoy it too!
Creamy Garlic Prawn Pasta with Bacon & Spinach Recipe
Ingredients
2 tbsp olive oil
500g large prawns, uncooked, peeled, deveined
1 tsp smoked paprika
1 tsp dried Italian herbs
4 medium tomatoes, chopped in large pieces
5 garlic cloves, minced
5 rashers of bacon, chopped
1/4 tsp crushed red pepper flakes
300ml cream
1 cup Parmesan cheese, grated
170g baby spinach
500g penne pasta
1/2 cup Parmesan cheese, extra, for serving
Salt and pepper to taste
Instructions
In a large frying pan on high heat, heat 2 tablespoons of olive oil until hot. Add prawns and cook on one side on high heat for 1 minute. Sprinkle the uncooked side with salt, paprika and Italian seasoning. Turn the prawns and cook on the other side for 1 minute on high heat until pink and cooked through. Remove and keep warm.
To the same pan, fry the bacon pieces until golden and almost crisp. Remove and keep warm.
Add chopped tomatoes, garlic, half the bacon and crushed red pepper flakes. Mix and cook for about 1 minute, stirring everything on medium heat. Add cream and bring to boil, then season to taste. Add parmesan cheese, reduce heat to medium and stir, while simmering, until the cheese completely melts and the sauce becomes creamy. Reduce heat to low, add baby spinach, cover and allow to wilt. Remove lid once the spinach has wilted and stir sauce to combine.
Meanwhile, bring a large pot of salted water to the boil, add pasta and cook according to instructions. Drain, then add the cooked pasta to the sauce, stirring well to combine. Add the prawns and remaining bacon, season with salt and red pepper flakes (if using) and serve topped with extra parmesan cheese.
https://mumslounge.com.au/lifestyle/food/creamy-garlic-prawn-pasta-bacon-spinach-recipe/