Creamy Tomato & Chorizo Pasta Recipe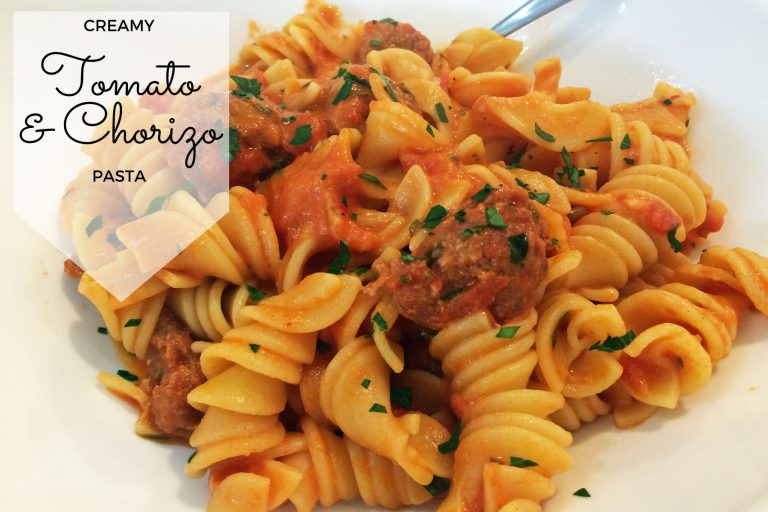 Creamy Tomato & Chorizo Pasta Recipe
What's not to love about creamy tomato and spicy chorizo pasta in a hurry? Absolutely nothing, it's amazing!
You can have this meal on the table in as long as it takes to boil a pot of water and cook the pasta. Perhaps about 15 minutes, tops!
Here's what you'll need to get started.
Two tins of tomatoes, a packet of dried pasta shapes (any shape will do – penne, farfalle, elbows, etc. We happened to have these large spirals so that's what we used), some cooking oil, cream, parmesan cheese, chorizo sausages from the meat section at the supermarket, fresh rosemary and parsley, and garlic. Easy!
Boil the water for the pasta and cook as per packet directions. We used a big packet of pasta because there's a lot of us. You can easily use a smaller packet. It won't affect the recipe too much, you'll just have a little more sauce than we did. Which is a bonus to mop up with crusty bread!
While the water is boiling and the pasta is cooking, slice the chorizos into bite sized pieces and pan fry with the rosemary and 4 cloves of garlic until golden. Add the tins of tomatoes and cream and bring to the boil, then allow to simmer gently for ten minutes. At this point, your pasta would be pretty much al dente, so it's time to bring everything together.
Add the parmesan cheese and chopped parsley to the sauce, then stir through the pasta. Serve with plenty of crusty bread! Done! Dinner is served.
Creamy Tomato & Chorizo Pasta
Ingredients
375g dried pasta
Cooking oil spray
4 cloves garlic, crushed
1 tablespoon finely chopped fresh rosemary
1 packet of Coles Finest chorizo sausages, thinly sliced
2 x 400g tins diced tomatoes
3/4 cup cream
1/2 cup coarsely chopped fresh flat-leaf parsley
1/2 cup finely grated parmesan cheese
Instructions
Cook pasta in a large saucepan of salted boiling water according to packet instructions. Drain well.
Meanwhile, spray a large frying pan with cooking oil spray and heat over high heat. Add garlic, rosemary and chorizo. Cook, stirring for 5 minutes or until chorizo is crisp and browned.
Add tomato and cream. Simmer, uncovered for 10 minutes or until thickened. Add pasta, parsley and cheese. Stir through sauce until heated through. Season with salt and pepper and serve with crusty bread.
https://mumslounge.com.au/lifestyle/food/creamy-tomato-chorizo-pasta-recipe/