Crispy Devilled Chicken Thighs Recipe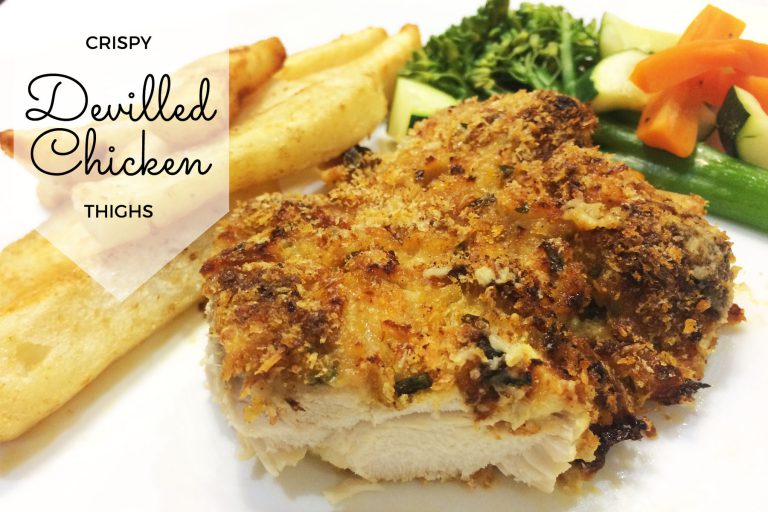 Crispy Devilled Chicken Thighs Recipe
If you're ready to switch your chicken up to a whole new level, this crispy devilled chicken thighs recipe might be one for you!
Tender, juicy chicken coated with garlicky dijon mustard and herbed parmesan panko crumbs oven baked until crispy and golden. Yum to the factor of eleven!
These flavour-packed devilled chicken thighs can be on your table with just fifteen minutes prep time and another forty minutes baking in the oven – too easy! Here's how.
You'll need to gather these ingredients together first…
One packet of chicken thighs (or enough to feed everybody), some butter, garlic, dijon mustard, cayenne pepper, paprika, panko breadcrumbs, fresh chives and parmesan cheese. You can use parsley if you like, and also pre-grated parmesan cheese if you couldn't be bothered grating it.
Firstly, you need to melt the butter, then mix in the garlic and mustard. Then in another bowl, mix the breadcrumbs with parmesan, chives and spices. Get a baking tray ready too.
Now it's just a matter of dipping the chicken into the mustard mixture, then into the breadcrumbs, before finally placed it onto the oven tray. Repeat for all of the chicken thighs, then pop the tray into a hot oven for 40 minutes.
Prepare some oven fries and steamed veggies and a side salad for a complete meal. Simple!
I hope you enjoy it as much as we did!
Crispy Devilled Chicken Thighs
Ingredients
2 tbsp butter
2 cloves garlic, minced
1 cup Dijon mustard
1/2 tsp cayenne pepper
1 1/2 cups panko breadcrumbs
3/4 cup freshly grated Parmesan cheese
1/4 cup chopped fresh chives (or parsley)
2 tsp paprika
8 chicken thigh fillets
Oven fries and steamed vegetables to serve
Instructions
Preheat the oven to 220 degrees and line a tray with baking paper. Combine the butter and garlic in a large microwave-safe bowl. Cover with plastic wrap and microwave to melt the butter, about 1 minute. Whisk in the Dijon and 1/4 teaspoon of the cayenne.
In another large bowl, combine the breadcrumbs, Parmesan, chives, paprika and the remaining 1/4 teaspoon cayenne. Dip the chicken in the mustard mixture to coat and roll in the breadcrumbs on all sides. Lay on the prepared baking tray.
Bake for 40 minutes or until the coating is browned and crispy and the chicken is cooked through. Serve with oven fries and steamed veggie or a salad.
https://mumslounge.com.au/lifestyle/food/crispy-devilled-chicken-thighs-recipe/