Crispy Oven Baked Fries Recipe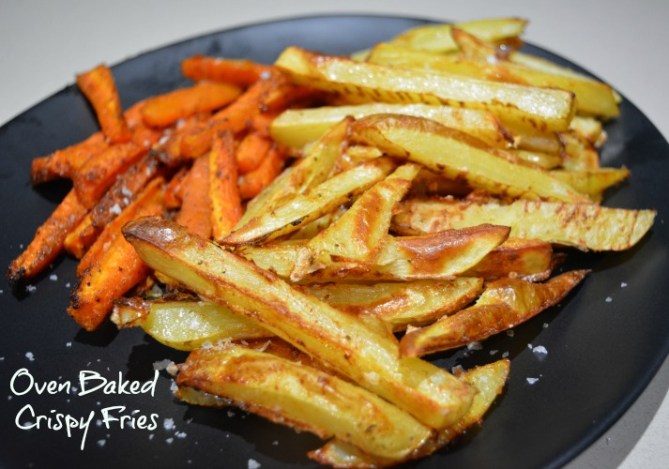 Crispy Oven Baked Fries Recipe
We have been on diets in our house. Since….about…Easter. And we have been pretty good. I have lost 4.5kg and my husband has lost a whopping 19 kilos. This is the skinniest he's been since we met. He needs an entire new wardrobe of clothes. I keep getting shocked when I see him come in the front door because he looks so different. He's been on a lot of diets before but has never stuck to them but this time he's determined and it's all because of his cousin's wife who said to him at Easter that she thought her husband's (tiny) pot belly looked disgusting but compared to him, he was skinny. So this is a big "F. U." diet. He's cut out chocolate and potato chips and ice cream and bread. And Friday night pizzas and bad snacking in general and he's out walking, walking, walking or riding his push bike and I am super proud of him.
But sometimes you need some carbs and sometimes the only carbs that will do are potatoes and those potatoes need to be in the form of crispy chips.
So I present to you an oven-baked version of crispy chips that uses egg whites instead of oil to create the crunch. With some spices like garlic powder, celery salt, chilli powder, onion powder and paprika to step up the flavour they are ready in about 35 minutes and were absolutely delicious!
Ingredients
2 large floury potatoes
1 egg white
1/2 tsp paprika
1/2 tsp chilli powder
1/2 tsp onion powder
1/2 tsp celery salt
cracked black pepper
Instructions
Cut the potatoes into chip size pieces.
Whisk the egg whites in a bowl with the spices and toss the potatoes in to coat.
Line a large baking tray with non-stick baking paper. Spray lightly with oil. Lay the potatoes in a single layer onto the tray slightly apart from each other. Bake for 35-40 minutes or until golden and crisp.