Easy Chicken Goulash Recipe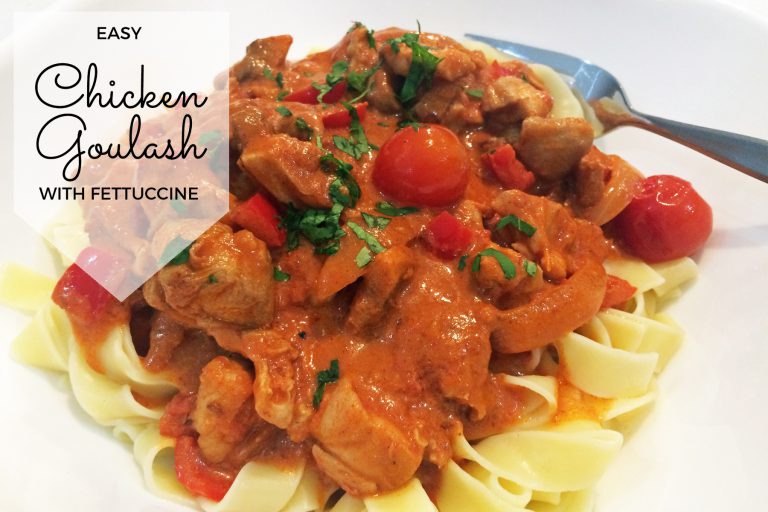 Easy Chicken Goulash Recipe
This chicken goulash recipe is full of veggies and flavour, and it's easy to throw together for a quick mid-week meal. And who doesn't love a one-pot wonder that is ready and on the table in 40 minutes? Just boil up some pasta to go with this handy crowd-pleaser and dinner is sorted!
I'm always on the look out for a recipe that is just a little bit different from the norm, but one that the children will still eat. I don't want any fancy spice mixes or trendy elements. The kids won't eat them and I probably wouldn't either! I just want new ways to serve old favourites, and this recipe fits the bill entirely.
These ingredients are nothing too out of the ordinary – no expensive or unusual ingredients in this lot.
Chicken thigh fillets, onion, garlic, mushrooms, capsicum, paprika, tomato paste, olive oil, a tin of cherry tomatoes, sour cream, continental parsley and fettuccine to serve.
You could sneak some other vegetables in there too if you like. Think zucchini, peas, and cauliflower. Or serve with a side of green beans, snow peas, asparagus or broccolini.
Cut your chicken thigh fillets into smaller pieces and cook them in a frying pan until browned and cooked through. Transfer them to a bowl and cook the onion, mushrooms, capsicum, garlic and paprika, then add the tomato paste, tin of cherry tomatoes and some water. Stir and return the chicken to the pan and allow to simmer gently for twenty minutes. And that's it! Easy as that!
Cook the pasta as per the packet directions, stir some sour cream through the goulash once it's off the heat and you're all finished in record time.
Serve topped with some chopped fresh herbs – I used continental parsley, but chives would be great too.
Easy Chicken Goulash Recipe
Ingredients
1 tablespoon olive oil
6 chicken thigh fillets, chopped
1 brown onion, halved, thickly sliced
250g button mushrooms, halved
1 red capsicum, chopped
2 garlic cloves, crushed
1 tablespoon sweet paprika
2 tablespoons tomato paste
400g can cherry tomatoes in juice
300g dried fettuccine
2 tablespoons light sour cream
2 tablespoons chopped fresh parsley or chives
Instructions
Heat 2 teaspoons oil in a large saucepan on medium-high heat. Cook chicken, stirring, for 2 to 3 minutes or until browned. Transfer to a bowl.
Reduce heat to medium. Heat remaining oil in pan. Add onion, mushroom, capsicum, garlic and paprika. Cook for 5 minutes or until mushrooms are tender. Add tomato paste, cherry tomatoes and 1 cup cold water. Increase heat to high. Bring to the boil. Return chicken to pan. Reduce heat to medium-low. Cook, covered, for 20 minutes or until chicken is cooked through and sauce has slightly thickened. Season with pepper and stir through sour cream. Do not bring to the boil once the cream has been added or it will separate.
Meanwhile, cook pasta in a large saucepan of boiling water following packet directions, until tender. Drain.
Divide pasta and goulash between serving bowls. Serve sprinkled with herbs.
https://mumslounge.com.au/lifestyle/food/easy-chicken-goulash-recipe/